A new pump isn't often associated with an investment for the future. However, a direct financial service from Wilo could allow you to access attractive benefits that make such an investment even more enticing – and eminently cost-effective.
We're closing the financing gap in pump replacement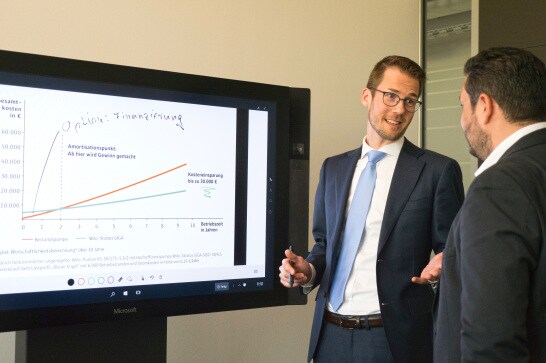 Procuring a Wilo product is an undertaking often forced to compete with other, parallel projects, which can result in rather undesirable challenges.
Yet necessary investments in Wilo services are, in fact, direct measures to improve energy efficiency. Among other benefits, this makes it possible to improve a system's cost-effectiveness.
Unfortunately, banks often hesitate to offer finance for small and medium-size investment projects in the area of energy efficiency. This is where Financial Services from Wilo comes in.
We want to close this funding gap with our tailored financial solutions because we know that, in many cases, the savings in energy costs will be sufficient to refinance a proactive pump replacement.
We help our customers to realise projects that ensure their future success.
Financial Services as an integrative part of the Wilo offering
We regard pump financing as an integrative part of the all-round support Wilo offers its customers as part of its comprehensive range of services and products. Going beyond all buying stages and the product range itself, these financial services complete our portfolio with a focus on our customers.
This service begins with pump replacement project consultation, and extends beyond funding to commissioning and subsequent maintenance by the Wilo factory customer service team. Thanks to our many years of expertise, our customers can rest easy and concentrate on their own projects. Our financing specialists ensure that you receive excellent advice from Wilo on all issues surrounding financial services.
SMART financing
We hope that our tailored financial solutions can make a significant contribution to our customers' success – and it's for precisely this reason that we have developed the principles of SMART financing.
SMART financing with Wilo means:
Protecting the environment

Maximising business performance

Preparing for the future

Reducing CO2 emissions

Transforming energy savings
At Wilo, we look at our customers holistically, including their business transactions and their carbon footprint, in order to carve out individual solutions for them. This enables us to provide each and every customer with individual financing advice. Our SMART financial solutions also immediately release liquidity that can be used for other projects and to drive further growth.
In doing so, SMART financing combines both innovative and intelligent financial services which allow for flexible investments compared to conventional financing, ensuring that the process of purchasing a new pump or replacing a pump is as efficient as possible.
Wilo-Energy Solutions – the perfect complement to Wilo-Financial Services
Proactively replacing a pump, such as in a waterworks facility, a municipal building or in industrial processes, means that a still functioning and existing pump is replaced by a Wilo high-efficiency pump. This provides significant savings on energy costs from the very first day – savings which can be put directly towards financing your new pumps.
The capital generated can be used for refinancing and helping to grow the company. The investment will pay for itself in just a few years – and without the need to use liquid funds.
The advantages at a glance
Wilo-Financial Services
open up new sources of finance

preserve the liquidity of companies

allow for tailored financing solutions
Wilo is, and will remain, the first point of contact and an all-round consultant for customers. By working together with our customers and using our individual solutions, we develop needs-based financial services. In this way, our customers can concentrate on their key priorities: their company's business transactions and important parallel projects.