Wilo produces pumps that guarantee maximum reliability, flexibility and efficiency. Our strength lies in applications in process supporting peripherals. Here, industry needs cost effective, sustainable solutions and reliable solutions so that the procedure is not unnecessarily interrupted.
Competence and expertise
Our acknowledged expertise results from a mature product range with solutions that are tailored to the customer's needs, having joined-up knowledge, an especially effective quality management system and our long-term expertise in the industrial sector.
Our tailored solutions for the industry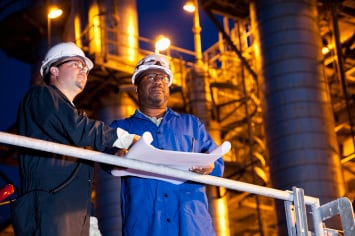 Because every industrial environment has its own and, in part, extremely specific requirements that it places on pumps and peripherals, Wilo creates individual concepts and solutions for every requirement to ensure trouble-free installation and maintenance. Consequently,
Wilo industrial pumps withstand the most severe requirements, such as extremely high pressure or temperatures as well as aggressive or corrosive fluids.
Versatile industrial pumps for general process technology
In industrial process technology, Wilo offers a wide portfolio of high quality and process-optimised industrial pumps that guarantee trouble-free operation. The fields of application for our pumps and pump systems are:
Cooling water circulation systems

Heating circuits

Raw water intake

Water supply

Firefighting

Water treatment

Sewage disposal
Application landscape for Wilo pumps
Wilo pumps provide convincing arguments not just in the precise climate control of special office spaces, production spaces or storage rooms and in low-temperature applications, but also in fire-extinguishing technology and water supply, drainage and treatment. Our recognised expertise results from a mature product range, joined-up knowledge and effective quality management.
Digitalisation of industrial companies
Especially in the electrical and energy industries, many companies are already predominantly digitalised and many processes have been standardised and are SMART. The positive aspects of digitalisation and networking can be seen in the control of pumps and cooling systems. Wilo pumps have various options, for the installation of pumps and systems in already SMART systems, for retrofitting.
We would be happy to advise you on innovative solutions that will be adapted perfectly to suit your current production sites.
Application examples in the industry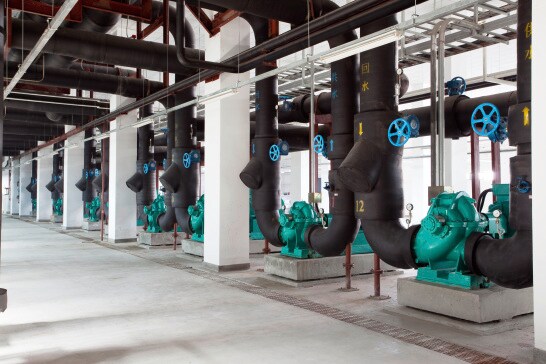 Wilo pumps help the food industry to comply with critical quality and hygiene standards. In the metals industry our pumps are used to comply with the highest requirements and environmental standards. In the mining industry, our systems convey important raw materials securely and reliably, while in the energy sector, they are important in securing supply in power stations, even at peak loads. Other sectors that are typical fields of application for our industrial pumps include pharmaceuticals, beverage production and fire protection. We provide quality and performance to many renowned industrial companies worldwide.These include for example:
Food industry: Fischtechnik International Engineering GmbH

Metal industry: Salzgitter Flachstahl AG, Germany; ThyssenKrupp Steel Europe AG

Underground mining: Vattenfall Europe Mining AG; Mopani Copper Mines, Zambia

Power industry: Shangdu Power Station, China; Anpara Power Station, India
In the different industrial branches all types of Wilo pumps are used. Especially in the industry the focus is, of course, on a long service life and the ruggedness of the pumps used. The control units, valves and pipes are adapted according to the requirements in order to optimise the pump system for the respective industry.