Back to overview
26.07.2021
Colleagues at Wilo UK, a leading manufacturer of water pumps and pump systems, have raised £8,377 for Maggie's cancer support centre in Nottingham, after taking part in a five-day cycling challenge that saw the team collectively cycle over 1,700 miles.
Wilo UK, part of the Wilo Group, is a leading premium provider of pumps and pump systems for building services, water management and industry, using smart solutions that bring together people, products and services.
Last month, Wilo colleagues embarked on a cycling challenge to virtually cycle a huge 1,700 miles from Wilo UK HQ, in Burton-Upon-Trent, Staffordshire, to the new state-of-the-art Wilopark factory in Dortmund, Germany.
Because of the current travel restrictions put in place due to the pandemic, the team made up the total mileage 'virtually' on static exercise bikes set up at Wilo's HQ and out and about individually on road bikes.
The challenge began at Wilo UK HQ and virtually passed through France, including Laval and Aubigny sur Nère– where Wilo has production facilities. After cycling 863 miles on days one and two of the challenge, the team then passed through into Germany, arriving in Saarbrucken, then onto Hof and Oschersleben before arriving at the final destination – Wilopark in Dortmund, on day five. After smashing the initial target the team even had time to cycle the return journey back to Wilo UK.
With cancer sadly affecting the lives of several Wilo colleagues over the years, Maggie's is a charity very close to Wilo's heart and the team was determined to raise as much money as possible. The charity provides free cancer support and information in centres across the UK and online. Maggie's centres help people to take back control when cancer turns life upside down, with professional support for anything from treatment side effects to money worries.
Lee Tebbatt, Managing Director of Wilo UK, comments: "The pandemic has been tough for many charities and an extremely worrying time for those living with cancer and their families. Maggie's offers fantastic support for those in need and we wanted to ensure their incredible hard work continues.
"The team has been out on their bikes come rain or shine and have really embraced the challenge. It's been great to see everyone come together as a team (albeit with some friendly competition!) to help our local cancer support centre. We're really impressed with everyone that took part and are so proud to be able to donate £8,377 to Maggie's Nottingham."
Elizabeth Sudbury, Maggie's Centre Fundraising Manager for Nottingham, comments: "Thanks to the team at Wilo for helping us to make a huge difference to the lives of people with cancer and their families and friends. Their support means so much to the people who come through our doors. A donation of just £50 could pay for an hour of immediate support for someone just diagnosed with cancer with a Cancer Support Specialist. Wilo's incredible donation will help many more people when cancer turns life upside down.
"We know how difficult the last year has been and we have continued to support people face to face, on the phone and online when support was desperately needed but rarely available. For the thousands of people who will be newly diagnosed, who feel isolated and lonely and for families who have lost loved ones, our support is needed more than ever! Thank you for helping us to continue to be here."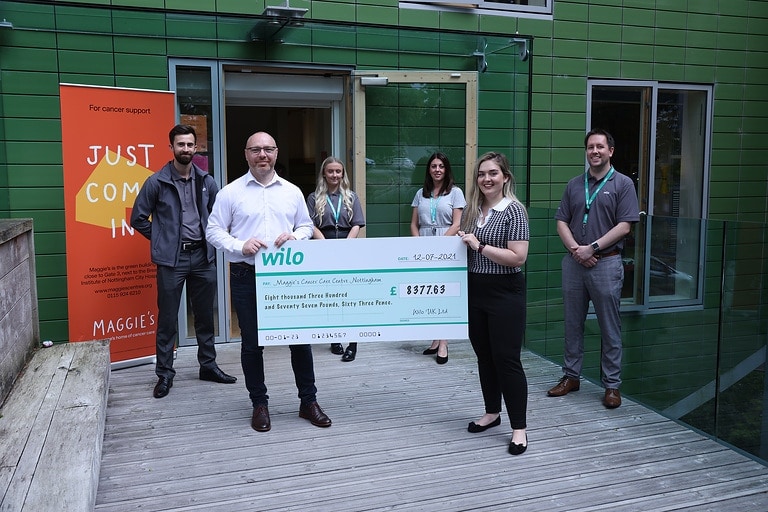 Front Centre; Lee Tebbatt, Managing Director, Wilo UK, Charlotte Taylor, Centre Fundraiser, Maggie's Cancer Care Centre - Nottingham, Back Row L-R; Cameron Gaunt, Applications Engineer, Wilo UK, Holly Clapp, Digital Marketing Apprentice, Wilo UK, Sarah Staley, Credit Controller, Wilo UK, Richard Capewell, Financial Controller, Wilo UK