Voda Air separators
Series description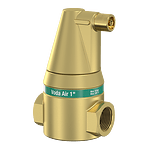 Your advantages
Higher efficiency of the heating and chilled water system thanks to the intelligent "open closed" principle of the float valve
Higher reliability and less maintenance by removing free air out of the system
No water contamination through the conical shape and long distance between water level and venting valve
Reduced noise level thanks to efficient air venting
The air separator for more comfort and higher performance.
Wilo-Voda Air is the ideal solution for provides a continuous air venting of closed heating and chilled water circuits in commercial buildings. The air separator enables a total elimination of air from large sealed heating and cooling installations and extends in this way the service life of pumps, control equipment and other system accessories. Wilo-Voda Air also offers benefits in the event of application in old systems or when an open system is converted to a closed system.
Construction
Air separator with flanged connection.
Application
Heating installations
Cooling installations
Type key
| | |
| --- | --- |
| Example | Voda air 50F |
| Voda air | Family name air separator |
| F | Flanged connection |
| 50 | Connection (DN) |
Technical data
Maximum working pressure: 10 bar
Suitable for systems with a maximum flow temperature of 120 °C
The Dual Zone technology is designed to withstand fluid velocities up to 3 m/s. For an efficient separation
performance, a maximum speed of 1.5 m/s should be maintained
Suitable for addition of glycol-based anti-freeze up to 50%
In accordance with Pressure Equipment Directive 2014/68/EU
Series
Voda Air separators