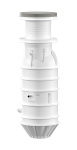 Similar to figure
Ready for assembly plastic pump chamber made of corrosion-resistant polyethylene in monolithic construction without sealing surfaces, optionally with telescopic extension. Certification according to EN 12050-1 with deposit-free pump chamber geometry and lifting brackets for easy removal and transportation. Anti-buoyant for ground water levels up to surface of ground without additional concrete weights provided by the customer. Removable non-return ball valve in rectangular design directly on the discharge ports of the pump for reliable seal, as there is always a supply pressure. Surface coupling with facility for an optional flush connection and vacuum interrupter. Surface coupling for quick and easy pump assembly and a facility for an optional flush connection and vacuum interrupter. Bushing gate valve with optional operating extension. Incl. chain as pump lifting device. Pump chamber cover in accordance with EN 124 in categories A 15 and B 125 can be installed directly onto the pump chamber without a weight distribution plate, optional class D 400 (with customer-supplied weight distribution plate) available.
Approved field of application
For Wilo pumps

Rexa CUT, Drain MTC 32F39, Drain MTC 40

Max. permissible pressure in the pressure pipe P
Min. fluid temperature
Max. fluid temperature
Min. ambient temperature
Max. ambient temperature
Technical data
Break tank volume V
Connection output
Venting
Material, tank
Length L
Width W
Height H
Net weight, approx.
Ordering information
Make
Item no.
Installation and operating instructions
---
Certificate REACH (Documents)