Wilo-Yonos PICO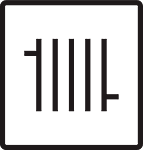 Even more convenience, even less power consumption.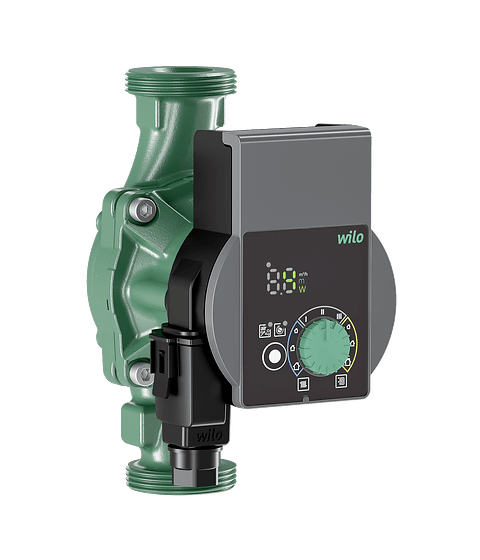 Wilo-Yonos PICO
Even more convenience, even less power consumption.
A visible symbol of the new generation of high-efficiency pumps for heating and air-conditioning systems in residential dwellings is the green operating button, which, together with new functions, provides maximum convenience in commissioning and maintenance. Default settings for radiators or underfloor heating – symbolised by pictograms – save time during commissioning.
The energy efficiency was improved once more and the power consumption is thus even lower and is shown alternating with the flow. And thanks to the more compact construction, pump replacement is now even easier.
---
Your advantages
Maximum operating convenience owing to the Green Button Technology with new, intelligent settings, intuitive user interface and new functions
Optimised energy efficiency owing to EC motor technology, settings with an accuracy of 0.1 m and display of current power consumption and current flow
Quick and easy installation and smooth exchange owing to the new, optimised design
Easy maintenance and high degree of operational reliability due to automatically and manually triggered restart or pump venting function
Maximum operational reliability based on proven technology
---

Less power consumption
With Wilo you will appeal to both your your customers`common sense and sense of responsibility. After all, with high-efficiency pumps homeowners can significantly reduce their houshold expenses. Switching over to these pums is a move that also pays off in terms of environment.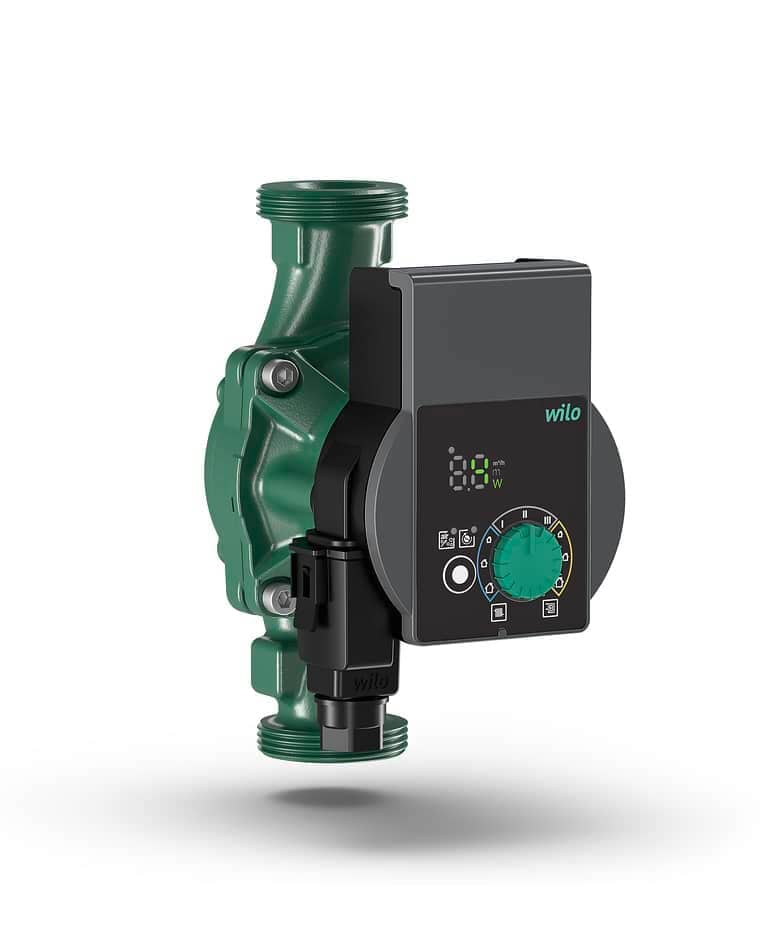 Green Button Technology

Intuitive user interface assisted by standard symbols

Compact, standardised design

EC motor technology

Direct access to the Wilo-Connector

Direct access to motor screws

Display of fault messages

Manual restart function

Venting routine
Individual saving calculation.
The "Wilo Assistant", the efficient Wilo-App for smartphones, allows you to calculate your customers`energy and CO2 savings on an individual basis, in seconds flat.
The entire world of pumps in one app
The "Wilo Assistant" makes the entire world of high-efficiency pump technology available on smartphones and tablets for sanitation, heating and air-conditioning specialists and specialist consultants of technical building equipment.
The free "Wilo Assistant" app is an easy-to-use mobile application and offers support in designing, customer consultation and installation. It also delivers a wealth of strong sales arguments for energy-efficient, economical and environmentally friendly pump technology for heating, air conditioning and domestic hot-water circulation.
Download on the App Store (iOS)
Android App on Google play
more information about the Wilo Assistant app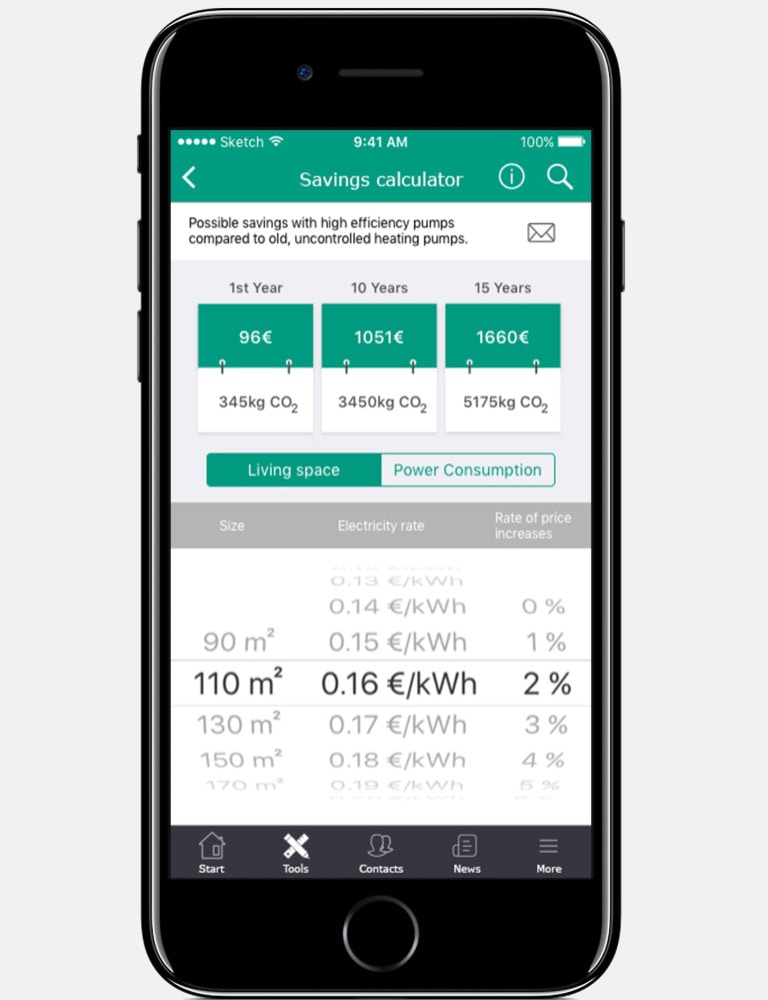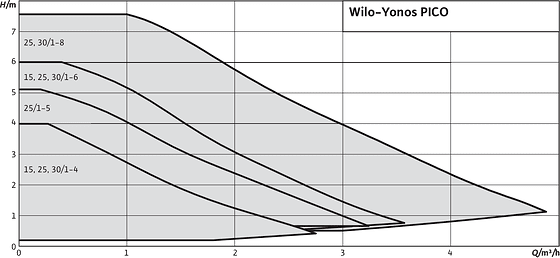 Yonos PICO
---
Design
Glandless circulator with screwed connection, blocking-current proof EC motor and integrated electronic power control.
Application
All hot-water heating systems, air-conditioning applications, industrial circulation systems.
Equipment/function
Operating modes
Constant differential pressure
Variable differential pressure
Constant speed (3 control pump curves)
Manual functions
Setting the operating mode in accordance with the application
Setting of pump output (delivery head)
Setting the constant speed
Pump venting function
Manual restart
Automatic functions
Continuous power adjustment according to the operating mode
Automatic restart
Automatic dry-running detection
Signal and display functions
Display of the current power consumption in W
Display of the current flow rate in m³/h
Display of delivery head for setting
Display of fault messages (error codes)
Display of manually activated restart or pump venting function
Equipment
Wrench attachment point on pump body
Quick electrical connection with Wilo-Connector
Pump venting function
Manual restart
Blocking-current proof motor
Particle filter
Typekey
| | |
| --- | --- |
| Example: | Wilo-Yonos PICO 30/1-4 |
| Yonos PICO | High-efficiency pump (screw-end pump), electronically controlled |
| 30/ | Nominal connection diameter |
| 1-4 | Nominal delivery head range [m] |
| 130 | Port-to-port length |
Technical data
Fluid temperature -10 °C to +95 °C
Mains connection 1~230 V, 50 Hz
Protection class IPX2D
Screwed connection Rp ½, Rp 1 and Rp 1¼
Max. operating pressure 10 bar
Materials
Pump housing: Grey cast iron (EN-GJL-200)
Impeller: Plastic (PP - 40% GF)
Pump shaft: Stainless steel
Bearing: carbon, metal impregnated
Delivery state
Pump
Wilo-Connector
Gaskets
Installation and operating instructions
Installation and operating instructions
---
General overview (Documents)
---
Certificate REACH (Documents)