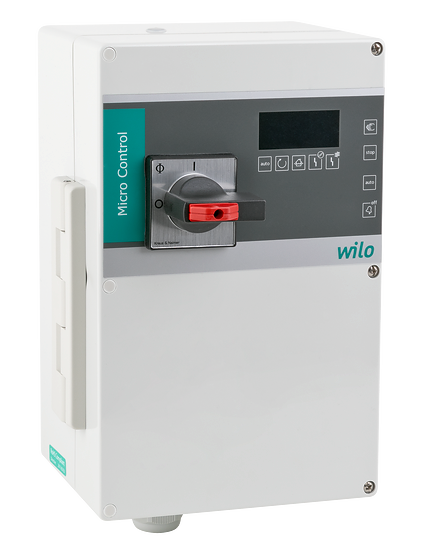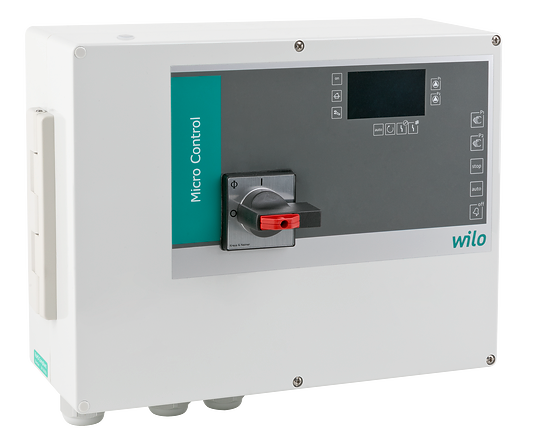 Wilo-Control MS-L1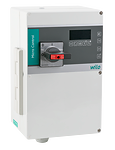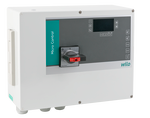 ---
Equipment/function
Functions
"Drain" operating mode: For draining sewage chambers in water disposal
Configurable overload protection
Thermal motor monitoring
Pump kick function for 2 sec
Adjustable follow-up time up to 120 sec
Pump cycling after each run (for switchgear for 2 pumps)
Direction of rotation monitoring
High water alarm with forced switch-on of the connected pump(s)
Fault memory of the last fault
Enhanced functionality when used with lifting units; e.g. display service interval
Equipment
Lockable main switch (depending on version)
Control panel with buttons
Display of the current operating or fault conditions via LED
Configurable electronic motor current monitoring
Configuration of individual functions using dip switches and potentiometers
Integrated alarm buzzer, mains-independent via 9V battery (optionally available as accessory)
Typekey
| | |
| --- | --- |
| Example: | Wilo-Control MS-L 1x4kW-DOL-x |
| Control | Switchgear |
| MS | Micro Control series |
| L | "Lift" version for water lifting applications |
| 1 | Number of pumps that can be connected |
| 4kW | Maximum rated power P2 per pump |
| DOL | Starting mode: Direct activation |
| x | Versions: without = standard version with main switch S = with cable and plug without main switch O = without cable, plug and main switch (mains isolation device must be provided by the customer!) |
Technical data
Mains connection: 1~230 V, 50/60 Hz or 3~400 V, 50/60 Hz
Max. rated power (P2) per pump: 4.0 kW
Maximum rated current IN per pump: 12 A
Activation type: Direct
Control voltage: 24 V DC
Ambient/operating temperature: -30 … +60 °C
Storage temperature: -30 … +60 °C
Max. relative humidity: 90 %, non-condensing
Max. switching capacity of alarm contact/SSM: 250 V~, 1 A
Protection class: IP54
Electrical safety: Pollution degree II
Housing material: Polycarbonate, UV-resistant
Construction
Microprocessor-controlled switchgear for level-dependent control of one, two or three submersible pumps with float switch for level measurement. The parametrization is carried out using dip switches and potentiometers.
Inputs
1x…2x digital inputs* for float switch (pump on/off)
1x digital input for high water signal with float switch (high water alarm)
1x…2x inputs* for thermal winding monitoring with bimetallic temperature sensor. Connection of PTC sensors is not possible!
Outputs
1x potential-free contact for the collective fault signal (SSM)
1x potential-free contact for the high water alarm (for switchgear for 2 pumps)
*Depending on the number of pumps that can be connected.
Installation and operating instructions
---
Certificate REACH (Documents)