Diaphragm pressure vessel Typ D (12D-PN16)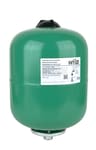 Diaphragm pressure vessel Typ D (12D-PN16)
The vessels are for the purpose of avoiding pressure surges in the system and reduce the switching frequency of the pumps/system.
Equipment
no throughflow, no shutoff and no draining
Construction in acc. with DIN EN 13831
parts that come in contact with fluids are corrosion-free
Approved and maintained in accordance with Pressure Appliances Directive 97/23/EG and further technical regulations
Notice
These expansion tanks are not in conformity with DIN 4807/T5 and, for that reason, not authorised for utilisation in drinking water systems in Germany!
Technical data
Max. inlet pressure
Min. fluid temperature
Max. fluid temperature
Min. ambient temperature
Max. ambient temperature
Material, tank
Diaphragm
Pipe connection
Usable Volume V
Nominal Volume V
Factory-preset pressure nitrogen
Net weight, approx.
Make
Item no.
Certificate REACH (Documents)