Wilo-Padus PRO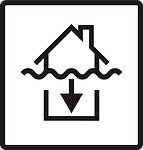 The portable submersible pump for reliable and long-term drainage of excavations.
Wilo-Padus PRO
The portable submersible pump for reliable and long-term drainage of excavations.
The Wilo-Padus PRO is the ideal submersible drainage pump for the drainage of excavations. Thanks to its robust construction, the wear-resistant material combinations and passive cooling in slurping operation, the submersible drainage pump with IE3 motor and integrated protection function is especially suitable for continuous duty in abrasive fluids. It can be used flexibly thanks to its low weight and flexible pressure connection. Quick access to the most important components also simplifies commissioning and maintenance. The Wilo-Padus PRO also fulfils all digitalisation requirements for the optimal planning of future maintenance work.
---
Your advantages
High reliability in abrasive fluids thanks to rubber-coated hydraulics and an impeller made of Duplex chrome steel
Easy installation thanks to low weight and flexible discharge connection (vertical/horizontal)
Active cooling for reliable continuous operation
Continuous duty in slurping operation thanks to passive cooling
Easy maintenance thanks to quick access to wearing parts
Equipped with energy-efficient IE3 motor technology as standard
Highest operational reliability thanks to integrated protection function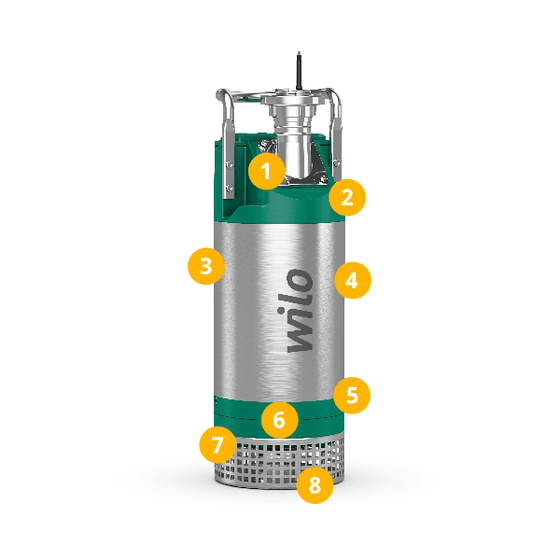 Product features
Vertical/horizontal pressure connection
Integrated protection function
IE3 submersible motor
Active cooling
Combination lightweight housing
Rubber-coated pump housing
Adjustable clearance between impeller and baseplate
Half-open impeller made of hardened chrome steel
Wilo-Padus PRO
---
Design
Submersible drainage pump
Equipment/function
IE3 motor
A version with float switch and motor protection plug
Sheath current cooling
Typekey
Example:

Wilo-Padus PRO M08L/T039-540/A

Padus

Submersible drainage pump

PRO

Series for construction site use

M

Open multi-channel impeller

08

Nominal diameter of the pressure connection: G3

L

Low-pressure version

T

Mains connection version:

M = 1~

T = 3~

039

Value/10 = motor power P2 in kW

5

Frequency (5 = 50 Hz, 6 = 60 Hz)

40

Rated voltage code

A

Additional electrical equipment:

No supplement = With bare cable end

P = with plug

A = with float switch and motor protection plug
Technical data
Mains connection: 3~400 V, 50 Hz
Protection class: IP68
Max. immersion depth: 20 m
Fluid temperature: 3 … 40 °C
Cable length: 23 m
Pressure port: Size B Storz coupling
Materials
Motor housing: EN-AC-AlSi10Mg
Cooling shroud: 1.4404
Pump housing: EN-AC-AlSi10Mg + NBR-70
Impeller: 1.4470
Suction strainer: 1.4404
Shaft: 1.4404
Seal:

On motor side: SiC/SiC
Fluid side: SiC/SiC

Static gaskets: NBR
Construction
Submersible drainage pump as submersible monobloc unit for portable wet well installation.
Hydraulics
The outlet on the pressure side is designed as vertical threaded connection with Storz coupling. If necessary, the outlet on the pressure side can be aligned horizontally. Semi-open, multi-channel impellers are used in the process. The inlet has been equipped with a suction strainer. Consequently, coarse elements in the fluid are filtered upstream of the suction port.
Motor
AC and three-phase current version IE3 motors are used in the process. Motors feature thermal motor monitoring. The motor is cooled by the sheath flow cooling. Continuous duty is possible when immersed/non-immersed, also in slurping operation.
A sealing chamber protects the motor from fluid ingress. The filling fluid used is potentially biodegradable and environmentally safe.
The connection cable is permanently connected and the cable is 23 m long:
O-version: Cable with bare ends
A-version: Cable with float switch and plug
P-version: Cable with plug
Seal
The sealing on the fluid side and on the motor side is performed by two bidirectional mechanical seals.
Scope of delivery
Pump with bare cable end
Pump with float switch and motor protection plug (A version)
Discharge port with Storz pipe coupling
Installation and operating instructions
Accessories
Pressure hose kit with Storz coupling
Motor protection plug