Wilo-TP Control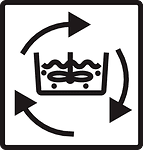 Automatically ensures improved reliability and efficiency in biological wastewater treatment.
Sewage treatment control Wilo-TP Control
Automatically ensures improved reliability and efficiency in biological wastewater treatment.
For everyday system operation, no one day is like the next. Inlet fluctuations are caused seasonally by industrial activations/deactivations and unusual events such as malfunctions. The fluctuations are a challenge for all wastewater treatment plant operators. The new wastewater treatment plant Wilo-TP Control gives the plant operator a reliable rule-based logic control that makes daily work easier.
---
Your advantages
• Innovative control system, individually configured for each wastewater treatment plant – schematic visualisation for a perfect overview
• Daily work made easier and more convenient for system operators
• Permanent monitoring of wastewater characteristics and treatment steps – daily logging of events and long-term control over process data
• Increase in operational reliability through early detection of internal and external influence factors
• Simple, clear presentation of all process-relevant data
• Daily logging of events and long-term safeguarding of process data
• Automatic adjustment of machinery operating statuses during intake fluctuations and, as a result, optimal coordination of machine technology
• Avoidance of spikes and control of load differences or manual interventions
• Constant monitoring and rapid localisation of faults
• Energy use proportional to achievement of optimum treatment targets and best sludge quality
• Optional data mirroring in the cloud
• Secure data transfer and remote monitoring via Ethernet or Profinet, other bus systems optionally available upon request
---
Design
Comprehensive and automated wastewater treatment plant control system
Application
Wilo-TP Control, the new control system for wastewater treatment plants, monitors and controls almost all relevant procedures in municipal and industrial wastewater treatment plants. This rule-based control system therefore combines the three most important aspects of a wastewater treatment plant in a single application: process automation, process reliability and process documentation. As a result, plant operators are provided with a reliable, rule-based system control that makes day-to-day operation easier.
Equipment/function
Depending on the selected process technology, the control system is individually configured to match any application case. The condition of the sewage in terms of parameters such as oxygen, redox potential, temperature, pH value, conductivity and turbidity are measured as the initial basis using sensors that send values to the control system which compares the live data to what has been configured in advance. In the event of deviations, the system automatically intervenes so that the different treatment stages as part of biological wastewater treatment, such as nitrification and denitrification, transfer processes, return activated sludge transfer, decanting processes, surplus sludge extraction and the adding of precipitants and auxiliary materials are ideally matched.
The Wilo-TP Control for wastewater treatment plants manages the complex interaction of biological, chemical, hydraulic, machine-based and regulating-technology components to guarantee ideal process conditions. This safeguards the best possible system operation and also facilitates day-to-day wastewater treatment plant operation.
Wilo experts completely deliver and install the innovative wastewater treatment plant control including all software and hardware components. Commissioning, function test and system optimisation round off Wilo's range of services. The control system can also be integrated into existing process management systems.
Construction
The Wilo-TP Control is a compact SCADA control system for wastewater treatment plants of all sizes and designs. It combines high levels of data security and process reliability with the convenience of plant automation and the best possible overview of plant status data. The system consists of the following components:
Miras control system
Touch panel or PC client for operation
PLC control system
Aquadat database
Miras control system
The Miras system is a rules-based control system for use in all process steps in wastewater treatment plants. It regulates the relevant processes, such as aeration cycles, transport of return activated sludge, excess sludge removal , addition of precipitating agents and additives as well as separate central water treatment based on plant-specific and process-specific parameters. In wastewater treatment plants with SBR processes, Miras defines all process steps in a cycle and is therefore able to react flexibly to the plant's process status. This takes into account special incidents such as rain or overloading. The process results are thereby monitored and optimised.
Furthermore, the Miras system can calculate additional analogue values as "floating averages" or "forecast values". This enables current process status to influence system control as analogue values. All parameters are recorded and available for process-specific plant control, as well as for process status evaluation at a later time. Data is saved at 30 second intervals, although shorter intervals are possible. Analogue values are saved with an accuracy of 15 bits. Individual events can be excluded from storage or stored at different intervals. Comprehensive data storage makes it possible to monitor control processes with varying degrees of precision. This also transparently shows the reasons behind interventions in the control system.
The Miras system also enables calculation of virtual status parameters. This makes it possible to compensate for temporary sensor outages. The system calculates a balanced course to ensure process reliability based on defined priorities. Furthermore, the system features a wide, highly flexible control range. As a result, the system controls can adjust for load variances of up to 100,000 PE without the need for manual intervention.
Moreover, the Miras system facilitates energy-optimised wastewater treatment plant operation. To avoid current peaks and smooth out output values, for example, additional sludge activation points or SBR reactors can be operated asynchronously, including for temporary periods.
A visualisation of this is provided via the MIRVIS interface. This combines a view of the processes in a continuous curve display of analogue values with digital events over a period of time.
The Miras system is a rule-based system that operates on the basis of its configuration. The system is not self teaching. When necessary, new rule algorithms need to be configured.
Software is installed on a Linux server. For the maximum possible process reliability, the software is composed of several small programs which run in the background. All programs have to communicate regularly with the master program (guard). If a program fails to communicate, it is restarted. The master program must, in turn, communicate with a hardware watchdog. If this communication fails, the server is restarted. To optimise the intrinsic safety of the server, its processor temperature and fan speed are also included in the display. Countermeasures or alarms can be defined for critical areas.
Touch panel or PC client for operation
To make operation as user-friendly as possible, users have two options:
The simplest option is to use a Siemens TP1500 Comfort as the HMI. The panel is equipped with the WinCC TIA Portal. It is programmed via the Step 7 TIA Portal. In this case, the Wilo-TP Control combines powerful process controls with a straightforward user interface in a compact space.
Installation of WinCC or WinCC Open Architecture on a server with additional client workstations for very extensive user interfaces.
PLC control system
Internal control is provided by a Siemens PLC CPU 1513_1 PN with Step 7 TIA Portal programming. All connected components (sensors, mixers, aerators, etc.) are connected with ET200SP via Profinet as decentralised periphery. In addition, further fieldbus types (e.g. ProfiBus, ModBus, etc.) can be connected via other communication modules. The internal design can therefore be kept compact. The only cabling required is the mains power supply cable.
Aquadat
Aquadat software is a database to store operating data and laboratory test results. It processes data from the PLC, the user interface and the Miras system. The database also allows users to input and save manual entries and transmit them to the Miras system. The program runs in the background. Corresponding manual inputs and reports are performed with the Aquadat Editor in Windows or Linux.
Aquadat is based on the professional SQL database "Firebird" – free multi-platform software that can be used on many systems such as Windows, Linux or Mac. It is configured via the SQL database and adjusted according to the desired customer-specific application. In addition, Aquadat can output all data for report generation from the SQL database as an Excel export in order to produce corresponding daily, weekly or monthly reports.
Scope of delivery
Stainless steel switch cabinet with main switch, fuse protection, Comfort touch panel and Linux server with Linux Mint Debian 2.0
Software with graphical user interface
Calibration and optimisation of the wastewater treatment plant
Measuring instruments and sensors are not included in the TP-Control scope of delivery