CO-1 Helix V 2202/K/CE+
CO-1 Helix V 2202/K/CE+
Data sheet
Hydraulic data
Maximum inlet pressure p inl

10 bar

Max. operating pressure p

16 bar

Pipe connection on the pressure side DNd

R 2

Pipe connection on the suction side DNs

Rp 2

Number of pumps

1

Number of stages

2

Number of standby pumps

0

Number of operating pumps

1

System output without standby pump Q

34.0 m³/h

Min. fluid temperature Tmin

3 °C

Max. fluid temperature Tmax

50 °C

Min. ambient temperature Tmin

5 °C

Max. ambient temperature Tmax

40 °C
Motor data
Mains connection

3~400 V, 50 Hz

Voltage tolerance

±10 %

Rated power P2

3.00 kW

Rated current IN

5.00 A

Rated speed n

2900 rpm

Insulation class

F

Protection class

IP55

Motor efficiency ηM 50%

85.6

Motor efficiency ηM 75%

87

Motor efficiency ηM 100%

87.1
Materials
Pump housing

EN-GJL-250

Impeller

1.4307

Shaft

1.4057

Mechanical seal

Q1BE3GG

Gasket material

EPDM

Pipework material

1.4571
Information for order placements
Brand

Wilo

Product description

CO-1 Helix V 2202/K/CE+

EAN number

4048482040325

Article number

2530173

Net weight, approx. m

126 kg

Gross weight, approx. m

151.0 kg

Length with packaging

1200 mm

Height with packaging

1390 mm

Width with packaging

800 mm

Packaging property

Transport packaging

Packaging type

Europallet

Minimum order quantity

1
Tender text
Compact pressure boosting system, for direct or indirect connection. Consisting of a non self-priming, vertical stainless steel high-pressure multistage centrifugal pump in glanded version. Ready for connection with stainless steel pipework, mounted on a base frame, including control device with all necessary measurement and adjustment equipment.
For fully automatic water supply and pressure boosting in residential­, office­ and administrative buildings, hotels, hospitals, department stores (systems with a standby pump are to be provided for this purpose within the scope of DIN 1988 and DIN EN 806) as well as in industrial systems.
For pumping drinking water, process water, cooling water, fire water (apart from fire-extinguishing systems in accordance with DIN 14462 and with the approval of the local fire safety authorities) or other types of industrial water that do not attack the materials either chemically or mechanically and do not contain abrasive or long-fibre constituents.
Special features/product benefits
WRAS/ KTW/ ACS approval of the pump for all parts that come in contact with the fluid (EPDM version)
High-efficiency pump hydraulics of the Helix V series in conjunction with IE2 IEC standard motors, including 7.5 kW and larger IE3 standard motor (optional for smaller motor power)
Bidirectional mechanical seals in the pumps for easy maintenance
Flexible lantern design permits direct access to the mechanical seal
The spacer coupling enables the mechanical seal to be replaced without dismantling the motor (from 7.5 kW)
Hydraulics of entire system are pressure-loss optimised.
Parts that come in contact with the fluid are corrosion-resistant
Fully electronic Economy controller (CE+) with microprocessor and LEDs to indicate the system status, analogue and digital inputs and outputs
Factory inspection and default setting at optimum operating range (incl. acceptance test certificate based on EN10204 - 3.1)
Equipment/function
Stainless steel high-pressure multistage centrifugal pump of the Helix V series
Base frame made of electrolytically galvanised steel, with height-adjustable vibration absorbers for insulation against structure-borne noise
Shut-off valve on the pressure side
Non-return valve on the pressure side
8 litre diaphragm pressure vessel, PN16 including throughflow fitting to DIN 4807, pressure side
Pressure sensor (4-20 mA), pressure side
Pressure gauge, pressure side
Automatic pump control by means of a fully electronic
Economy Controller (CE+) in a light grey polycarbonate enclosure (direct start) or sheet metal enclosure painted RAL 7035 (star-delta starting), protection class IP 54, consisting of an internal power supply unit, microprocessor, analogue and digital inputs and outputs
Operation/ display
Fully electronic Economy controller (CE+) consisting of an internal power supply unit, with microprocessor and LEDs to indicate the system status, analogue and digital inputs and outputs
Configuration of operating parameters via potentiometer
Configuration of pump operating mode and acknowledgement of fault signals via H-0-A switch
LED display (3x7 segments, alphanumeric) to indicate the set pressure, controller parameters and error messages
LEDs for display of the system status (mains voltage/operation/fault/low water)
Lockable main switch
Control
Fully automatic control for a fixed speed pumps by means of setpoint/actual value comparison
4-20mA sensor signal (with conductivity test) for control variable actual value
Operating mode of the pump freely selectable (manual, off, automatic)
Automatic pump test run (pump kick):

Can be activated by means of DIP switch
Time between two pump test runs is six hours

Zero-flow cut-off over pressure and time
H-0-A (manual-zero-automatic) switch: Preselection of the operating mode of the pump and manual operation in the event of a controller fault Manual (emergency/test mode available at mains power, motor protection available, automatic resetting), 0 (pump switched off – cannot be switched on via the controller) and Auto (pump enabled for automatic mode via the controller)
Monitoring
Conductivity test of the sensor cable
Phase failure monitoring
Motor current monitoring via converter in devices for direct start
Protection of the pump mains power feeds in devices for direct starting is provided via circuit breakers; in devices for star-delta starting it is provided via safety fuses and a contactor/motor protection relay combination
Monitoring of maximum and minimum system values with adjustable time delays and limits
Protection against low water level via contact e.g. for float switch or pressure switch
Input for thermal winding contact (WSK) or fault message contact (SSM) of the pump in systems for star-delta starting
for pipe burst monitoring
Interfaces
Potential-free contact for collective fault signal (SSM)
External on/off via contact for deactivation of the system automatic mode (function can be activated via DIP switch)
Recommended accessories (to be ordered separately)
Optional WMS low-water cut-out switchgear kit;
Flexible connection lines or expansion joints
Break tank for system separation
Diaphragm pressure vessel
Standards followed
Specifications for drinking water installations (TRWI) DIN 1988 (EN806)
Diaphragm pressure vessel/ diaphragm expansion tank DIN 4807
Electronic Equipment for Use in Power Installations (EN 50178)
Electrical Equipment of Machines (EN 60204-1)
Household and Similar Electrical Appliances - Safety (EN 60335-1)
Low-voltage switchgear combinations EN 60439-1/ 61439-1
EMC - Immunity for Industrial Environments (EN 61000-6-2)
EMC - Emission Standard for Residential, Commercial and Light-Industrial Environments (EN 61000-6-3)
Operating data
Fluid media

Water

Number of pumps

1

Maximum operating pressure PN

16 bar

Maximum inlet pressure p inl

10 bar
Motor data
Mains connection

3~400 V, 50 Hz

Rated power P2

3.00 kW

Rated current IN

5.00 A

Rated speed n

2900 rpm

Insulation class

F

Protection class motor

IP55

Protection class switchgear

IP54
Materials
Pump housing

EN-GJL-250

Impeller

1.4307

Shaft

1.4057

Shaft seal

Q1BE3GG

Gasket material

EPDM

Pipework material

1.4571
Installation dimensions
Pipe connection on the suction side DNs

Rp 2

Pipe connection on the pressure side DNd

R 2
Information for order placements
Brand

Wilo

Product description

CO-1 Helix V 2202/K/CE+

Net weight, approx. m

126 kg

Article number

2530173
Dimensions and dimensions drawings
Comfort CO-/COR-Helix V.../CC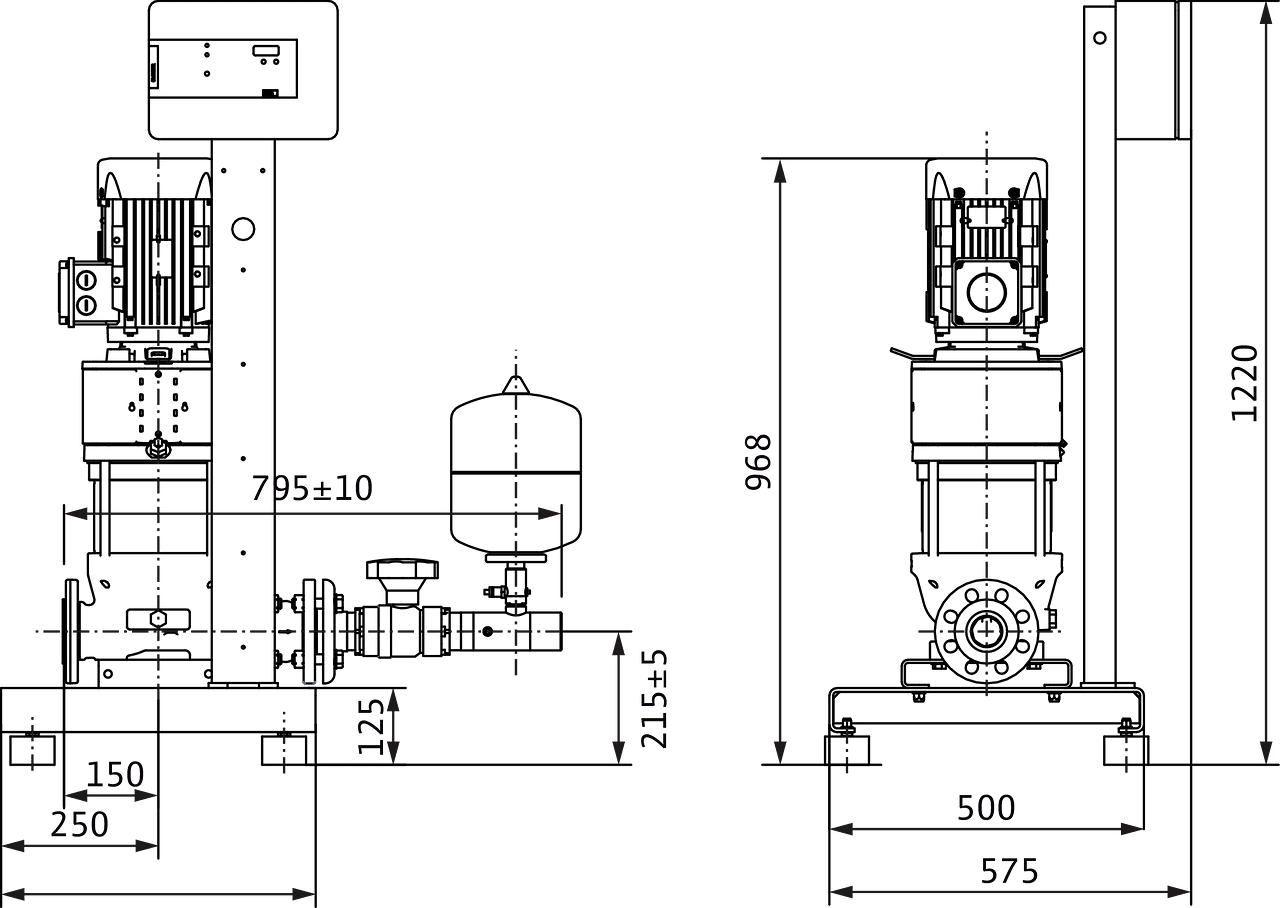 Sample systems are shown. Switchbox position depends on pump height.
Accessories (to be ordered separately): Optional WMS low-water cut-out switchgear kit
Installation surface: flat and horizontal
Installation location: dry, well ventilated and frost-proof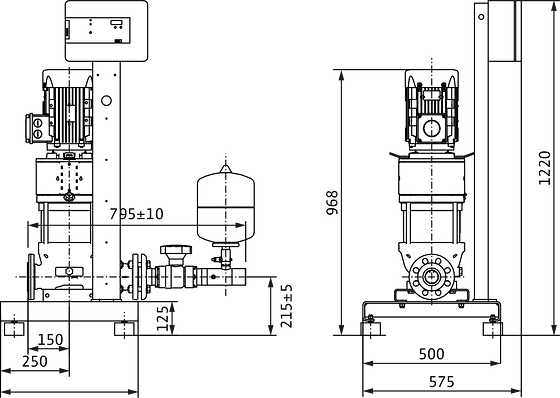 Pump curves
Economy CO-1 Helix V 2202-2208/CE+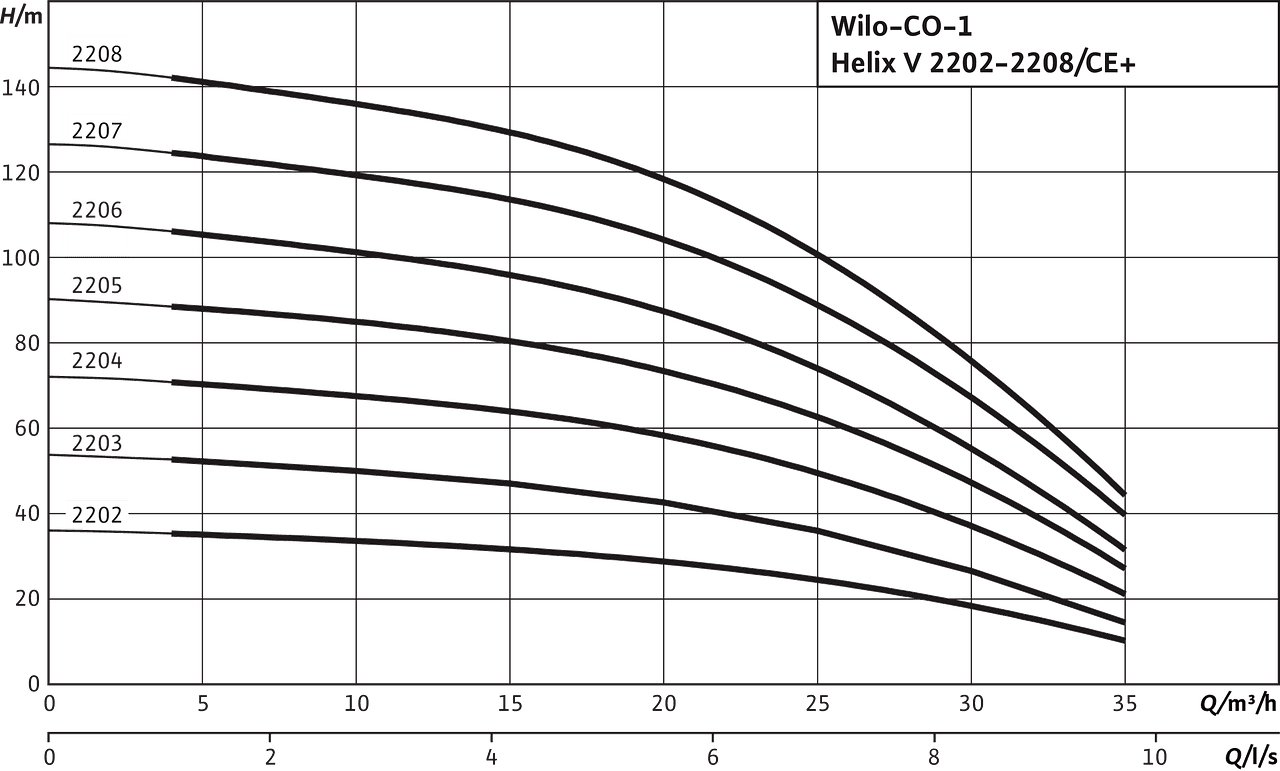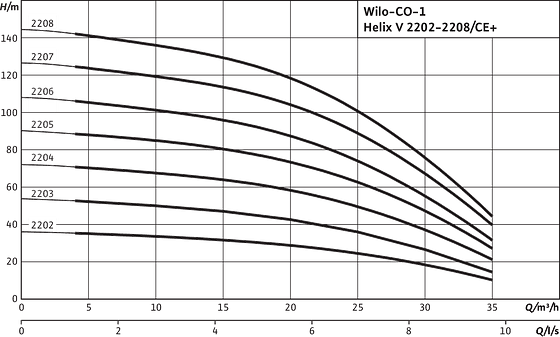 Wiring diagram
3~400 V ≤ 4 kW/10A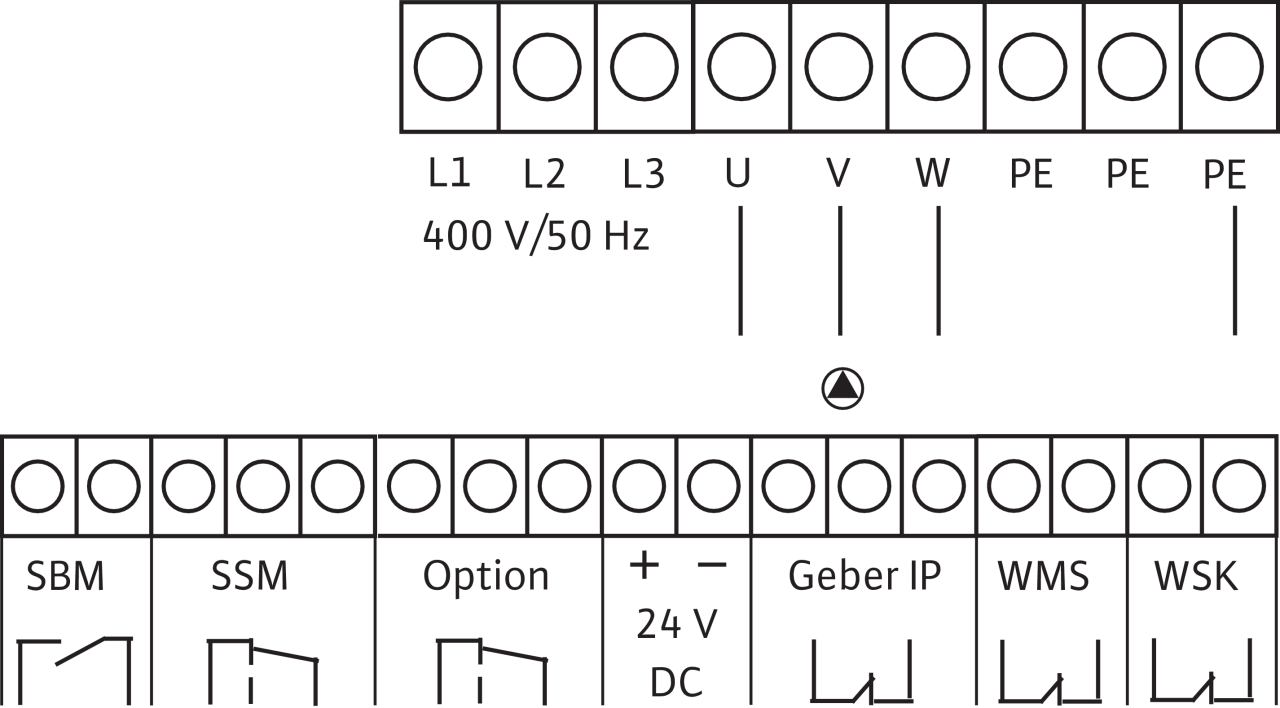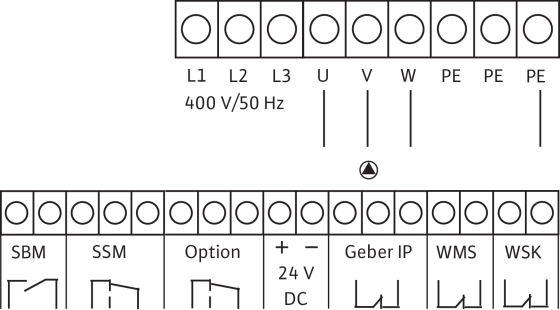 Ordering information
Information for order placements
Brand

Wilo

Product description

CO-1 Helix V 2202/K/CE+

EAN number

4048482040325

Article number

2530173

Gross weight, approx. m

151.0 kg

Net weight, approx. m

126 kg

Overall length L

895.0 mm

Height without packaging H

1220 mm

Colour

Green/black/silver

Packaging property

Transport packaging

Packaging type

Europallet

Number per layer

1

Width without packaging L

525.0 mm

Minimum order quantity

1

Pieces per pallet

1