DrainLift Box 32/11HD D
DrainLift Box 32/11HD D
Data sheet
Hydraulic data
Maximum operating pressure PN

1 bar

Min. fluid temperature Tmin

3 °C

Max. fluid temperature Tmax

35 °C

Min. ambient temperature Tmin

3 °C

Max. ambient temperature Tmax

35 °C
Motor data
Mains connection

1~230 V, 50 Hz

Rated current IN

3.60 A

Rated speed

1

Rated speed n

2900 rpm

No. of poles

2

Activation type

Direct online (DOL)

Max. switching frequency t

50 1/h

Power consumption P1(Q=max.) of selected impeller * number of pumps P1

750 W

Insulation class

F

Protection class

IP68
Materials
Pump housing

PP-GF30

Impeller

PPE/PS-GF20

Shaft

1.4404

Motor housing

1.4404
Installation dimensions
Operating mode (non-immersed)

S3-25%

Pipe connection on the suction side RPS

-

Pipe connection on the pressure side RPD

Rp 1¼
Information for order placements
Brand

Wilo

Product description

DrainLift Box 32/11HD D

EAN number

4048482733050

Article number

2546508

Net weight, approx. m

35 kg

Gross weight, approx. m

45.0 kg

Length with packaging

1200 mm

Height with packaging

1200 mm

Width with packaging

800 mm

Packaging property

Transport packaging

Packaging type

Europallet

Minimum order quantity

1
Tender text
Ready for connection and automatic sewage lifting unit as a double-pump system for the concealed floor installation for pumping sewage not containing faeces (in accordance with EN 12050-2). Pump chamber made of plastic with 2 inlet connections, complete pipework with Y-piece, non-return valve and 2 pre-installed pumps. Submersible pumps in single-phase version with self-switching thermal motor monitoring and built-in float switch for the level-dependent control.
Scope of delivery:
Sewage lifting unit with complete pipework, non-return valve and pre-installed pumps
Tank cover with tile frame and floor drain
Shell cover
O-ring for sealing shell cover (against pressurised water) and as anti-syphon trap
Pressure hose (inside diameter: 40 mm) incl. hose clips
Installation and operating instructions
Configuration:
Drawing wire in pipework provided for the installation of power supply cables.
Two power sockets provided for power connection.
Operating data
Approved field of application
Max. fluid temperature, for short periods up to 3 min. T

60 °C

Maximum operating pressure PN

1 bar

Max. permissible pressure in the pressure pipe P

1.7 bar
Product data
Gross volume of the tank V

113.0 l

Switching volume V

22.0 l

Operating mode (non-immersed)

S3-25%

Height H

880 mm

Length L

730 mm

Width W

720 mm

Diagonal dimension Diagonal axis

730 mm
Motor data
Mains connection

1~230 V, 50 Hz

Voltage tolerance

±10 %

Rated power P2

0.55 kW

Rated speed n

2900 rpm

Rated current IN

3.60 A

Insulation class

F

Protection class motor

IP68
Cable
Connection cable length

10.0 m

Cable type

H07RN-F

Cable cross-section

3G1 mm²

Mains plug

Shock-proof
Materials
Tank material

PE

Pump housing

PP-GF30

Impeller

PPE/PS-GF20

Shaft

1.4404

Motor housing

1.4404
Installation dimensions
Pipe connection on the suction side

Ø 110

Pipe connection on the pressure side

Ø 40

Connection venting

Ø 110
Information for order placements
Brand

Wilo

Product description

DrainLift Box 32/11HD D

Net weight, approx. m

35 kg

Article number

2546508
Dimensions and dimensions drawings
DrainLift Box double pump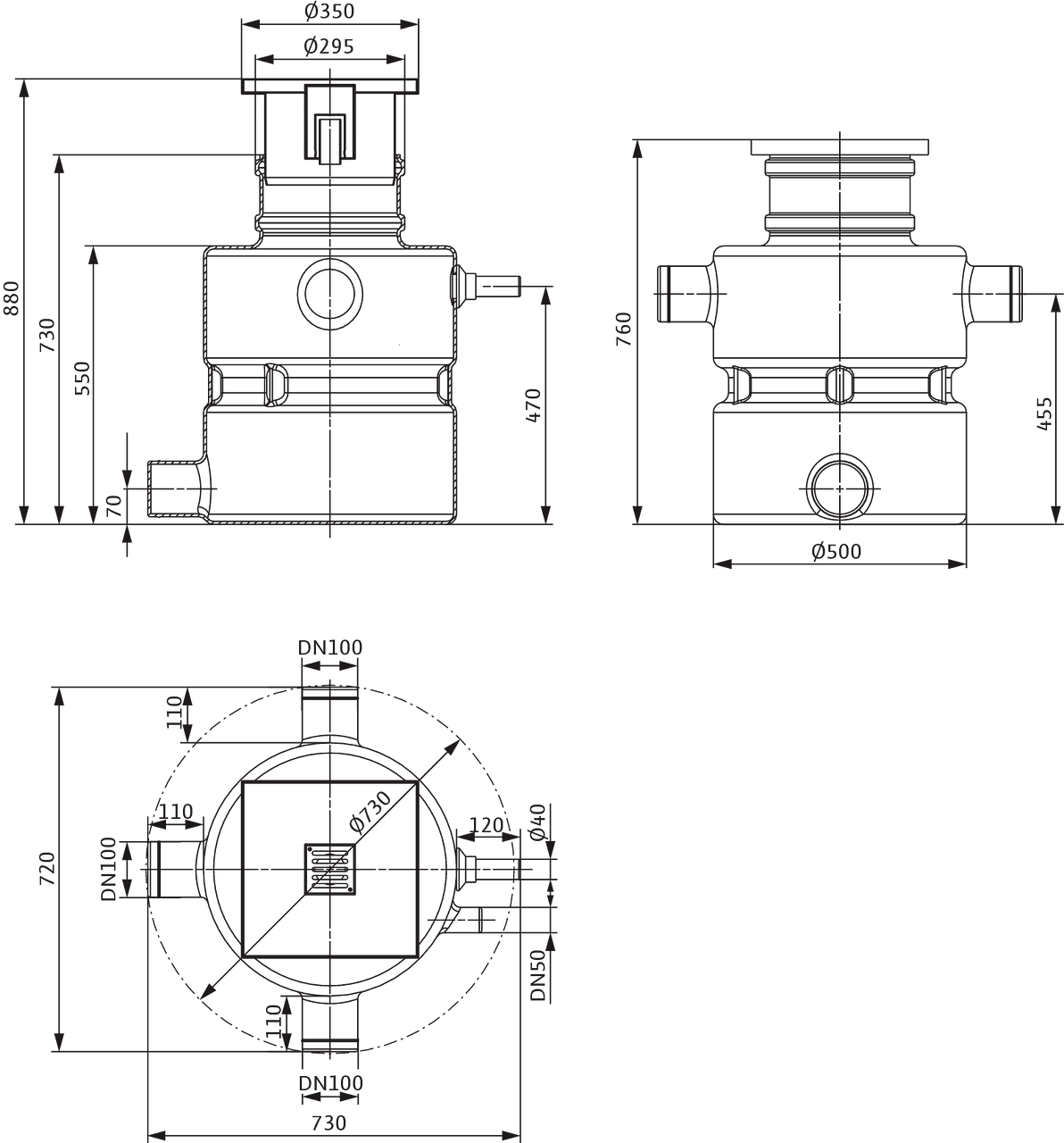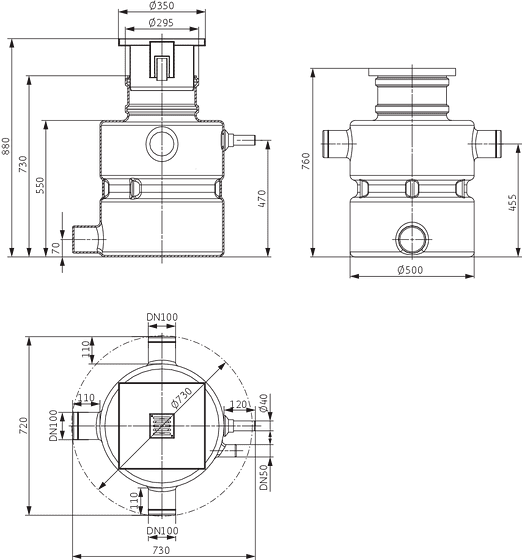 Pump curves
Drainlift Box
According to EN 12056-4, 6.1, flow velocity (in the pressure pipe) must be kept between 0.7 and 2.3 m/s.The stated Qmin values apply to the inside diameter of single-walled steel pipes.
Ordering information
Information for order placements
Brand

Wilo

Product description

DrainLift Box 32/11HD D

EAN number

4048482733050

Article number

2546508

Gross weight, approx. m

45.0 kg

Net weight, approx. m

35 kg

Overall length L

730.0 mm

Height without packaging H

880 mm

Colour

Black

Packaging property

Transport packaging

Packaging type

Europallet

Number per layer

1

Width without packaging L

720.0 mm

Minimum order quantity

1

Pieces per pallet

1