Voda Air Separator 22mm for Vertical Installation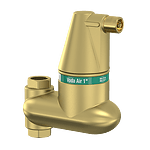 Voda Air Separator 22mm for Vertical Installation
For total elimination of air from heating and cooling installations.
Air separators increase comfort and improve the yield. Air separators also offer benefits in the event of application in old systems or when an open system is converted to a closed system.
Increases comfort and yield.
Removes not only the smallest air bubbles, but even the air which has been absorbed into the water. Even microbubbles from 15 - 20 μm!
The removal of air from the system water extends the service life of pumps, control equipment and other system accessories.
For mounting in vertical risers.
Technical data
Installation
Min. operating pressure
Max. operating pressure PN
Min. fluid temperature T
Max. fluid temperature T
Maximum allowed limit of glycol in %
Connection inlet
Connection outlet
Item no.
EAN number
Net weight, approx.
Certificate REACH (Documents)