Wilo-Drain TMT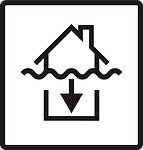 Wilo-Drain TMT 32M
Your advantages
Temperature resistance for fluid temperatures up to 95 °C
High operational reliability due to motor temperature monitoring and sealed cable inlet
Wilo-Drain TMT 32M
---
Design
Submersible drainage pump
Application
Pumping of
Wastewater with a maximum fluid temperature of 95 °C
Equipment/function
Connection cable for fluids up to 95 °C, permanently connected
Winding temperature monitoring with bimetallic strip
Technical data
Mains connection: 3~400 V, 50 Hz
Protection class: IP68
Max. immersion depth: 7 m
Fluid temperature:

Immersed: 3 … 95 °C
Non-immersed: 3 ... 60 °C

Cable length: 10 m
Pressure port: G 1¼
Materials
Pump housing: EN-GJL-250
Impeller: EN-GJL-250
Shaft: 1.4021
Mechanical seal: SiC/SiC; Cr/MgSi
Static gaskets: HNBR
Motor housing: EN-GJL-250
Construction
Fully submersible drainage pump for vertical wet well installation to pump fluids with temperatures of up to max. 95°C.
Hydraulics
The hydraulics housing and the impeller are made of cast iron. The connection on the pressure side is designed as horizontal threaded flange connection.
Motor
Three-phase current surface-cooled motors for direct starting are used as the motors. The waste heat is given off directly to the surrounding fluid via the motor housing. These motors can be operated immersed in continuous duty (S1) and non-immersed in intermittent operation (S3).
Furthermore the motors are equipped with the following monitoring devices:
Leakage detection motor compartment: The leakage detection signals water ingress into the motor compartment.
Thermal motor monitoring: The thermal motor monitoring protects the motor windings against overheating. Bimetallic strips are used for this as standard.
The connection cable has bare cable ends and a length of 10 m as standard, and is available in following versions:
Seal
The fluid-side and motor-side seal is provided by two mechanical seals. The sealing chamber between the mechanical seals is filled with medical white oil.
Scope of delivery
Submersible drainage pump
Installation and operating instructions
Installation and operating instructions
---