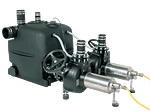 Similar to figure
Ready-for-connection, fully submersible and automatic sewage lifting unit as a double-pump system with automatic duty cycling, standby and peak-load operation. Two separate, dry-installed submersible sewage pumps in three-phase version with sheath flow cooling, stainless steel housing and thermal motor monitoring. One gas-tight and water-tight collection reservoirs made from plastic with clearly defined inlet connections and level control with level sensor. Microprocessor-controlled switchgear with
LEDs for displaying operating status and error messages
Adjustable follow-up time
Integrated and mains-dependent alarm
1x potential-free contact for connection of a collective fault signal (SSM).
Scope of delivery:
Sewage lifting unit ready for connection with switchgear
1x collar for diaphragm hand pump connection
1x inlet connection DN 150
1x collar for venting connection DN 70
1 x kit for connection of tank and pump
Attention: To install required fittings (e.g. Y-pipe, gate valve and non-return valve), they must be ordered as an accessory!
Operating data
Fluid media
Approved field of application
Fluid temperature T
Max. fluid temperature, for short periods up to 3 min. T
Ambient temperature T
Maximum operating pressure PN
Max. permissible pressure in the pressure pipe P
Product data
Gross volume of the tank V
Switching volume V
Operating mode (non-immersed)
Height H
Length L
Width W
Diagonal dimension Diagonal axis
Motor data
Mains connection
Voltage tolerance
Rated power P2
Rated speed n
Rated current IN
Insulation class
Protection class motor
Activation type
Max. switching frequency t
Motor protection
Materials
Tank
Pump housing
Impeller
Shaft
Motor housing
Installation dimensions
Pipe connection on the suction side
Pipe connection on the discharge side
Connection venting
Ordering information
Brand
Product description
Net weight, approx. m
Article number
Installation and operating instructions
---
Certificate REACH (Documents)