Connectivity
THE FUTURE IS CONNECTED
From the integration in building automation to control by app, Wilo ensures comprehensive communication capability with intelligent and smart technologies. We connect you smartly to your pumps and pump systems and give you an overview of installation sites and operating conditions whilst you are on the go.
Available for the following products
Wilo-SiBoost Smart Helix EXCEL
The new Wilo-Assistant - The app for everyone
The redesigned Wilo-Assistant app makes the entire world of high-efficiency pump technology available on smartphones and tablets for HVAC installers, technical building equipment consultants and pump operators.
The new design and the intuitive user experience provide even better support for your day-to-day work. New functions and connective solutions add to the range of features already offered by the previous Wilo-Assistant. That way, users can find what they need even faster, and get support with:
Consultation and selection
Customer consultation
Installation and commissioning
Remote control and maintenance
Download on the App Store (iOS)
Android App on Google play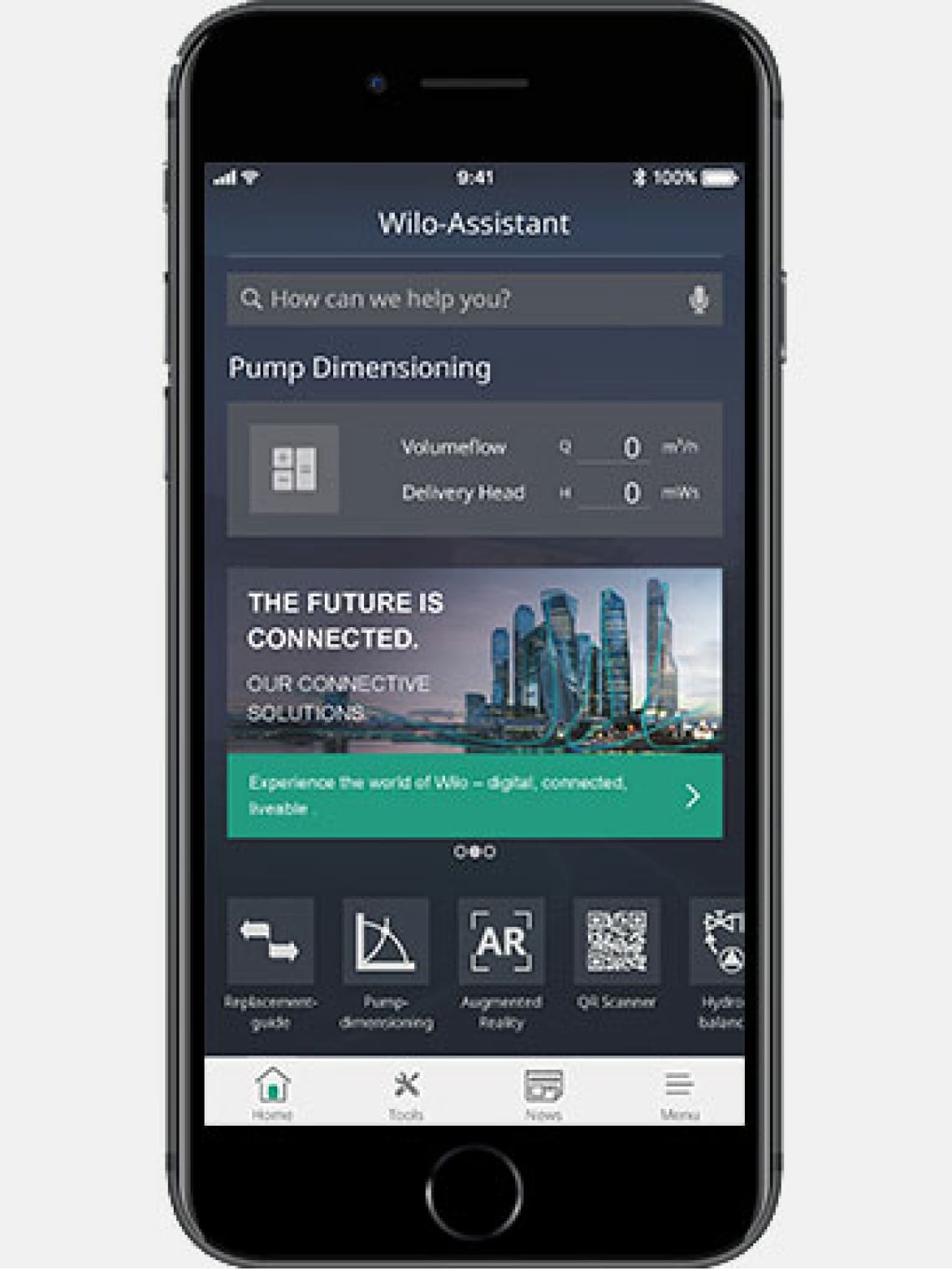 Wilo-Smart Connect
With Wilo-Smart Connect, you are able to remote control the following Wilo products: Wilo-Stratos MAXO and Wilo-Stratos, Wilo-Stratos GIGA, Wilo-CronoLine IL-E, Wilo-VeroLine IP-E and Wilo-Helix VE.
The functionalities include reading out parameterisation of Wilo products, store it, transfer it and generate documentation of commissioned products. Additionally, reading out and visualise statistical data is possible.
Wilo-Care Connect
With Wilo-Care Connect you stay up-to-date about the current status of your system, including energy consumption and possible optimisations or malfunctions.
Wilo-Solar Connect
Solar Connect-App - Convenience and operational reliability.
The Solar Connect app gives you access to your submersible pump Wilo-Actun OPTI-MS from anywhere. The operating status can be controlled on the go for an efficient water supply. This makes your daily work easier and increases operational safety.