HiMulti 3 C 1-43
HiMulti 3 C 1-43
Data sheet
Hydraulic data
Maximum operating pressure p

8 bar

Pressure port

G 1

Min. fluid temperature T

0 °C

Max. fluid temperature T

40 °C

Min. ambient temperature T

-15 °C

Max. ambient temperature T

40 °C
Motor data
Mains connection

1~230 V, 50 Hz

Rated power P2

0.40 kW

Rated current IN

3.00 A

Rated speed n

2900 rpm

Insulation class

F

Protection class

X4
Materials
Shaft

1.4021, X20Cr13

Shaft seal

BVPFF

Gasket material

EPDM

Stage chamber material

PPE/PS-GF30
Installation dimensions
Pipe connection on the suction side RPS

G 1

Pipe connection on the pressure side RPD

G 1
Information for order placements
Net weight, approx. m

13 kg

Brand

Wilo

Product description

HiMulti 3 C 1-43

Article number

2543606
Tender text
Multistage, horizontal centrifugal pump in glanded pump design, not self-priming, with directly flanged motor and automatic pump control HiControl 1. The shaft bushing is sealed by a maintenance-free, force-flushed mechanical seal.
For pumping and pressure boosting of drinking water or slightly muddy water in the residential, agricultural and other areas.
Water supply from wells, rainwater storage tanks, other municipal water supplies, municipal water supply network etc. for irrigation, sprinkling, pressure boosting etc.
2-pole single-phase motor with threaded cable connection, capacitor in the connection box, motor protection switch with automatic reactivation, low-water cut-out switchgear.
Scope of delivery
Pump
HiControl 1 pump control
Two plastic connectors with seals for manually connecting to the inlet pipe
A quick electrical connection
Installation and operating instructions
Materials
Shaft

1.4021, X20Cr13

Shaft seal

BVPFF

Gasket material

EPDM

Stage chamber material

PPE/PS-GF30
Operating data
Fluid media

Water

Min. fluid temperature T

0 °C

Max. fluid temperature T

40 °C

Maximum operating pressure p

8 bar

Pressure port

G 1

Max. ambient temperature T

40 °C
Motor data
Mains connection

1~230 V, 50 Hz

Voltage tolerance

+10/-15 %

Rated power P2

0.40 kW

Rated current IN

3.00 A

Rated speed n

2900 rpm

Insulation class

F

Protection class

X4
Installation dimensions
Pipe connection on the suction side RPS

G 1

Pipe connection on the pressure side RPD

G 1
Information for order placements
Net weight, approx. m

13 kg

Brand

Wilo

Product description

HiMulti 3 C 1-43

Article number

2543606
Pump curves
HiMulti 3C 43-45 (P)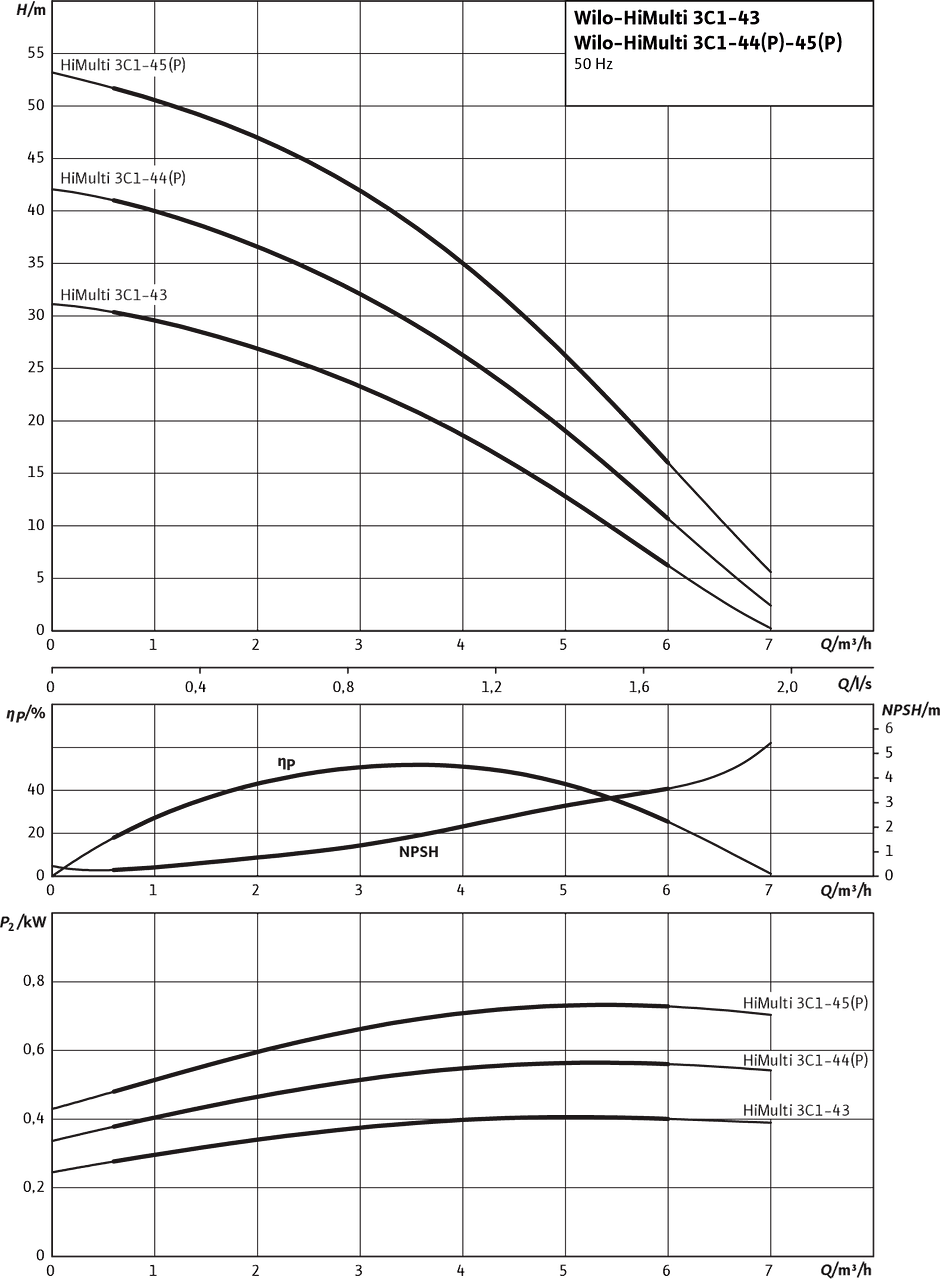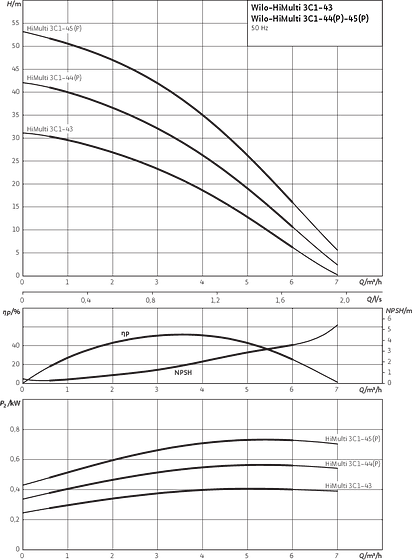 Ordering information
Information for order placements
Brand

Wilo

Product description

HiMulti 3 C 1-43

EAN number

4048482503721

Article number

2543606

Gross weight, approx. m

15.2 kg

Net weight, approx. m

13 kg

Overall length L

353.0 mm

Height without packaging H

370 mm

Colour

green/silver

Packaging property

Sales packaging

Packaging type

Cardboard box

Number per layer

6

Width without packaging L

210.0 mm

Minimum order quantity

1

Pieces per pallet

12