Wilo-Rexa SOLID-Q
Wilo-Rexa SOLID-Q with Nexos Intelligence – The intelligent system solution for a smart sewage pumping station
Pumping untreated sewage is becoming increasingly demanding due to the growing prevalence of solids and fibrous material which, in turn, leads to increased operating costs. The new Wilo-Rexa SOLID-Q with Nexos Intelligence is characterised by operational reliability, energy efficiency and the highest level of digital networking. The smart combination for cost effectiveness combined with the additional convenience in your day-to-day work.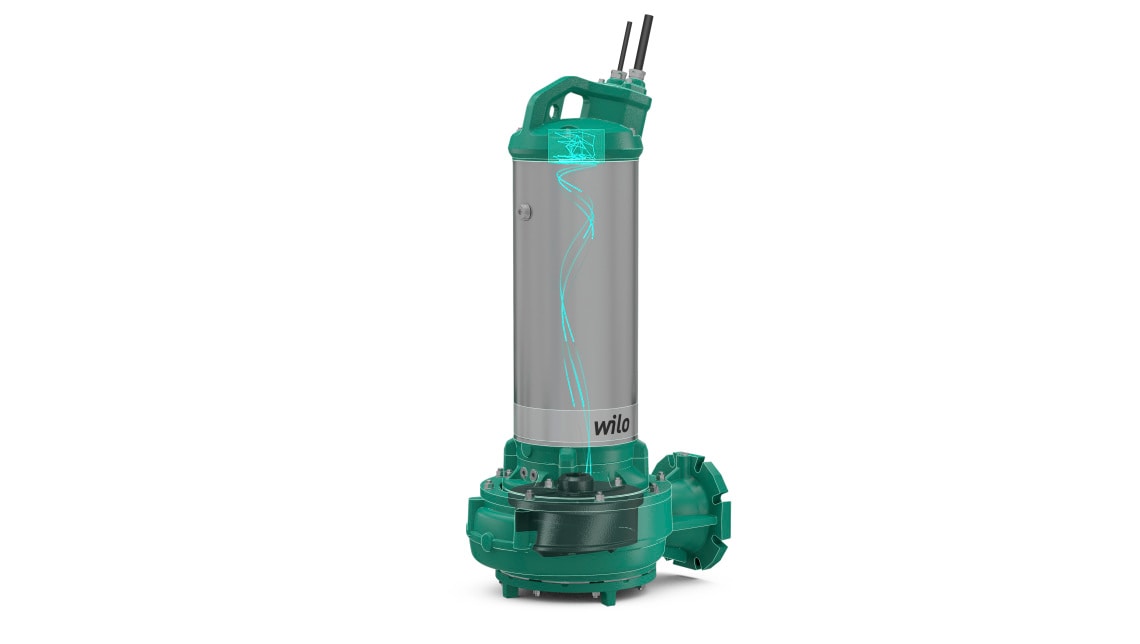 Wilo-Rexa SOLID-Q with Nexos Intelligence
Reduced downtime and service call-outs thanks to automatic detection and elimination of clogging
Lower energy costs owing to automated control for the optimum operating mode of a specific system
Control and networking with the station network via a web server and Ethernet interface with standard network protocols
Increased operational reliability in the event of a fault thanks to the redundancy design of the integrated pump control
System solution with application-specific adaptable functions and digital interfaces
Operational reliability
The proportion of solids in sewage is constantly increasing – in particular because of the increased use of wet wipes – so pumps tend to clog up and fail more frequently. This leads to more unscheduled service call-outs, which further adds to operating costs.
High operational reliability is provided by Wilo SOLID-Q hydraulics, featuring self-cleaning action and the integrated smart Nexos electronic control system, which detects and independently rectifies clogging without an operator having to intervene. Consequently, fewer service call-outs are needed, and costly maintenance work at night or on weekends is avoided.
Energy efficiency
Many older sewage pumping stations run at lower efficiency, consume unnecessarily large amounts of power and drive up operating costs. A pumping station's energy consumption is a key factor in its efficiency. The Wilo-Rexa SOLID-Q with Nexos Intelligence is an intelligent system solution that reduces energy costs by combining high hydraulic efficiency with high-efficiency IE5 motors and intelligent speed control. By automatically detecting the optimum duty point, the Wilo-Rexa SOLID-Q with Nexos Intelligence minimises pipe losses, maximises system efficiency and saves energy.
Connectivity
For sewage pumping station operators, it can be hard to remotely assess the status of their station. Systems therefore need to be inspected on-site, which in turn leads to higher personnel costs. The Wilo-Rexa SOLID-Q with Nexos Intelligence makes everyday operation more convenient:
Remote monitoring and documentation through the Digital Data Interface with digital rating plate, integrated vibration measurement and data logger
Operators log in to the integrated web server via a touch panel or PC and view sensor data in real time, and can also adjust settings
Simple system integration through the built-in Ethernet interface with standard network protocols
Integrated master-slave system control with automatic control handover in the event of servicing for maximum reliability