Wilo-SiBoost Smart Helix EXCEL
Wilo-SiBoost Smart Helix EXCEL – The smart pressure-boosting system with low overall energy consumption
In densely populated countryside, water transport is often associated with leakage risks. This results in high operating costs. Our solution: the Wilo-SiBoostSmart Helix EXCEL significantly reduces overall power consumption thanks to its top-quality components (hydraulics and motors) as well as a switchgear which supports leakage detection via an optional communication interface.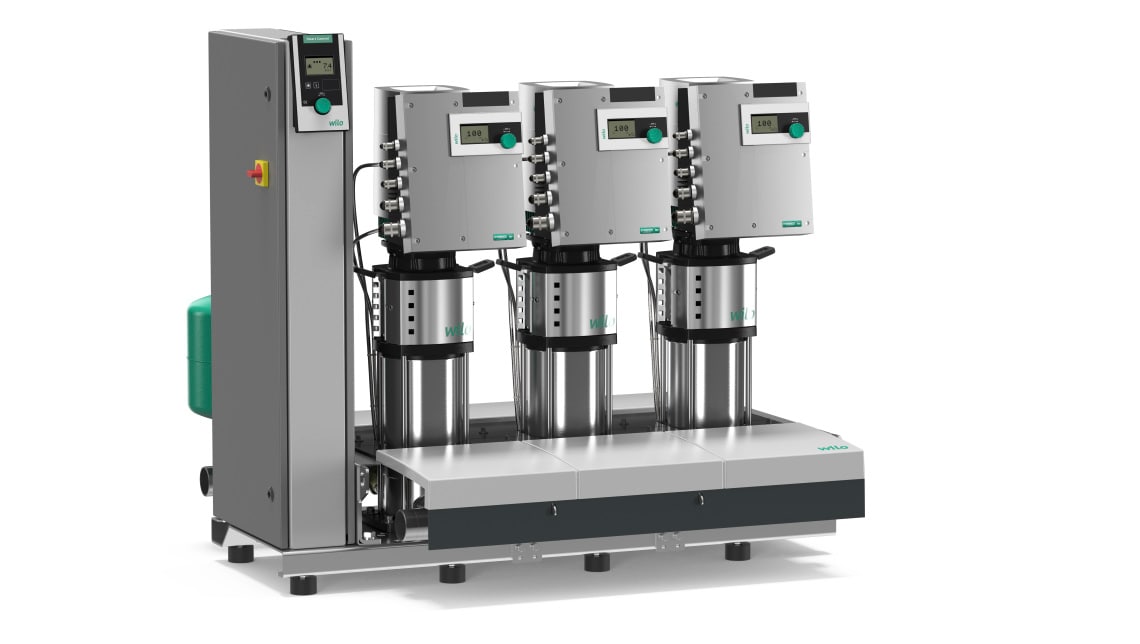 Wilo-SiBoost Smart Helix EXCEL
Heavy-duty system featuring stainless steel high-pressure multistage centrifugal pump from the Helix EXCEL series with integrated frequency converter from 25 Hz to a maximum of 60 Hz
High-efficiency EC motor (energy efficiency class IE5 in accordance with IEC 60034-30-2)
Pressure-loss optimised overall system with highly efficient pump hydraulics
Optimal load adjustment of the system to the overall system through the extra control mode Δp-v
Improved monitoring and leakage detection via the optional interface with SCADA connection
Maximum degree of control thanks to use of an SCe control device with LCD display, simple navigation and adjustment using rotary knob
Integrated dry-running detection with automatic deactivation by the motor control electronics
Highly efficient
Thanks to the interaction of new pump design, high-efficiency hydraulics and future-proof EC motors, this series of pumps consumes considerably less of that valuable energy. This means the total power consumption of the system is significantly reduced.
Operational reliability
The pressure-boosting systems need to be adapted to a whole range of different requirements, so that even complex water circuits with a large number of consumers are optimally supplied at all times. Water transport can involve dynamic pressure losses and risks of leakage. Here, Wilo can offer its customers a first-class solution for operational reliability. Thanks to its improved monitoring system with the extra new control mode delta p-v and the optional interface to the SCADA connection, it enables the customer to detect leaks indirectly.
In this way, the system provides an early warning of possible leakages, leading to quicker reaction time.
Easy operation
We develop needs-oriented, future-proof solutions for systematic and efficient water transport.
The innovative control and regulating system makes operation both fast and convenient. This facilitates regular maintenance and has a positive effect on the operating costs.