Economy MHI 403 (1~230 V, FKM)
Economy MHI 403 (1~230 V, FKM)
Data sheet
Hydraulic data
Maximum inlet pressure p inl

6 bar

Maximum operating pressure PN

10 bar

Pressure port

Rp 1

Min. fluid temperature Tmin

-15 °C

Max. fluid temperature Tmax

90 °C

Min. ambient temperature Tmin

-15 °C

Max. ambient temperature Tmax

40 °C
Motor data
Mains connection

1~230 V, 50 Hz

Voltage tolerance

±10 %

Rated power P2

0.55 kW

Rated current IN

4.00 A

Rated speed n

2810 1/min

Activation type

Direct online (DOL)

Power factor cos φ

0.97

Motor efficiency ηM 50%

59.2

Motor efficiency ηM 75%

64.4

Motor efficiency ηM 100%

63.9

Insulation class

F

Protection class motor

X4
Materials
Pump housing

1.4404

Impeller

1.4404

Shaft

1.4404

Mechanical seal

BQ1VGG

Gasket material

FKM
Installation dimensions
Pipe connection on the suction side DNs

Rp 1¼

Pipe connection on the pressure side DNd

Rp 1
Information for order placements
Brand

Wilo

Product description

Economy MHI 403 (1~230 V, FKM)

EAN number

4016322528890

Article number

4015688

Net weight, approx. m

11 kg

Gross weight, approx. m

12.2 kg

Length with packaging

600 mm

Height with packaging

280 mm

Width with packaging

260 mm

Packaging property

Transport packaging

Packaging type

One-way pallet

Minimum order quantity

1
Tender text
Multistage, non-self-priming, horizontal high-pressure centrifugal pump in block design with horizontal suction- and vertical pressure port.
The pump has a compact design with a continuous motor pump shaft and a bidirectional mechanical seal.
The pump is suitable for water supply and pressure boosting, industrial recirculation systems, process water and cooling water circuits. It can also be used in washing systems as well as for irrigation.
Special features/product advantages
Space-saving, compact block design
All hydraulic parts which come into contact with the fluid, such as stage chambers, impellers and diffusors and the pump housing are made of stainless steel
Drinking water approval (KTW, WRAS) for all components in contact with the fluid (EPDM version)
Scope of delivery
Wilo-Economy MHI high-pressure multistage centrifugal pump
Installation and operating instructions
Design notes
Motor protection for three-phase AC motor is optional or to be provided on-site
Single-phase AC motor equipped with built-in thermal motor protection and capacitor
Operating data
Product data
Min. fluid temperature Tmin

-15 °C

Max. fluid temperature Tmax

90 °C

Max. ambient temperature Tmax

40 °C

Maximum operating pressure PN

10 bar

Maximum inlet pressure p inl

6 bar
Motor data
Mains connection

1~230 V, 50 Hz

Voltage tolerance

±10 %

Rated power P2

0.55 kW

Rated current IN

4.00 A

Rated speed n

2810 1/min

Power factor cos φ

0.97

Motor efficiency ηM 50%

59.2

Motor efficiency ηM 75%

64.4

Motor efficiency ηM 100%

63.9

Insulation class

F

Protection class

X4
Materials
Pump housing

1.4404

Impeller

1.4404

Shaft

1.4404

Shaft seal

BQ1VGG

Gasket material

FKM
Installation dimensions
Pipe connection on the suction side DNs

Rp 1¼

Pipe connection on the pressure side DNd

Rp 1
Information for order placements
Brand

Wilo

Product description

Economy MHI 403 (1~230 V, FKM)

Net weight, approx. m

11 kg

Article number

4015688
Dimensions and dimensions drawings
4015688_ConGraph_mhi_202_805__dim_01_0902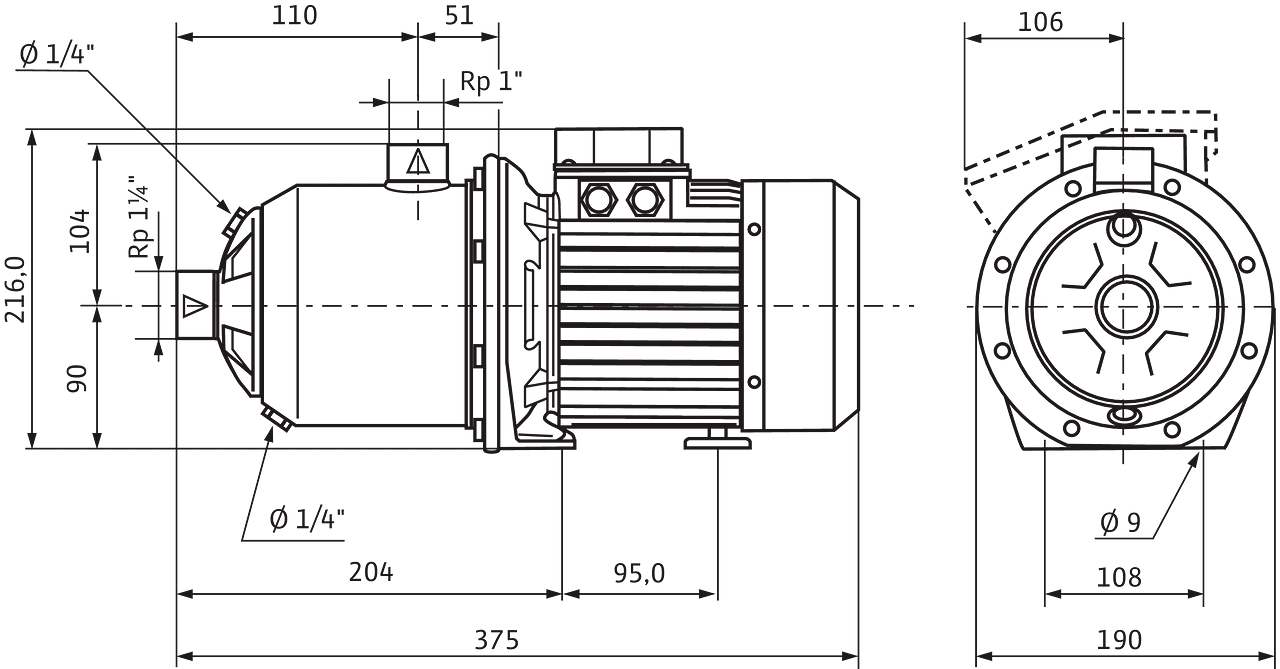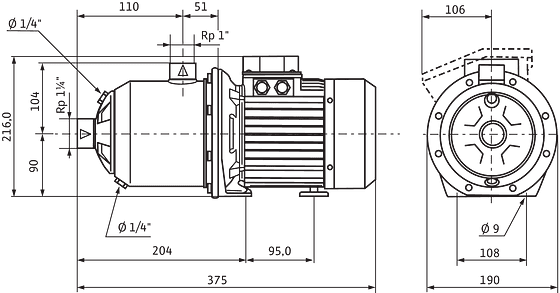 Pump curves
Economy MHI 402 - 406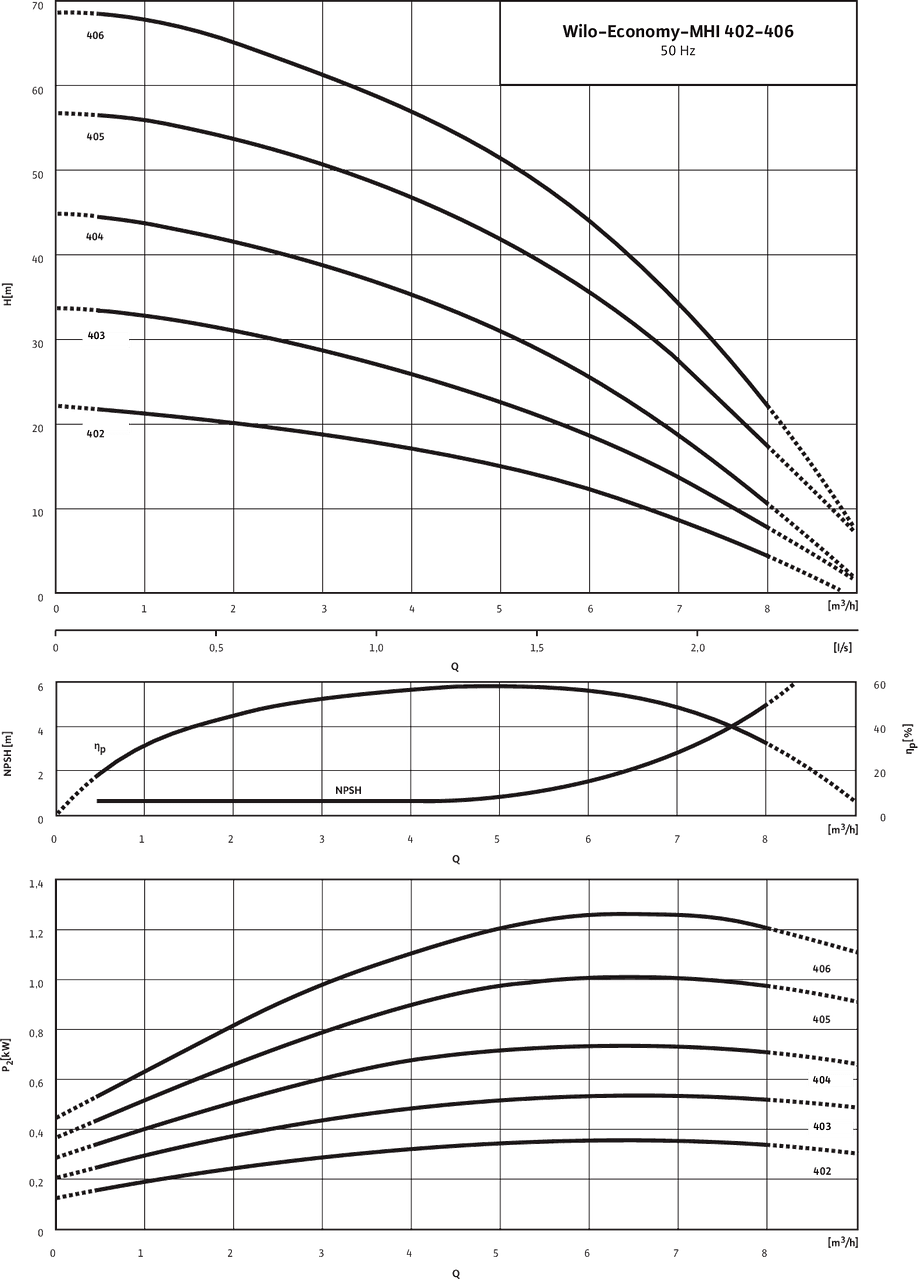 Pump curves in accordance with ISO 9906: 2012 3B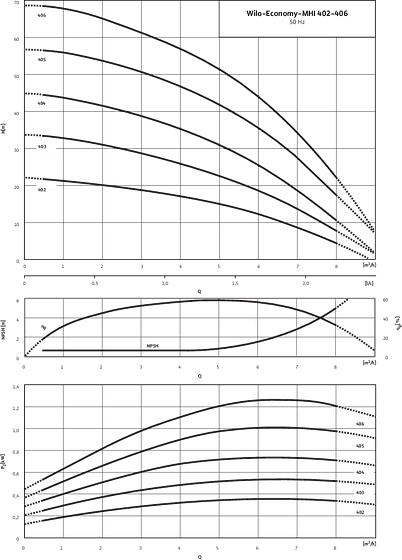 Wiring diagram
3~400 V; 1~230 V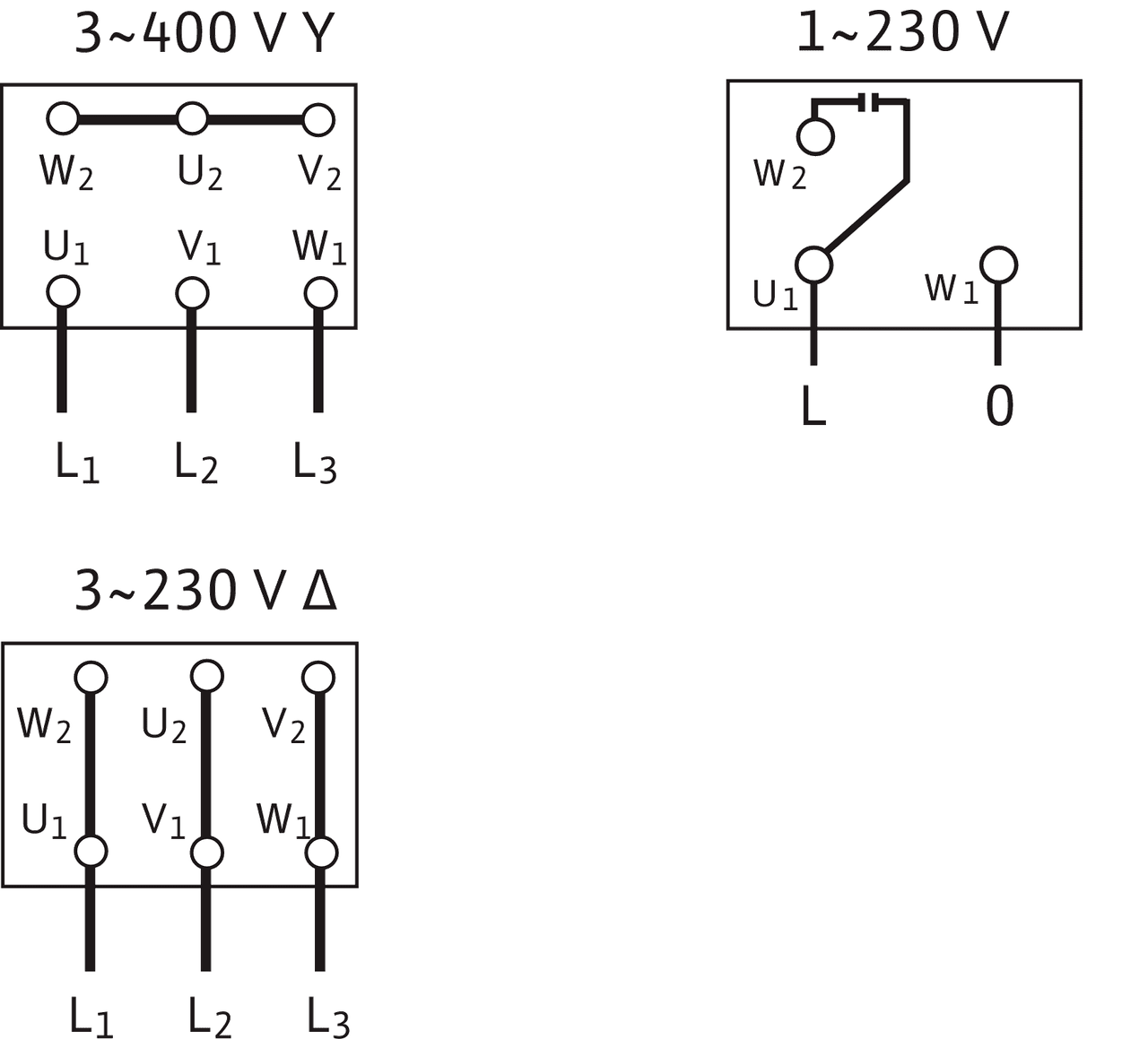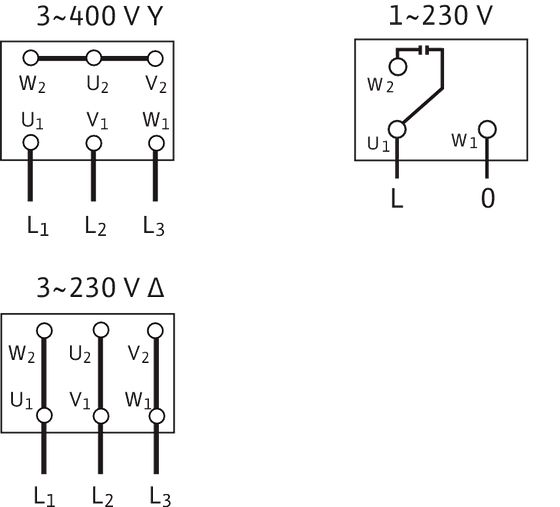 Ordering information
Information for order placements
Brand

Wilo

Product description

Economy MHI 403 (1~230 V, FKM)

EAN number

4016322528890

Article number

4015688

Gross weight, approx. m

12.2 kg

Net weight, approx. m

11 kg

Overall length L

375.0 mm

Height without packaging H

216 mm

Colour

green/silver

Packaging property

Transport packaging

Packaging type

One-way pallet

Number per layer

1

Width without packaging B

190.0 mm

Minimum order quantity

1

Pieces per pallet

1