HiDrainlift 3-24
HiDrainlift 3-24
Data sheet
Materials
Motor housing

PP-GF30

Pump housing

PP-GF30
Operating data
Min. fluid temperature T

5 °C

Max. fluid temperature T

35 °C

Max. ambient temperature T

40 °C
Motor data
Mains connection

1~230 V, 50 Hz

Power consumption P1(Q=max.) of selected impeller * number of pumps P1

250 W

Rated current IN

1.22 A

Rated speed

1

No. of poles

2

Activation type

Direct online (DOL)

Insulation class

F

Protection class

IP44

Max. switching frequency t

100 1/h
Installation dimensions
Pipe connection on the suction side

DN 40

Pipe connection on the pressure side

DN 32
Information for order placements
Net weight, approx. m

4 kg

Brand

Wilo

Product description

HiDrainlift 3-24

Article number

4191678
Pump curves
HiDrainLift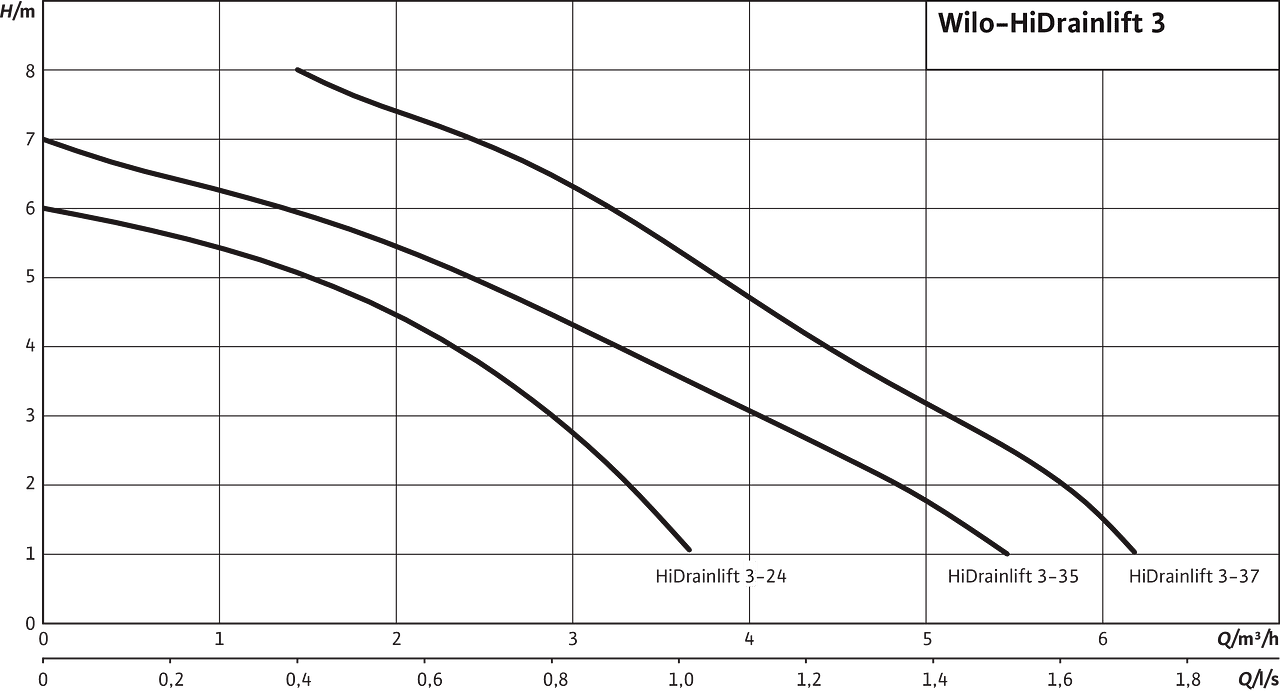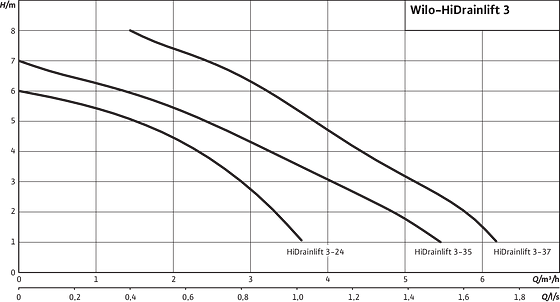 Ordering information
Information for order placements
Brand

Wilo

Product description

HiDrainlift 3-24

EAN number

4048482454252

Article number

4191678

Gross weight, approx. m

4.8 kg

Net weight, approx. m

4 kg

Overall length L

372.0 mm

Height without packaging H

188 mm

Colour

White

Packaging property

Sales packaging

Packaging type

Cardboard box

Number per layer

11

Width without packaging L

177.0 mm

Minimum order quantity

1

Pieces per pallet

44
Tender text
Very compact, low-noise and automatic wastewater lifting unit in accordance with EN 12050-2, for installation under a shower or in floor units, with all required switching and control equipment.
Components of the system:
Reliable submersible pump
Built-in non-return valve
Active carbon filter
Overflow protection
Flexible connecting piece
Up to two connection options for drainage of wash basin, shower or bidet.
Local standards and directives (e.g. DIN 1986 in Germany) must be complied with during construction work.
A mains-dependent alarm is available as an option.
Materials
Motor housing

PP-GF30

Tank material

4191678, HiDrainlift3-24

Pump housing

PP-GF30
Operating data
Fluid media

Water

Min. fluid temperature T

5 °C

Max. fluid temperature T

35 °C

Max. ambient temperature T

40 °C
Motor data
Mains connection

1~230 V, 50 Hz

Shaft power P2(Q=max.) of selected impeller * number of pumps

250 W

Rated current IN

1.22 A

Protection class motor

IP44

Insulation class

F
Installation dimensions
Pipe connection on the suction side

DN 40

Pipe connection on the pressure side

DN 32
Information for order placements
Net weight, approx. m

4 kg

Brand

Wilo

Product description

HiDrainlift 3-24

Article number

4191678
Downloads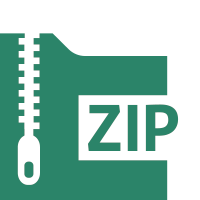 Wilo-HiDrainlift
| | |
| --- | --- |
| Article Number | 4194362 |
| Edition | 1411 |
| Version number | 01 |
| Page format | A4 |
| Number of pages | 1 |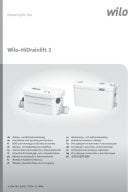 Wilo-HiDrainlift
| | |
| --- | --- |
| Article Number | 4194362 |
| Edition | 1411 |
| Version number | 01 |
| Page format | A4 |
| Number of pages | 28 |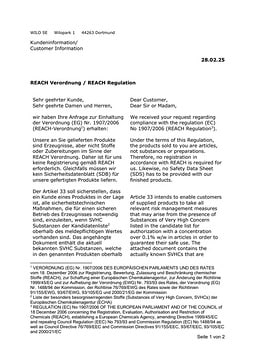 REACH Regulation
| | |
| --- | --- |
| Edition | 2018-10 |
| Page format | 209.9 x 296.7 mm |
| Number of pages | 4 |