Wilo-Actun ZETOS
Series description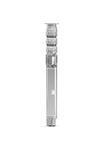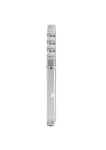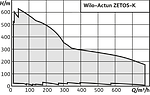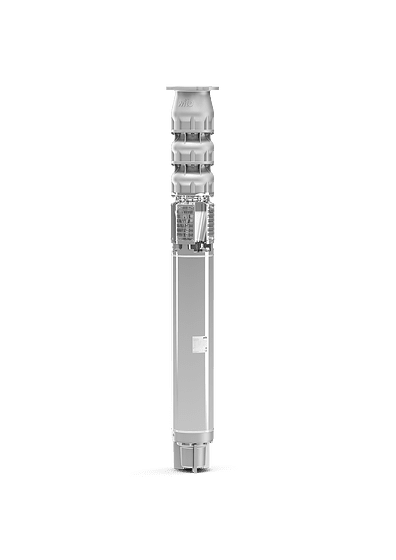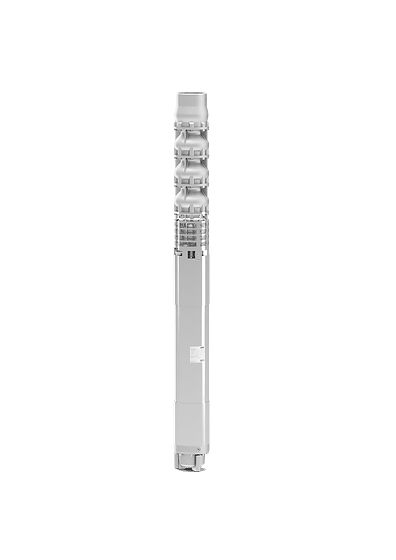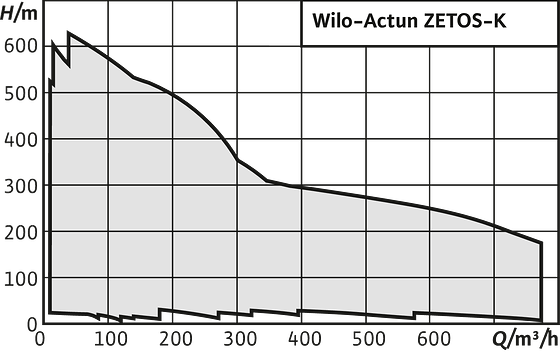 Special features/product advantages
High pump efficiency of up to 84.5 %
A previously unequalled total efficiency of more than 75 % in this class with permanent magnet rotor
Particularly corrosion-resistant thanks to hydraulics comprised entirely of cast stainless steel in 1.4408 (AISI 316)
High wear resistance: max. sand content of 150 g/m³
ACS approved for domestic water applications
Easy maintenance, simple to dismantle system
Design type
Multistage 8" stainless steel cast submersible pump in sectional construction for vertical and horizontal installation
Application
Process water and water supply from boreholes and rainwater storage tanks in communal and industrial applications
Pumping drinking water with ACS approval
Pumping water for sprinkling and irrigation
Ground water lowering
Pressure boosting
Pumping water in offshore areas and in fire extinguishing systems
Utilisation in geothermal and thermal applications
Water control in mines and mining applications
Equipment/function
Multistage hydraulics with semi-axial impellers
Integrated non-return valve
NEMA coupling
Three-phase AC motor
Scope of delivery
Unit (hydraulics system + motor) premounted at the factory
Connection cable per customer request
Installation and operating instructions
Technical data
Hydraulics:
Max. volume flow: 200 m³/h
Max. delivery head: 620 m
Max. fluid temperature: 70 °C
Max. sand content: 150 g/m³
Pressure connection: G 5/PN 63
Motor:
Mains connection: 3~400 V, 50 Hz ±10 %
Max. fluid temperature: 30 °C at 0.16 or 0.5 m/s minimum flow at the motor; 20 °C at 0.1 m/s minimum flow at the motor; higher temperatures on request
Immersed operating mode: S1
Max. number of starts: NU 5... / NU 6… / NU 7… = 20/h; NU 8.. = 10/h
Max. immersion depth: NU 5… NU 7… = 350 m; NU 611, NU 811 = 100 m; NU 801 = 300 m
Protection class: IP 68
Control range for frequency converter: NU 5... / NU 611 / NU 7… / NU 811 = 30-50 Hz; NU 801 = 25-50 Hz
Description/construction
Submersible pump for vertical or horizontal installation.
Hydraulics
Multistage submersible-motor pump with semi-axial hydraulics. Housing parts and impellers made of stainless steel (1.4408). Pressure connection as threaded connection with non-return valve (optionally with accessory adapter on flange connection).
Motor
Three-phase motor for direct and star-delta start. Sealed, hermetically cast motor with enamel-insulated winding, resin-impregnated (NU 5…, NU 7…) or rewindable motor with PVC-insulated winding (NU 611…, NU 8…). Motor shroud made of stainless steel, A2/A4 quality.
Hydraulic connection as standard NEMA connection. Sealing of motor shaft by the use of a mechanical seal made of solid silicon carbide material. Self-lubricating motor bearing. Thrust bearing with rockers for absorption of high axial thrust. Negative axial thrust is absorbed by the counter-thrust bearing.
Motors in the NU 5… and NU 7… series are filled with a water-glycol mixture, motors in the NU 611 and NU 811 series are filled with a water-glycerine mixture. NU 611 and NU 8... series motors can also be filled with drinking water (T-version). Frequency converter operation is permitted (SF 1.1).
Cooling
The motor is cooled by the pumped fluid. The motor must always be immersed when operated. The limit values for maximum fluid temperature and minimum flow velocity must be adhered to. Vertical installation is possible with or without cooling jacket. For horizontal installation, bearing brackets must be used for reinforcement of the unit. An anti-vortex plate or cooling jacket may be used to improve the inlet flow.
Pressure shroud
The pressure shroud is used for the direct installation of the unit in the pipe network. Standard models are without mounted non-return valves. The maximum inlet pressure is 10 bar.
Duty chart
Wilo-Actun ZETOS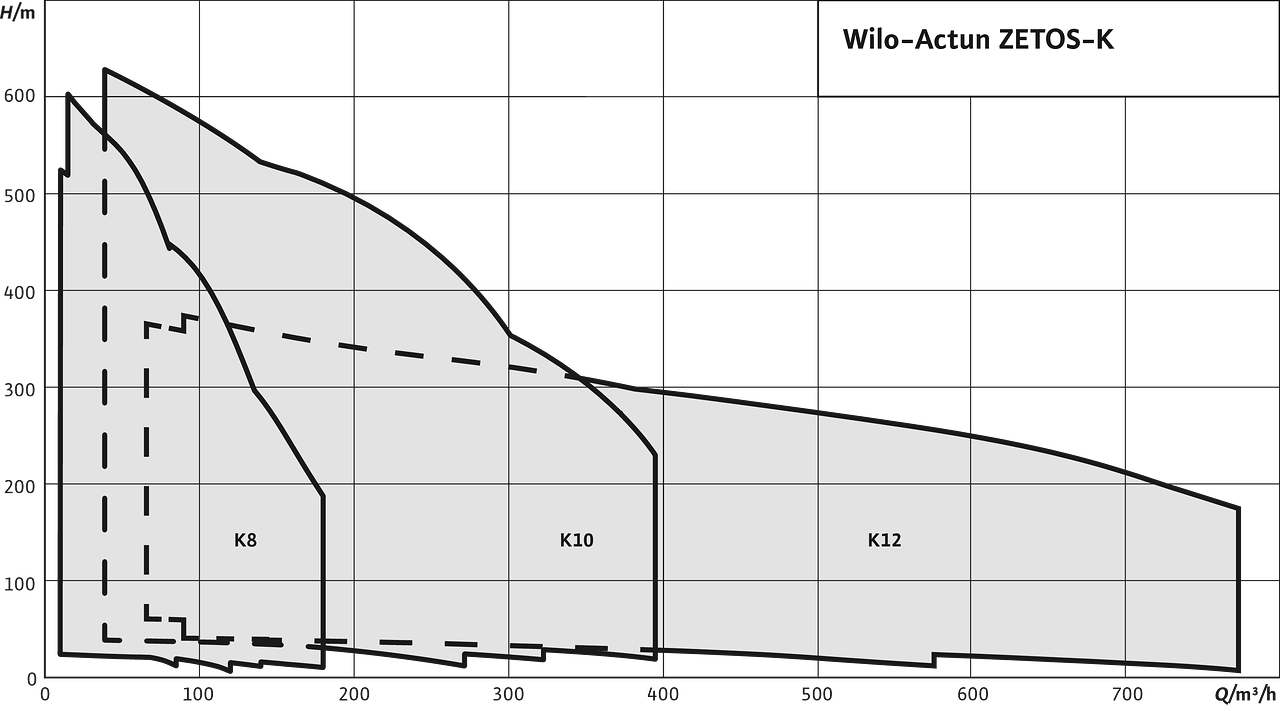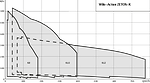 Downloads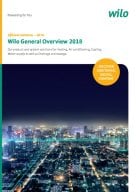 General overview 2018 International version
| | |
| --- | --- |
| Article Number | 2200591 |
| Edition | 2018 |
| Version number | 1 |
| Page format | 209.9 x 297.0 mm |
| Number of pages | 72 |