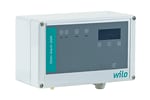 Mains-independent alarm switchgear (self-charging power supply unit) for wall fixation with optical, acoustic and wireless (per GSM) alarm signal.
Inputs:
1x digital input for the connection of one float switch with optical and acoustic alarm signal and via SMS
5x digital inputs for the connection of float switches with an alarm signal via SMS
1x analogue alarm input (0…10 V) with an alarm signal via SMS
1x analogue alarm input (4…20 V) with an alarm signal via SMS
Outputs:
2x potential-free changeover contacts, switching capacity: 250 VAC/4 A
1x non-isolated changeover contact, switching capacity: 12 VDC/1 A
Scope of delivery:
Alarm switchgear with pre-assembled GSM module (without SIM card), built-in battery and connected power cable with shockproof plug
GSM antenna with 2.5 m cable
USB cable
CD-ROM with configuration software and extended installation and operating instructions
Screwdriver
2x threaded cable glands M16x1.5
1x threaded cable gland M20x1.5
Installation and operating instructions
Attention: Signal transmitter is to be provided on-site. Switchgears are not protected against explosions and may only be used outside potentially explosive atmospheres. Signal transmitters within hazardous areas must be connected through an intrinsically safe electric circuit, e.g. breakdown barrier or ex-rated cut-off relay.
Technical data
Mains connection
Sound-pressure level
Protection class
Outputs: potential-free

1x changeover contact (250 VAC/4 A)

Outputs: non-isolated

1x changeover contact (12 VDC/1 A)

Min. ambient temperature
Max. ambient temperature
Material, housing
Net weight, approx.
Make
Item no.
Installation and operating instructions
---
Certificate REACH (Documents)