Wilo-Rexa MINI3
The reliable wastewater and sewage pump for household and groundwater drainage.
Wilo-Rexa MINI3
The reliable wastewater and sewage pump for household and groundwater drainage.
The Wilo-Rexa MINI3 is the ideal submersible pump for standard sewage in site drainage and domestic situations. Its 40mm free ball passage makes it suitable for pumping wastewater and sewage free of faeces. The pump can be used flexibly for both stationary and portable wet well installations. If the pump is installed in the DrainLift WS 50 pump chamber, sewage with faeces can be pumped: the system has an approval according to EN 12050-1. The optimised hydraulics provide high levels of reliability for universal application in the pumping of a diverse range of fluids. Its compact design means it can even be installed in narrow drainage pits. The oil-filled sealing chamber and a double seal allow for longer maintenance intervals. Direct access to the most important components makes carrying out maintenance work very convenient.
---
Your advantages
High efficiency and operational reliability thanks to the optimised hydraulics
Easy installation – even in narrow drainage pits – thanks to its lightweight, compact design with integrated condenser and threaded flange
Reliable use in a variety of drainage applications thanks to the corrosion-free impeller and sealed cable inlet
Longer maintenance intervals thanks to the high-volume sealing chamber and double seal
Quick maintenance facilitated by direct access to the sealing chamber and pump housing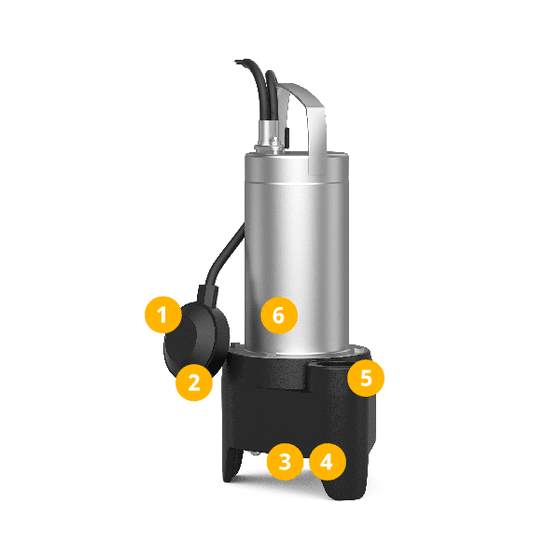 Product features
Flexible float switch
Automatic switch on/off
Special Vortex impeller
Ø 40mm free ball passage
Cast iron pump housing
Oil chamber with mechanical seal and two oil seals
Wilo-Rexa MINI3
---
Design
Submersible sewage pump for intermittent operation for stationary and portable wet well installation.
Application
Pumping of
Sewage not containing faeces
Wastewater
Note: Sewage containing faeces can be pumped when the pump is installed in the DrainLift WS 50 pump chamber. The system has been approved in accordance with EN 12050-1.
Equipment/function
Connection cable with

Plug (version P)
Plug and float switch (version A)
Bare cable end (3~)

Self-switching thermal motor monitoring
Typekey
Example:

Wilo-Rexa MINI3-V04.11/M06-523/A-5M

Rexa

Submersible sewage pump

MINI3

Series

V

Vortex impeller

04

Nominal diameter of pressure connection G 1½

11

Max. delivery head in m

M

Mains connection version:

M = 1~

T = 3~

06

Value/10 = motor power P2 in kW

5

Frequency (5 = 50 Hz, 6 = 60 Hz)

23

Rated voltage code

A

Additional electrical equipment:

Without = with bare cable end
P = with plug
A = with float switch and plug

5M

Connection cable length
Technical data
Mains connection: 1~ 230 V, 50 Hz or 3~ 400 V, 50 Hz
Submerged operating mode: S1
Non-immersed operating mode: S3 15%
Protection class: IP68
Insulation class: F
Fluid temperature: 3 ... 40 °C
Free ball passage: 40 mm
Materials
Pump housing: grey cast iron
Impeller: composite
Cover plate on suction port: stainless steel
Motor housing: stainless steel
Shaft: Stainless steel
Seal on the motor side: NBR
Seal on the fluid side: SiC/SiC
Static seal: NBR
Construction
Submersible sewage pump as submersible monobloc unit for portable wet well installation in intermittent operation.
Hydraulics
Pump with vortex impeller and a free ball passage of 40 mm. Pressure connection as a vertical threaded connection.
Motor
Surface-cooled motor in single-phase version (with built-in operating capacitor) and three-phase current version for the direct starting. The waste heat is given off directly to the surrounding fluid via the motor housing. These motors can be operated immersed in continuous duty (S1) and non-immersed in intermittent operation (S3).
The motor is equipped with automatic thermal motor monitoring. This means that the motor is switched off if it overheats and is automatically switched on again once it has cooled down.
The connection cable has a length of 5 m or 10 m and is available in the following versions:
With bare cable ends
With plug
With float switch and plug
Seal
The seal is created on the fluid side by a mechanical seal, and on the motor side by a rotary shaft seal. A sealing chamber with a white-oil filling is located between the gaskets.
Delivery state
Pump with connection cable and
Plug (version P)
Plug and float switch (version A)
Bare cable end (3~)
Installation and operating instructions