Tagus degassing & top-up units
Tagus degassing & top-up units
Series description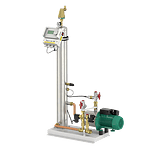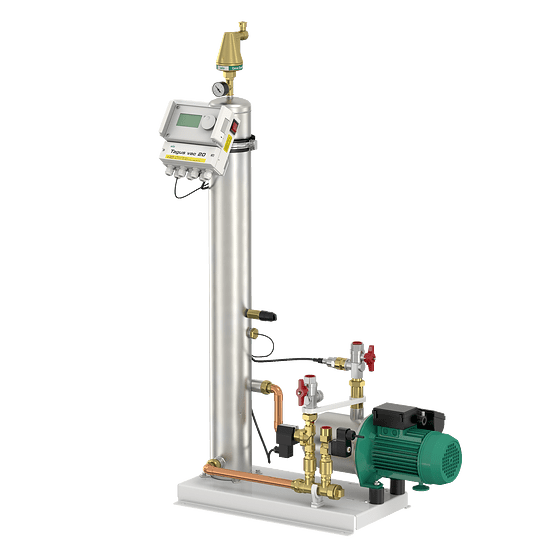 Your advantages
Efficient continuous degassing and top-up for a high fluid quality by central degassing for both system and top-up water
Self-regulated refilling with degassed water thanks to the turbo operation mode and the external refill contact (230V)
Assembled and ready for connection
Clear operation via the intuitive display
Active degassing by patented PALL-Ring technology for high-performance deaeration
Integrated glanded pump of the MHI series
Efficient degassing and continuous topping.
The Wilo-Tagus vac is a pressure step degasser that makes use of vacuum for an efficient degassing of closed systems. It provides an active degassing with its patented PALL ring technology combined with an automatic topping up of closed heating and cooling systems of commercial buildings. It can be easily used together with a Wilo-Sinum pressure expansion automat.
Construction
Pressure step degasser
Application
Closed heating systems
Cooling systems
Type key
| | |
| --- | --- |
| Example: | Wilo-Tagus vac 20 |
| Tagus vac | Family name pressure step degasser |
| 7 | Performance class |
Technical data
Working temperature: 3 °C to 70 °C.
Maximum (feed) supply temperature in the system: 120 °C.
Ambient temperature: > 3 °C to 45 °C.
Maximum pressure in the suppletion feed line: 2 to 8 bar.
Noise production: approx. 55 dB(A).
Electrical connection 230 V 50 Hz.
Suitable for addition of glycol-based anti-freeze up to 30%.
Complies with the following guidelines: Machinery Directive 2006/42/EC, PED 2014/68/EU.
Series
Tagus degassing & top-up units