low-water cut-out switchgear kit WMS R ¾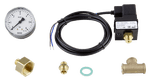 low-water cut-out switchgear kit WMS R ¾
Pressure switch as low-water signal transmitter for direct connection to the suction-side pipe provided by the customer.
Connection to the joint tubing, either R ¾" threaded nipple or Rp ¼" threaded bushing.
The pressure switch locks at 1.0 bar and enables at 1.3 bar (factory works setting in accordance with DIN 1988).
The factory settings cannot be modified.
Scope of delivery
Pressure switch incl. plug and approx. 1.2 m cable
T-piece Rp ¼"
Reducer Rp ¾" – ¼"
Double nipple R ¼"
Pressure gauge
Sealing material
Technical data
Max. operating voltage
Protection class
Cable length
Contact type

Micro button, gold contacts

Min. measurement range
Max. measurement range
Measuring accuracy
Switch-off pressure
Start-up pressure
Max. inlet pressure
Min. fluid temperature
Max. fluid temperature
Min. ambient temperature
Max. ambient temperature
Pipe connection
Diaphragm
Material, gasket
Material pressure connection
Material switch contacts
Net weight, approx.
Make
Item no.
Certificate REACH (Documents)