Wilo-Atmos TERA-SCH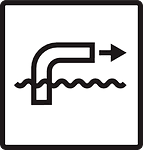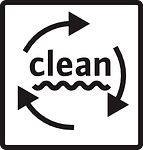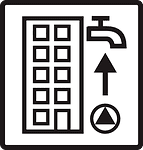 Axially split case pump for reliable operation and energy-efficient transport of large volume flows through extensive distribution networks.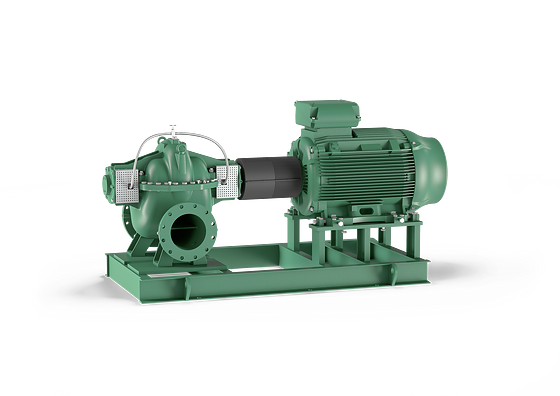 Wilo-Atmos TERA-SCH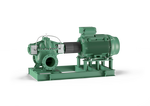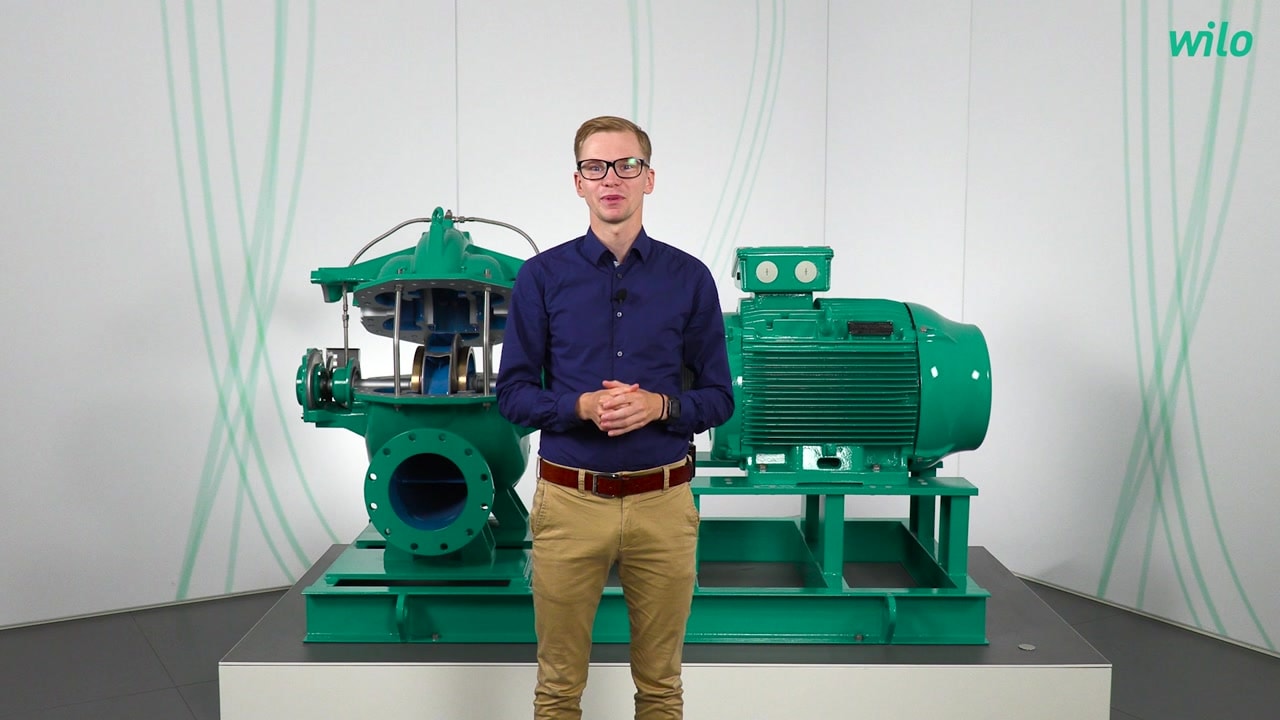 Axially split case pump for reliable operation and energy-efficient transport of large volume flows through extensive distribution networks.
The Wilo-Atmos TERA-SCH axially split case pump provides a reliable water supply 365 days a year at low operating costs. The pump's easy maintenance design and high efficiency across the entire characteristic curve ensure low-wearing and energy-efficient operation and contribute to the consistent water supply.
---
Your advantages
Reliable continuous duty for an efficient drinking water supply over extensive piping networks – can be tailored to suit your exact requirements
Reduced energy costs through high overall efficiency
Simplified and shorter alignment process thanks to tolerant coupling and motor adjusting device
Increased operational reliability thanks to quiet-running hydraulics with lower vibrations and reduced noise level
Reduced cavitation tendency through optimised NPSH-performances
Lower space requirements due to compact design
Also available as certified drinking water version – optionally with Ceram CT coating which is also approved for drinking water
Optionally with Ceram CT coating – for an efficiency increase of up to 3 %
Standard volume flow of up to 4500 m³/h
---
Wilo-Atmos TERA-SCH –
the axially split case pump for reliable operation and energy-efficient transport of large volume flows through extensive distribution networks.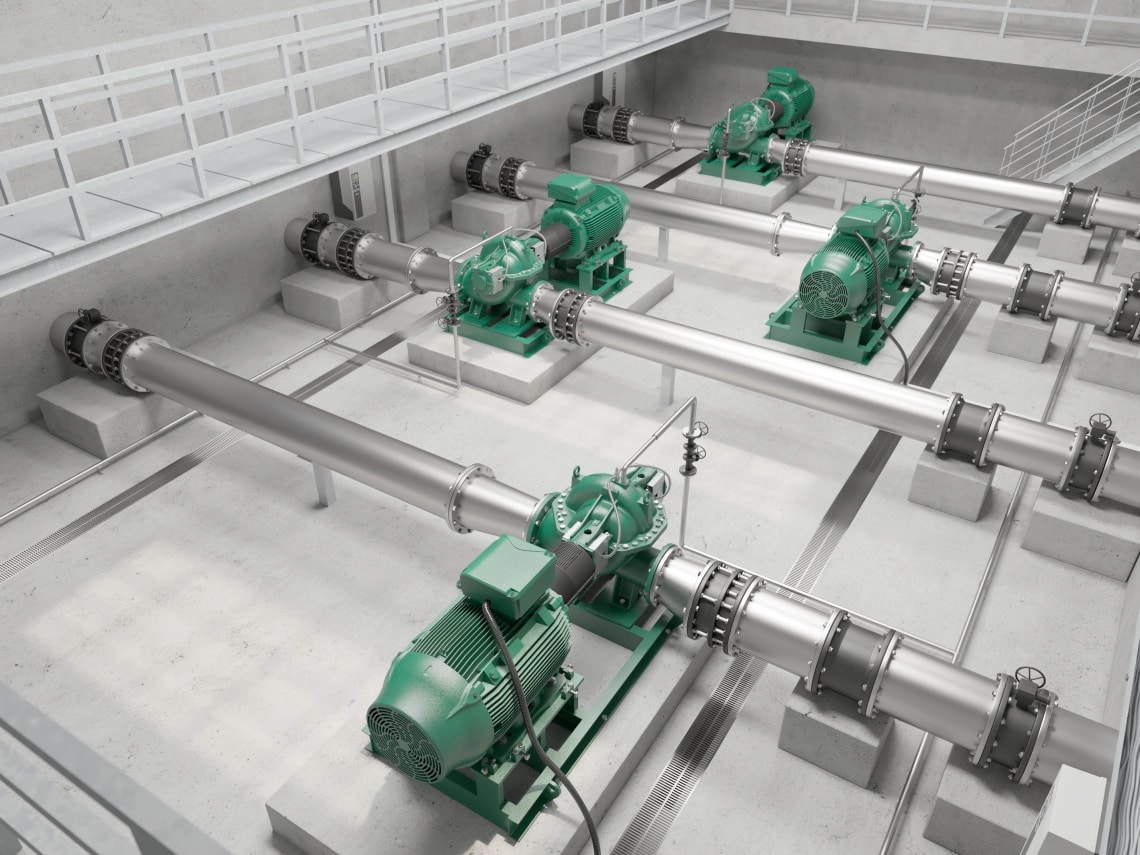 High-reliability, 24-hour continuous operation, 365 days a year
In industry, supplying water to municipalities, large-scale irrigation systems or industrial cooling towers is a highly complex procedure that must simultaneously meet the demands of uncompromising operational reliability, with a standard volume flow of up to 4,500 m³/h. The Wilo-Atmos TERA-SCH is tremendously powerful, and at the same time has been designed for reliable 24-hour continuous operation on 365 days a year. The innovative hydraulics design and perfect match of motor, hydraulics and electronics make efficient and reliable water supply a reality. Vibrations generated because of pumping operation and noise emissions have been significantly reduced. The NPSH value has also been optimised to counteract unwanted cavitation and the ensuing higher material stress.
Low energy costs
New, high-efficiency IE4 motors in combination with innovative hydraulics achieve high overall efficiency levels in operation, thus resulting in particularly low energy costs – at any duty point. Thanks to an optimization of the overall efficiency, the varied range of models enables individual adaptations to application demands and reductions in energy consumption, for instance by operating the system at lower speeds.
The Wilo-Atmos TERA-SCH is optionally available with the patented Ceram CT coating, which enables a further increase in efficiency by up to three per cent while simultaneously preventing potential corrosion.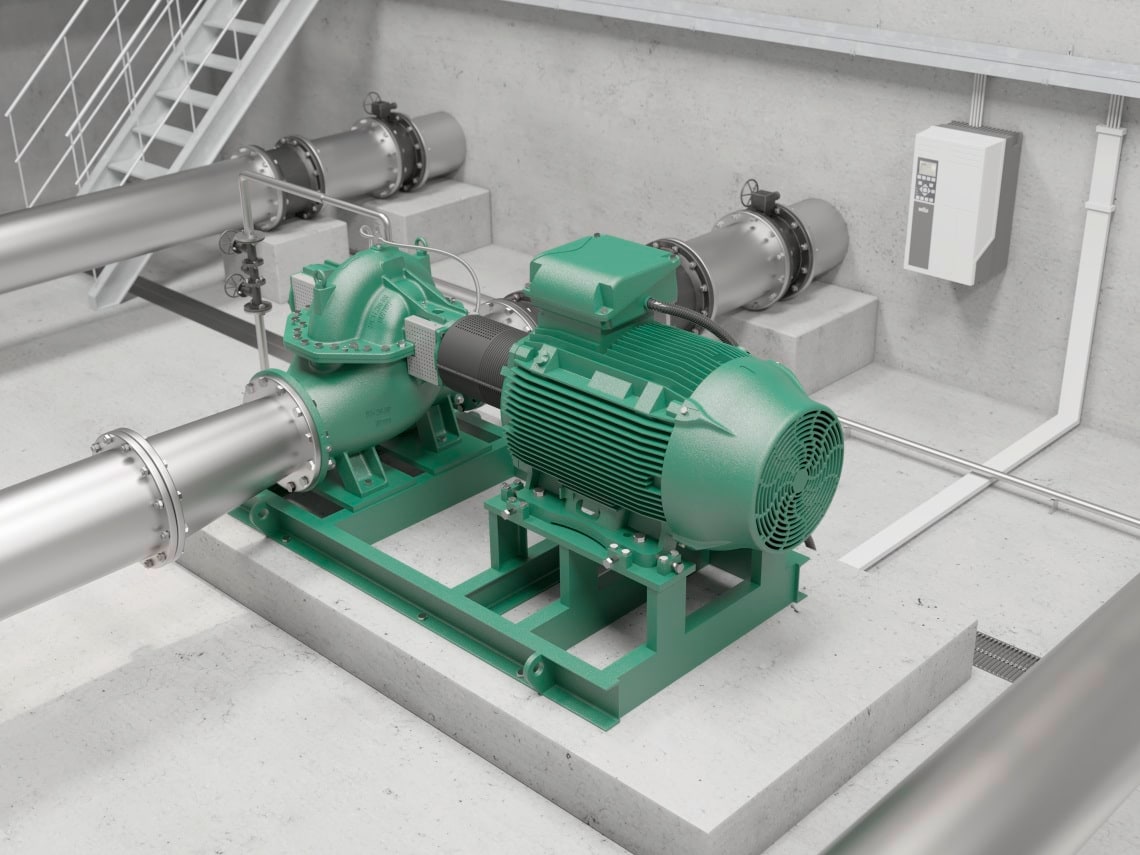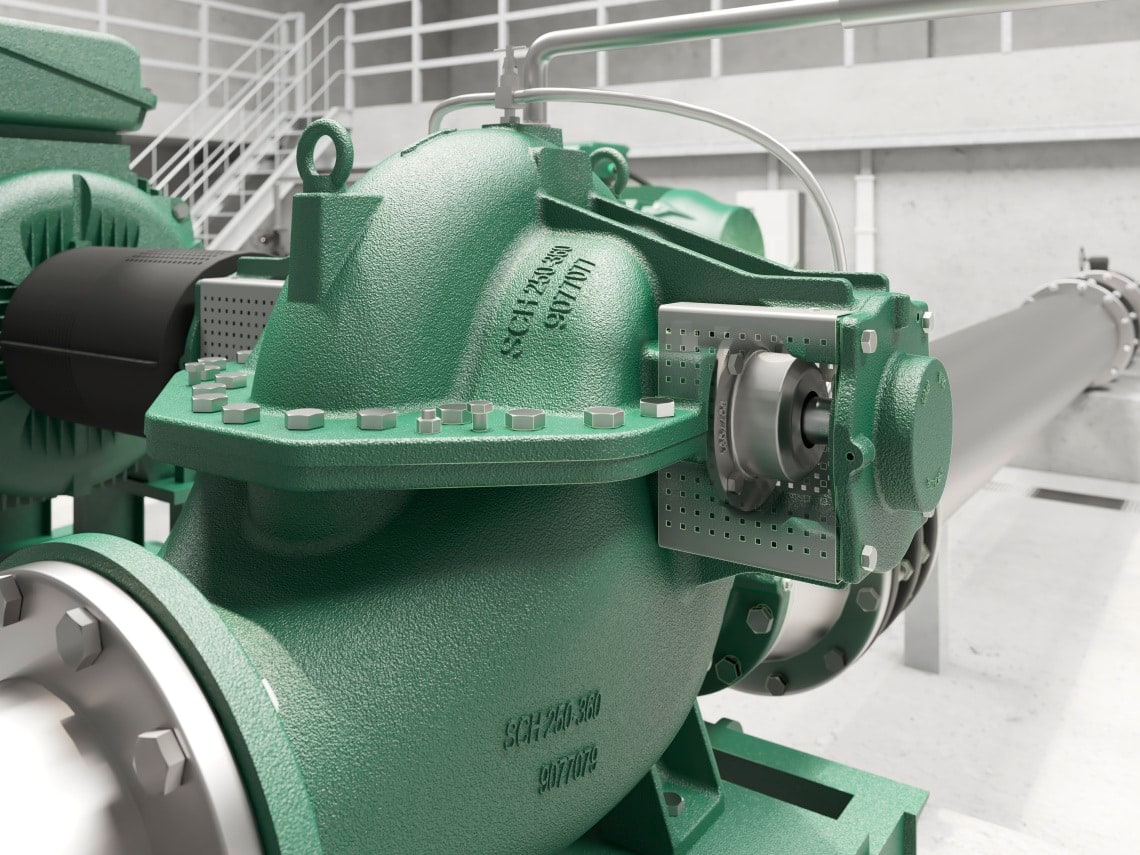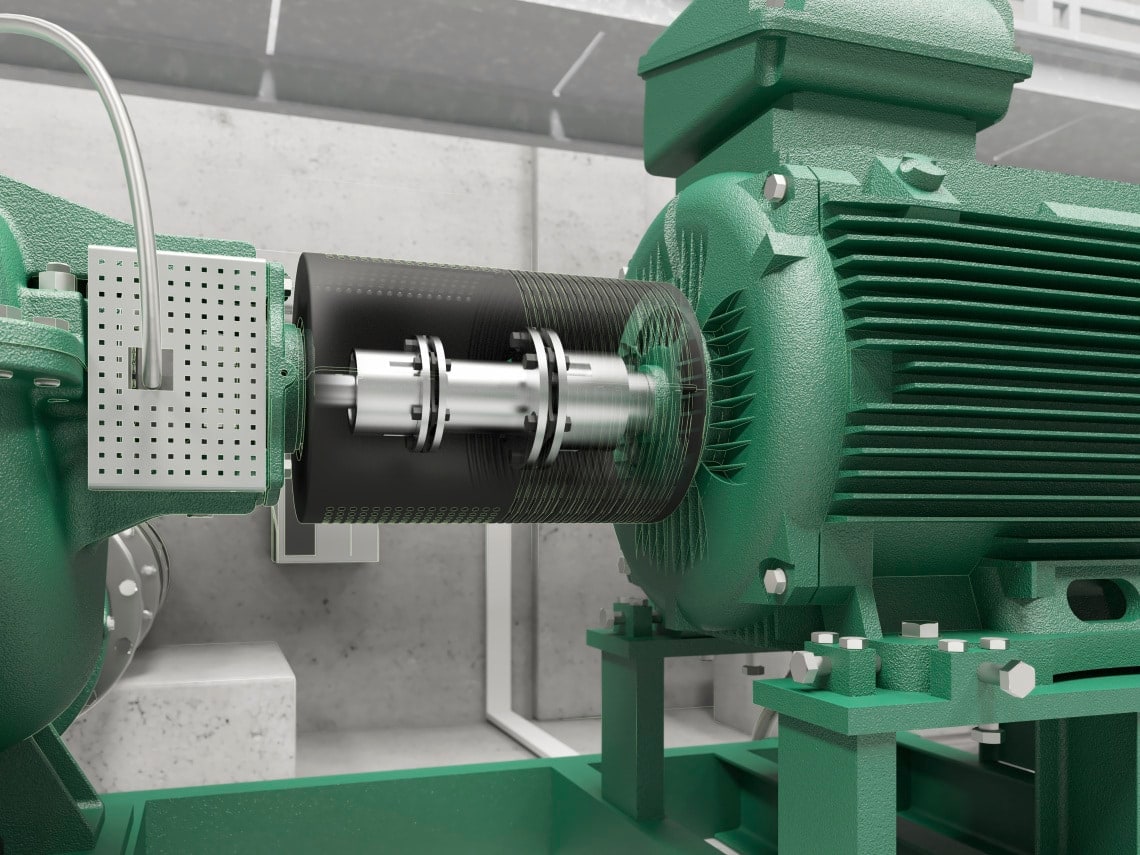 Easy installation and maintenance
Installing pumps of this size, which depending on the version, may weigh up to 5 metric ton, is a big challenge. The complex but mandatory alignment process has been simplified, thanks to a tolerant coupling and motor adjusting device. Pump units are available as clockwise and anti-clockwise variants for staggered installation in pumping stations.
Maintenance is made significantly easier thanks to the large, easily accessible openings. This generates considerable savings in terms of time, effort and costs.
Bearing can be removed without lifting the upper part of the casing to reduce the complexity of this operation.
Reduced water loss in the distribution network
Leakages in distribution networks are a major, yet unfortunately all too commonly occurring problem. Moreover, the leakage rate increases proportionately in relation to the pressure within pipes, causing massive water loss in some instances, particularly in large cities. Using variable-speed pumps significantly reduces the risk of leakages by preventing overpressure. The Wilo-TERA-SCH can optionally be fitted with the variable-speed Wilo-EFC frequency converter, enabling the pressure within pipes and/or distribution networks to be controlled. This prevents water loss and minimizes service costs.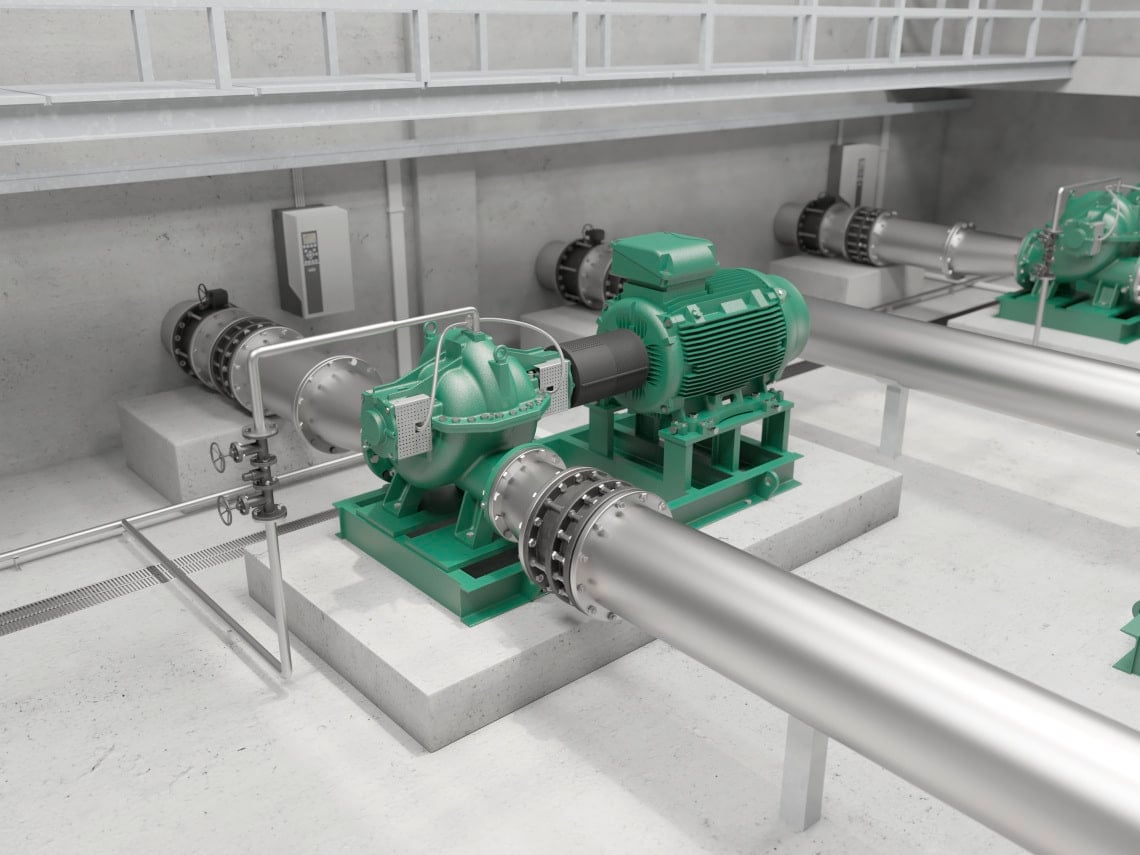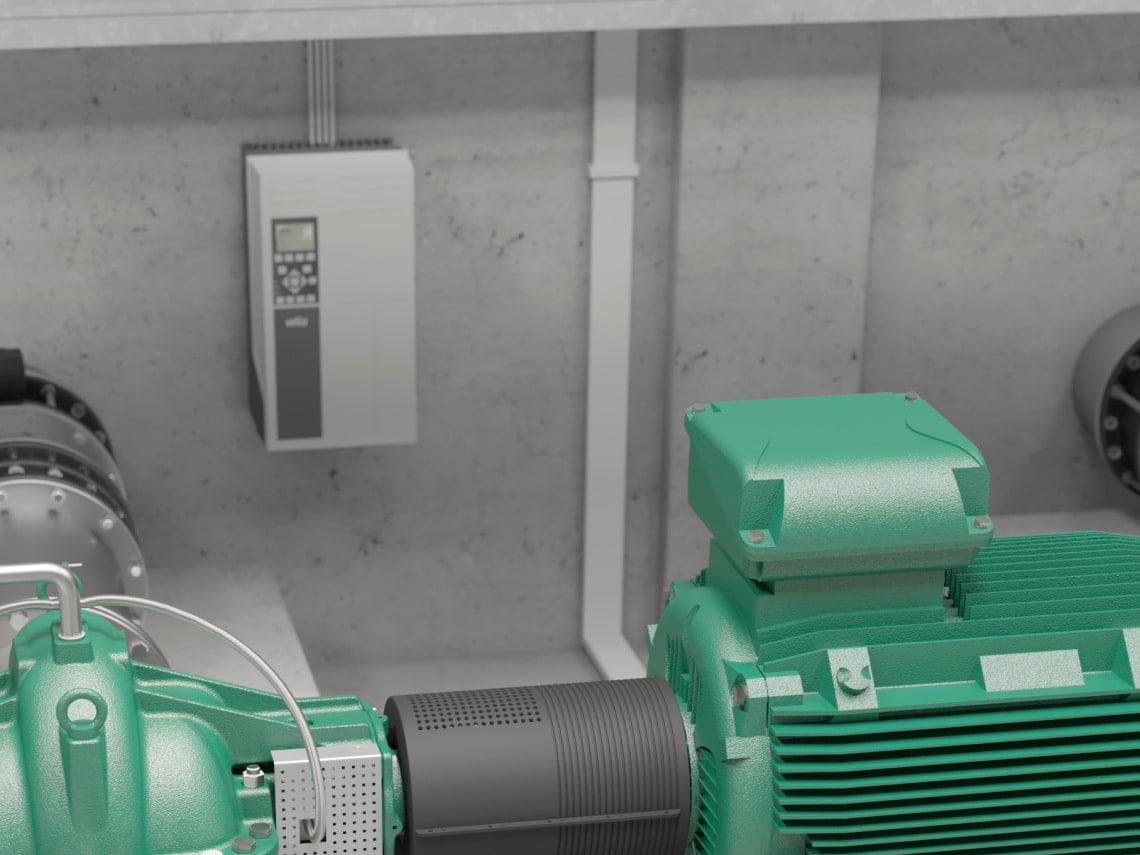 Fully transparent pump parameters
By combining the pump with the Wilo-EFC, you can control it using smart technology. The Wilo-Atmos TERA-SCH can be controlled by integrating it into an online-based network or cloud solution, enabling it to be managed along with other components of the mains water system in so-called 'smart cities'. This guarantees maximum transparency of all pump parameters, thus boosting everyday convenience for consultants, installers and operators.
Key Facts
Save up to 69 megawatts in one year*
Up to €126,000 in life cycle cost savings over 10 years*
Power consumption cut by up to 48,000 kWh and CO2 emissions reduced by up to 39 metric tons per year/pump*
* Comparing to the equivalent previous SCP model
FAQ
What are the advantages of axially split case pumps compared with end-suction pumps?
Axially split case pumps are arranged in an inline configuration in the piping, and they have been designed for 24/7 operation with limited maintenance. Axially split case pumps boast lower NPSH values.
Easy maintenance on the inside of the pump: Simply lift the upper housing cover to gain comprehensive access to the rotating elements; usually, the hydraulics efficiency is higher compared with pumps with axial inlet, thanks to the double inlet impeller.
No axial thrust, and lower vibrations compared with pumps with axial inlets thanks to the dual inlet and the positioning of the impeller between the 2 oversized bearings.
What are the benefits of coating inside the pump?
On average, coatings such as CERAM CT boost the pump's efficiency by 2.5 % and meet drinking water regulations.
---
Design
Pump with axially split housing mounted on a base frame
Application
Raw water intake, pressure boosting and general transport in power plants, waterworks and municipal drinking water supply networks
Cooling water and industrial water supply in power plants and industrial facilities
Irrigation in professional irrigation/agriculture
Pumping of heating water (in accordance with VDI 2035 Germany) and water glycol mixtures
Typekey
| | |
| --- | --- |
| Example | Atmos TERA-SCH 250/360-75/4-L1 |
| Atmos | Product family |
| TERA | Series designation |
| SCH | Axially split case pump, horizontal |
| 250 | DN for the pressure flange |
| 360 | Impeller nominal diameter [mm] |
| 75 | Rated power P2 [kW] |
| 4 | Number of poles |
| L1 | Variant code (L1 = bronze impeller) |
Technical data
Fluid temperature -20 °C to +120 °C
Mains connection 3~400 V, 50 Hz
Nominal diameters

on the suction side: DN 150 to DN 600
on the pressure side: DN 125 to DN 450

Max. operating pressure: PN 10, PN 16
Materials
Pump housing: EN-GJL-250
Impeller: EN-GJL-250 / G-CuSn10 / GX5CrNiMo19-11-2
Shaft: X12cr13
Construction
Centrifugal pump with axially split housing, available in single-stage design
Delivered as complete unit (pump with coupling, coupling guard, motor and baseplate) or without motor or only pump hydraulics
Shaft sealing with mechanical seal or stuffing box packing
2-, 4- and 6-pole motors; IE3-standard to 1000 kW (IE4 on request)
Welded steel frame
Delivery state
Bare shaft pump or with coupling or as complete unit
Installation and operating instructions