Recycling
Recycling
Recycling and disposal of WILO products
Wilo aims for a comprehensive life cycle assessment, i.e. delivering excellent products is not enough: we think ahead - already during the product design phase - by considering what to do with worn-out products. The disposal or recycling of materials and components is an important matter to us. That is why we check thoroughly not only if the materials and components we use are environmentally compatible in general but also if they can be reused and recycled.
We're not only promising the motto "Reduce. Reuse. Recycle." - we live it. All returned products are thoroughly analysed, so they provide hints for product optimisation in our product development. Then the products are disassembled and returned into the "material cycle" in an ecologically and economically sensible way in our Recycling Center and our "extended workbench" in the CJD Dortmund (Christian Association of Youth Villages).
The potential recycling rate of a WILO pump lies between 90 and 98 per cent, i.e. that nearly each component of a pump that is no longer in use can directly enter the "material-cycle". Metals make up the largest part of the total weight. Already today, a Wilo pump consists to a large part of reused materials.
As a consequence of the ecodesign guidelines regarding pumps, the number of electronic pumps in Europe is going to increase. This trend isn't all that new: the share of electronics and highly developed materials in our products has been growing constantly. In turn, by using these technologies in our products, we reduce their total weights and their total power consumption. Of course these changes mean also challenges for the recycling process; but Wilo is willing to accept and overcome them.
When considering the information given in this document, only 2.5 per cent of the total pump weight cannot be recycled, because it isn't yet technologically possible. The Wilo group is committed to a constant improvement process also with regard to the recyclability of our products; As a consequence, we always strive to improve the environmental compatibility of our products.
Hence we would like to ask all our customers to give us back old Wilo products that are no longer in operation and to actively support the preservation of resources. Ecological and economical resource preservation needs you!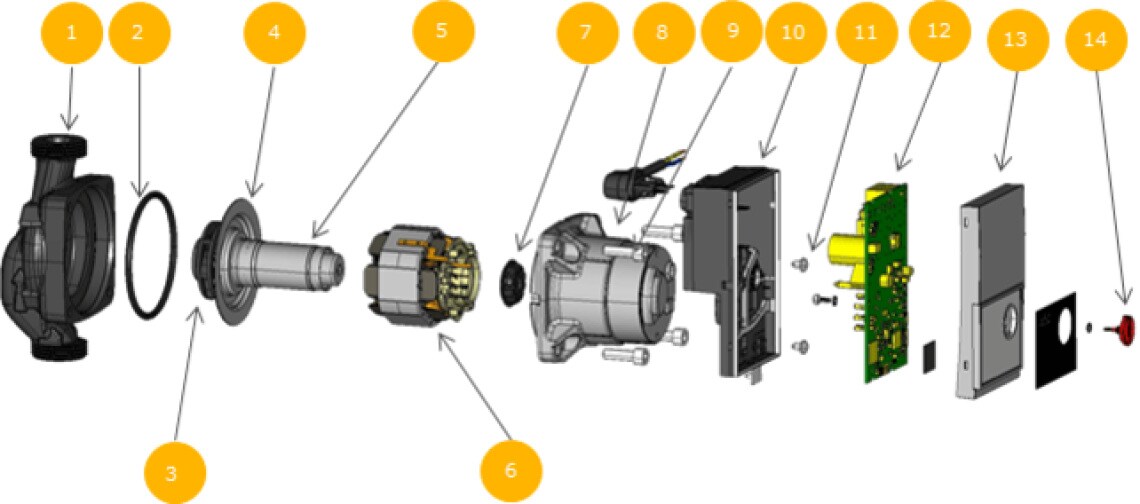 No.
Designation
Material
1
Pump Housing
Cast iron GG2
2
Flat gasket
EPDM
3
Impeller

Impeller insert
Composite PP

Brass
4
Rotor pack

Rotor shaft
Neodymium iron bore

Martensitic Stainless steel
5
Rotor cartridge
Stainless steel
6
Stator winding

Stator lamination

Stator caps
Copper wire

Laminated iron

Composite PBT
7
Damper
EPDM
8
Motor housing
Aliminium Silicium
9
Screw
Steel
10
Base
Composite PC
11
Base screw
Steel
12
Motor control
PCB wit THT and AMD components
13
Base cover

Heat sink
Composite

Aluminium
14
Red button
Composite PA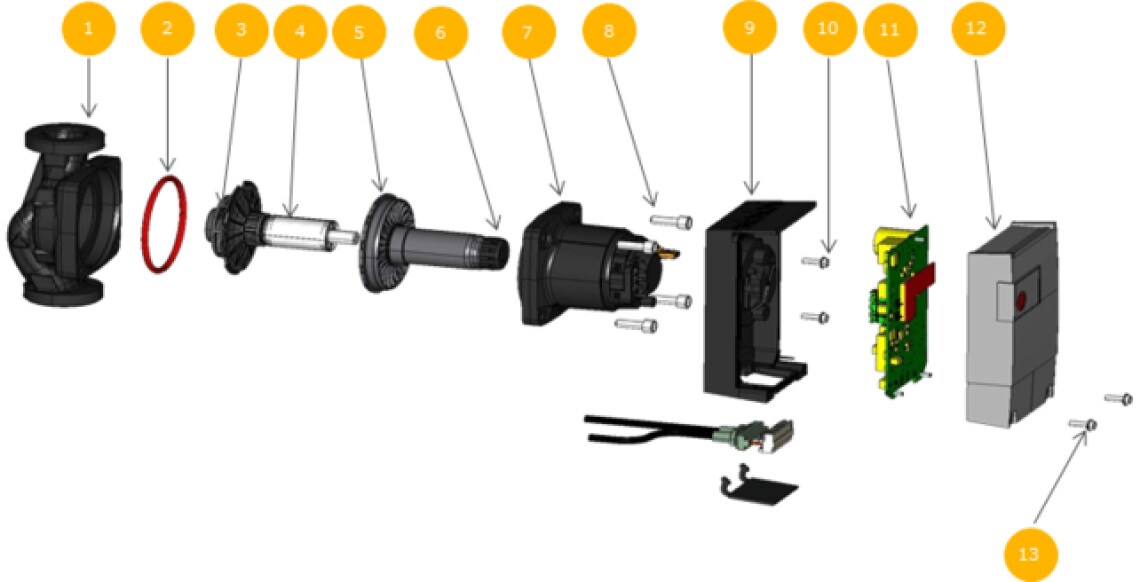 No
Designation
Material per motor type
1-7, 1-9, 1-11, 5
1-8, 1-11
1-12
1
Pump Housing
Cast iron GG20
Cast iron GG20
Cast iron GG20
2
O'ring gasket
EPDM
EPDM
EPDM
3
Impeller

Impeller insert
Composite PP

Brass
Composite PP

Brass
Composite PP

Brass
4
Rotor pack

Rotor shaft
Neodymium iron bore


Martensitic Stainless steel
Neodymium iron bore


Martensitic Stainless steel
Neodymium iron bore


Martensitic Stainless steel
5
Rotor cartridge
Composite PPS
Composite PPS
Composite PPS
6
Damper
EPDM
EPDM
EPDM
7
Stator winding

Stator lamination

Stator caps

Motor Housing
Copper wire

Laminated iron

Composite PBT

Composite PPO
Copper wire

Laminated iron

Composite PBT

Composite PPO
Copper wire

Laminated iron

Composite PBT

Composite PPO
8
Screw
Steel
Steel
Steel
9
Base
Composite PC
Composite PC
Composite PC
10
Base screw
Steel
Steel
Steel
11
Motor control
PCB with THT and SMD components
PCB with THT and SMD components
PCB with THT and SMD components
12
Base cover

Heat sink

Red button
Aluminium

Aluminium

Composite PA
Aluminium

Aluminium

Composite PA
Aluminium

Aluminium

Composite PA
13
Base cover screw
Steel
Steel
Steel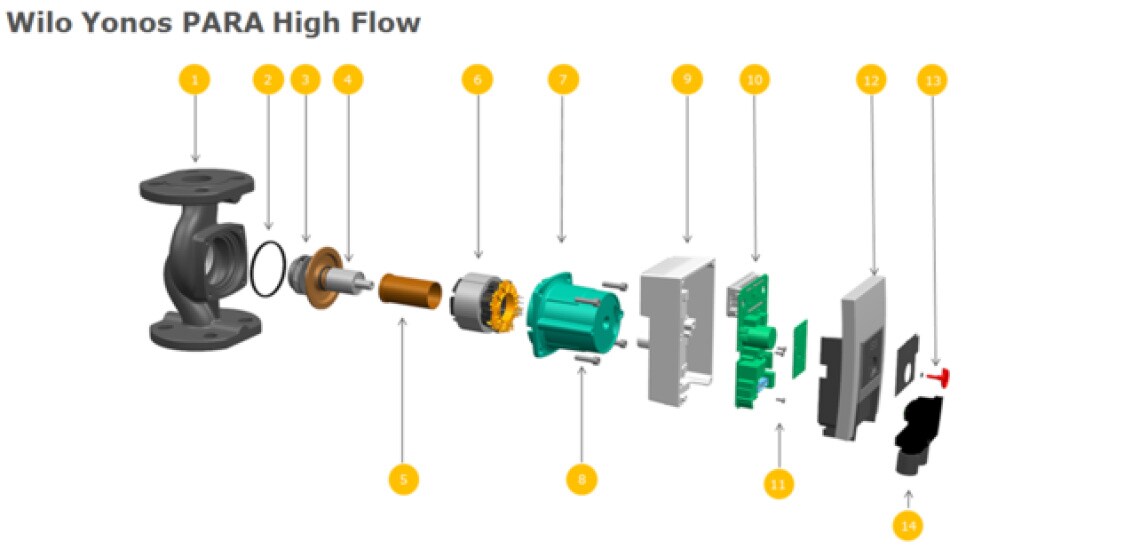 No
Designation
Material
1
Pump Housing
Cast iron EN-JGL 200-250 with cataphoresis treatement
2
O'ring gasket
EPDM
3
Impeller

Impeller insert
Plastic PPS

Brass
4
Rotor pack


rotor shaft
Electric lamination with neodymium iron
boron magnets

Martensitic stainless steel
5
Gap tube
Composite PPS/CFK
6
Stator winding

Stator lamination

Stator caps
Copper wire

Electric lamination

Composite PET
7
Motor housing
Aluminium GD-ALSi9Cu3
8
Screw
Coated steel
9
Module bottompart
Aluminium GD-ALSi9Cu3
10
Motor control
PCB with THT and SMD components
11
Base screw
Coated steel
12
Module upperpart

Modul cover
Plastic PC

Plastic ABS
13
Red knob
Plastic PA6
14
Power/ fault indication plug
Plastic PC