CronoBloc-BL 32/150.1-3/2
CronoBloc-BL 32/150.1-3/2
Data sheet
Hydraulic data
Max. operating pressure p

16 bar

Maximum operating pressure PN

16 bar

Min. fluid temperature Tmin

-20 °C

Max. fluid temperature Tmax

140 °C

Max. ambient temperature Tmax

40 °C
Motor data
Mains connection

3~400 V, 50 Hz

Voltage tolerance

±10 %

Motor efficiency class

IE3

Rated power P2

3.00 kW

Rated current IN

6.15 A

Rated speed n

2900 rpm

Power factor cos φ

0.79

Motor efficiency ηM 50%

82.5

Motor efficiency ηM 75%

84.6

Motor efficiency ηM 100%

87.1

Insulation class

F

Protection class motor

IP55
Materials
Pump housing

5.1301, KTL-coated

Impeller

EN-GJL-200

Shaft

1.4122

Mechanical seal

AQ1EGG
Installation dimensions
Pipe connection on the suction side RPS

DN 50

Pipe connection on the pressure side RPD

DN 32
Information for order placements
Brand

Wilo

Product description

CronoBloc-BL 32/150.1-3/2

EAN number

-

Article number

9139958

Net weight, approx. m

66 kg

Gross weight, approx. m

83.0 kg

Length with packaging

800 mm

Height with packaging

890 mm

Width with packaging

600 mm

Packaging property

Transport packaging

Packaging type

Wooden box

Minimum order quantity

1
Tender text
Single-stage glanded centrifugal pump in monobloc design for installation on a base. Low-vibration and low-noise monobloc design with lantern and rigidly connected standard motor. With force-flushed, bidirectional bellows mechanical seal (from 37 kW/4-pole and 45 kW/2-pole, optionally available with a cartridge mechanical seal in back pull-out design for mechanical seal replacement without dismantling the motor) and cavitation-reducing impeller. Flange with R 1/8 pressure measuring connections. Pump housing and lantern are cataphoretic-coated. Motors in IE3 technology as standard. Pump with motor ≥ 5.5 kW are equipped as standard with a PTC thermistor sensor for motor protection.
Operating data
Fluid media

Water

Maximum operating pressure PN

16 bar
Motor data
Motor efficiency class

IE3

Mains connection

3~400 V, 50 Hz

Voltage tolerance

±10 %

Rated power P2

3000.0 W

Rated speed n

2900 rpm

Rated current IN

6.15 A

Power factor cos φ

0.79

Motor efficiency ηM 50%

82.5

Motor efficiency ηM 75%

84.6

Motor efficiency ηM 100%

87.1

Insulation class

F

Protection class

IP55
Materials
Pump housing

5.1301, KTL-coated

Impeller

EN-GJL-200

Shaft

1.4122

Shaft seal

AQ1EGG
Installation dimensions
Pipe connection on the suction side RPS

DN 50

Pipe connection on the pressure side RPD

DN 32
Information for order placements
Brand

Wilo

Product description

CronoBloc-BL 32/150.1-3/2

Net weight, approx. m

66 kg

Article number

9139958
Dimensions and dimensions drawings
CronoBloc-BL 32/150.1-3/2
Pump curves
Wilo-CronoBloc-BL 32/130.1-1,5/2 - Wilo-CronoBloc-BL 32/160.1-4/2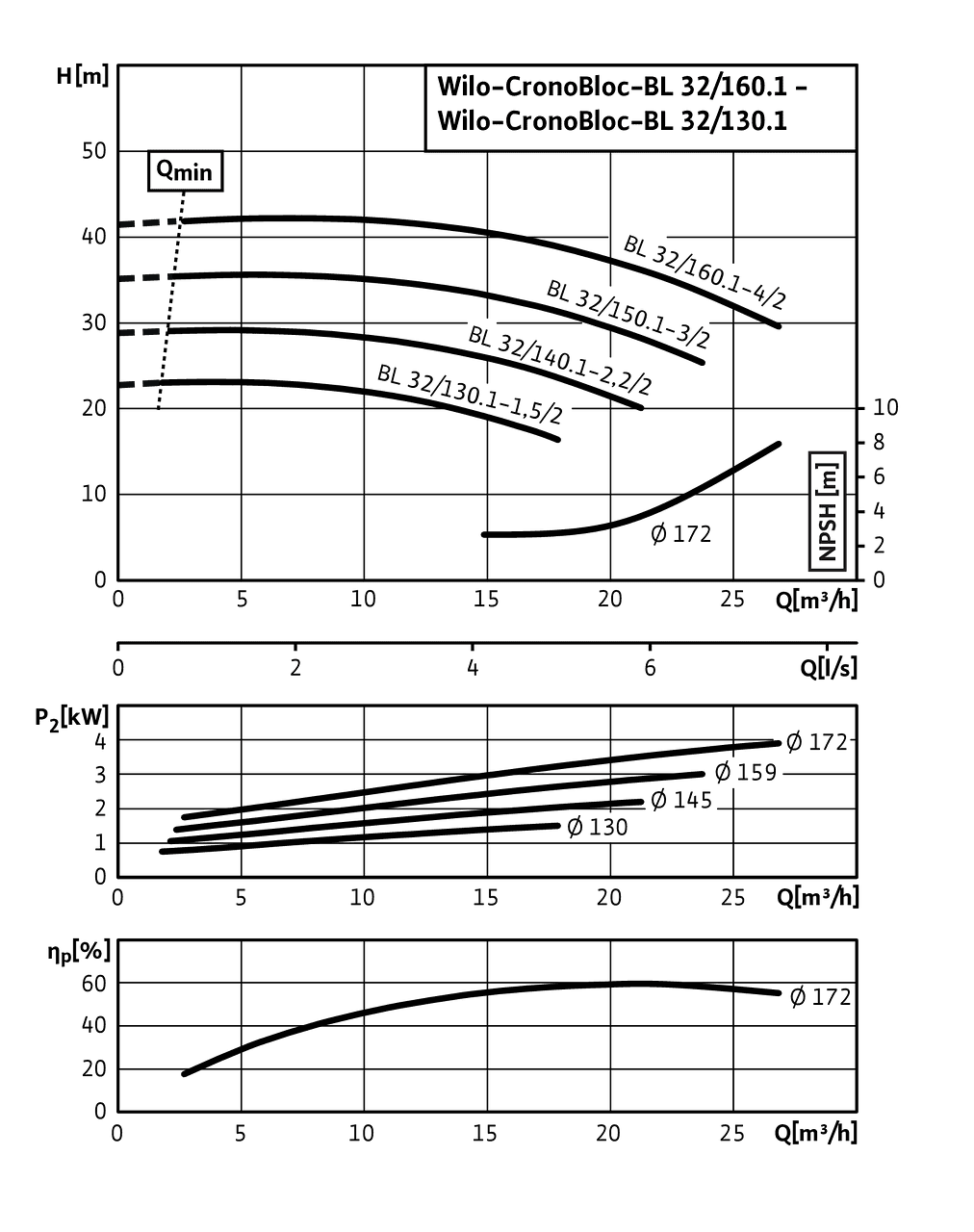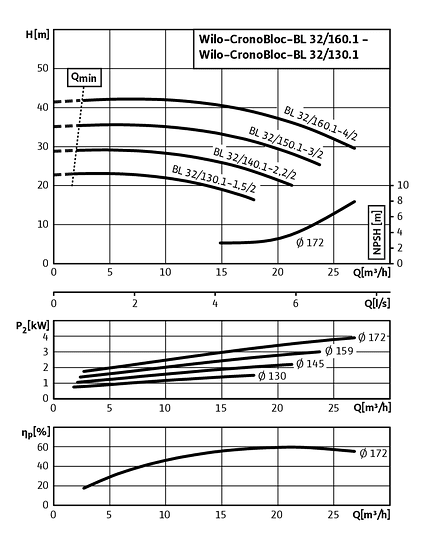 Wiring diagram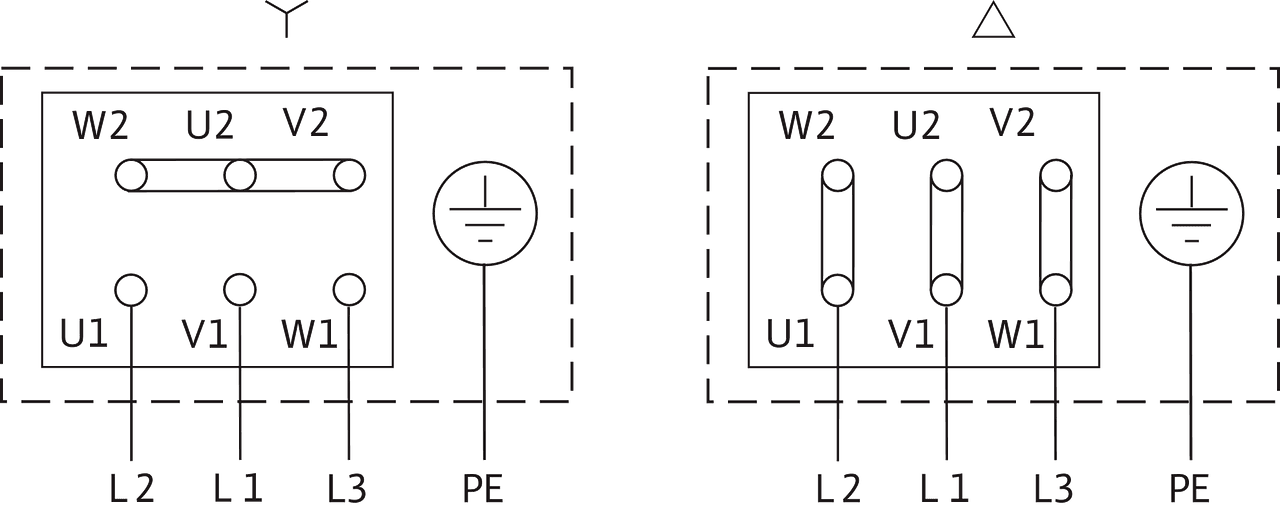 ∆: Connection diagram delta connection
Y: Connection diagram star connection
Motor protection switch required on-site. Check the direction of rotation! To change the direction of rotation, exchange any two phases.
| | |
| --- | --- |
| P2≤ 3 kW | 3~400 V Y |
| | 3~230 V ∆ |
| P2≥ 4 kW | 3~690 V Y |
| | 3~400 V ∆ |
After removing the bridges, Y-∆ start is possible.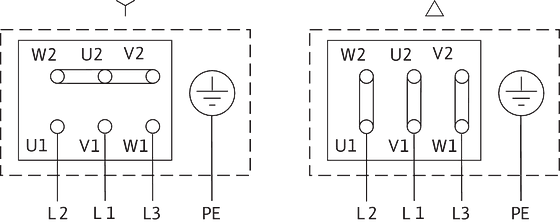 Ordering information
Information for order placements
Brand

Wilo

Product description

CronoBloc-BL 32/150.1-3/2

EAN number

-

Article number

9139958

Gross weight, approx. m

83.0 kg

Net weight, approx. m

66 kg

Overall length L

573.0 mm

Height without packaging H

302 mm

Colour

Green

Packaging property

Transport packaging

Packaging type

Wooden box

Number per layer

1

Width without packaging L

252.0 mm

Minimum order quantity

1

Pieces per pallet

1