Wilo-Sevio ACT
Series description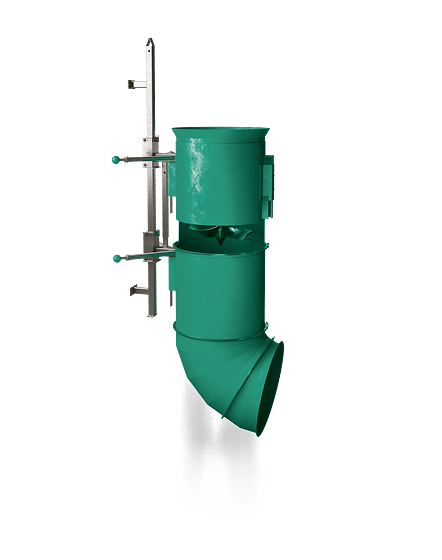 Your advantages
Gentle input of biomass carriers into the fluid
Efficient due to increased volume of penetration for an optimised treatment process
Reduced energy costs with improved treatment performance
Also available with energy-efficient IE3 motor technology
Retrofittable in existing systems
Construction
Solids diffuser
Application
Gentle process for mixing all kinds of biomass carrier particles in the pumped fluid
Equipment/function
The solids diffuser permanently sucks the biomass particles from the surface of the basin and channels them back to the lower layers of the fluid via the pipe. The angled outlet ensures the biomass particles do not drift up or down in an undefined manner, but remain in the fluid for a longer period, thereby supporting the biological process. This circuit ensures the biomass particles are only at the surface of the fluid for a limited time and that they remain active for the treatment process for a considerably longer period.
Scope of delivery
Solids diffuser
Operating and maintenance manual
Type key
| | |
| --- | --- |
| E.g.: | Wilo-Sevio ACT SD 101VT435A |
| ACT | Series for gentle entry of additives into the fluid |
| SD | Solids diffuser |
| 101 | Pipe diameter in cm |
| V | Version: |
| T | Pipe length: |
| 435 | max. pipe length incl. outlet elbow in cm |
| A | Material version (A = standard in GRP) |
Technical data
Volume flow rate: 3300…4000 m³/h
Max. basin depth: 3…8 m
Layer thickness of biomass particles: 1.6…5.5 m
Percent by volume of biomass particles: 40…70 %
Mains connection: 3~400 V, 50 Hz
Submerged operating mode: S1
Protection class: IP68
Max. fluid temperature: 40 °C
Materials
Pipe: GRP
Propellers: PUR/PUR-HV
Motor: EN-GJL-250
Screwed connections: Stainless steel 1.4301 or 1.4571
Description/construction
The solids diffuser consists of a pipe with angled outlet, a submersible motor and a propeller.
The pipe is used here for channelling and direct entry of particles into the fluid. The angle of the outlet can be adjusted vertically and horizontally according to the relevant conditions.
The motor is secured centrally in the pipe. A surface-cooled motor with IE0 or IE3 classification (in accordance with IEC 60034-30) is used here. The heat from the motor is transferred directly to the surrounding fluid via the motor housing. The winding is equipped with a temperature monitor. The power cable is a type NSSHÖU cable for heavy mechanical loads. The power cable enters the motor housing through a water pressure-tight cable inlet with strain relief and bend protection. The individual wires as well as the cable sheath are additionally sealed to keep out fluids.
The propeller is driven by the motor and features a specially optimised geometry for safe transport of the particles.