Back to overview
07.11.2023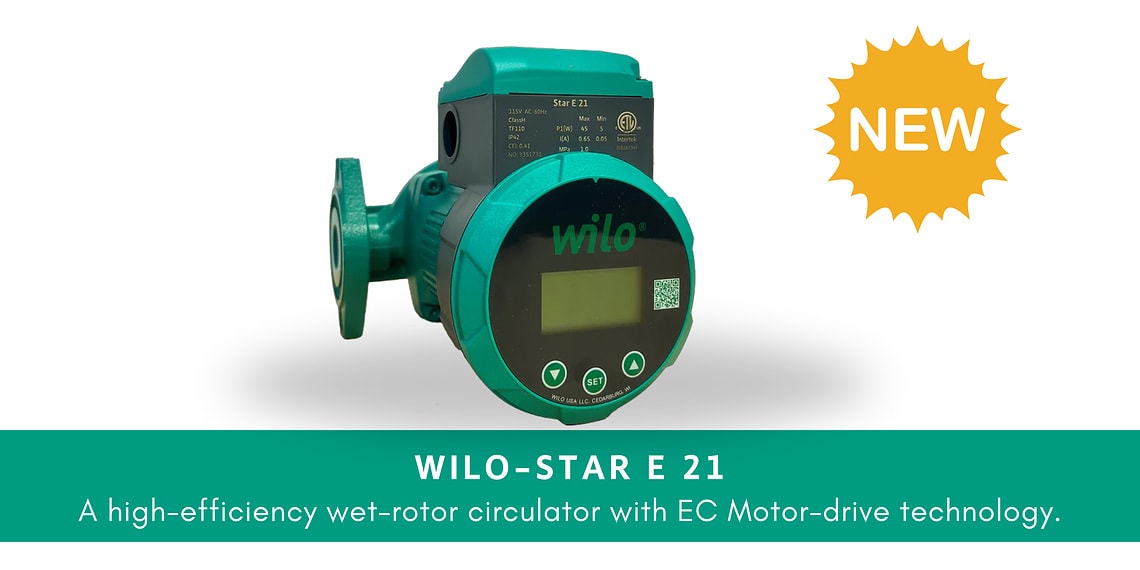 Cedarburg, WI. WILO USA LLC, a subsidiary of WILO SE, is pleased to announce the new EC Motor-Driven, High-Efficiency, Wet-Rotor Circulator, Wilo-Star E 21.Our new best-in-class circulator pump for the residential and commercial HVAC market is designed to improve performance and save energy consumption at the same time. "The Wilo-Star E 21 EC Wet-Rotor Circulator is a high-efficiency, EC Motor-driven technology-designed unit with differential temperature control that adjusts to the system demand to maintain the best heat transfer possible. This four-speed circulator also has three HD modes of operation for proportional control as well as an Auto mode where the pump will automatically adjust to the system resistance to reach its best efficiency point with an LED display, and adjustment buttons for easy set-up," says Laurent Davis, Vice President of Product Management & Marketing at Wilo USA.The fluid temperature range for the new Wilo-Star E 21 is 36°F to 230°F, with a maximum operating pressure of 145 PSI (10 Bar). Designed in a cast iron HT 200 pump body, it incorporates an advanced composite PA66+30%GF impeller and ceramic shaft. An optional check valve is also provided for parallel pumping applications.
Wilo Press Contact:
Laurent Davis
Tel: +1 (262) 204-6657
E-Mail: laurent.davis@wilo.com
Jim Nowakowski
Tel: +1 (847) 358-4848
E-Mail: jim@interlinegroup.com
About Wilo:
WILO USA LLC, a subsidiary of WILO SE, is one of the world's leading manufacturers of pumps and pump systems for building services, the entire water management chain, and industry. The company, whose sales reached more than 1.7 billion euros in 2021, has its eyes fixed on the future and is heavily involved in research and development. Based in Dortmund, WILO SE is increasingly moving away from being just a supplier of components and moving toward being a system supplier. The Wilo name is internationally recognized as being synonymous with high-tech in the pump industry. Wilo employs around 8,000 employees in over 70 subsidiaries around the world. In 2017 Wilo acquired the assets of Cedarburg, WI manufacturers Weil Pump, Scot Pump, and Karak Machine Co., followed by the 2019 asset acquisition of American-Marsh Pumps. Just recently, Wilo also acquired the assets of QuantumFlo, Inc. in 2021.
View Product
Submit Sales Inquiry