Wilo-Drain TS 40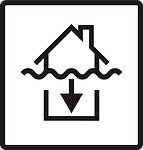 Wilo-Drain TS 40
Your advantages
Simple handling thanks to low weight
Attached float switch and plug (A version) enable ease of use
Wilo-Drain TS 40
---
Design
Submersible drainage pump
Application
Pumping of
Sewage without faeces or long-fibre constituents
Wastewater
Equipment/function
A-model with float switch and plug
Thermal motor monitoring
Integrated non-return valve
Hose connection
Technical data
Mains connection: 1~ 230 V, 50 Hz or 3~ 400 V, 50 Hz
Protection class: IP68
Max. immersion depth: 7 m
Fluid temperature: 3 ... 35 °C
Cable length: 10 m
Pressure port: Rp 1½
Materials
Motor housing: 1.4301
Pump housing: PP-GF30
Impeller: PP-GF30
Shaft: 1.4404
Seal:

On motor side: SiC/SiC
Fluid side: SiC/SiC

Static gasket: NBR
Construction
Submersible drainage pump as submersible monobloc unit for stationary and portable wet well installation.
Hydraulics
The outlet on the pressure side is designed as a vertical threaded connection Rp 1½ with an integrated non-return valve. Semi-open channel impellers are the impeller type used.
Motor
Single-phase or three-phase current version surface-cooled motors with thermal motor monitoring. In the single-phase version, motor monitoring switches automatically. The waste heat is given off directly to the surrounding fluid via the housing components. As a result, these units must always be immersed for permanent or intermittent operation.
A sealing chamber protects the motor from fluid ingress. The filling fluid used is potentially biodegradable and environmentally safe.
The detachable connection cable has a length of 10 metres and has bare cable ends. A version is equipped with a float switch and plug.
Seal
Fluid-side and motor-side sealing is performed by bidirectional mechanical seals.
Scope of delivery
Pump with 10 m connection cable and bare cable end
A-model with float switch and plug
Hose connection
Installation and operating instructions
Installation and operating instructions
---