Wilo-Sevio ELASTOX-S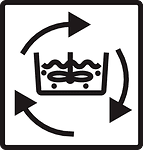 Wilo-Sevio ELASTOX-S
Your advantages
Maximum possible energy efficiency through micro-perforation and large membrane surface area
High degree of system efficiency through increased dwell time of oxygen owing to installation close to the floor
High process reliability through low-wearing and clogging-free membrane and integrated non-return valve
High operational reliability thanks to division into small aeration fields
High flexibility in the plant control system through the air intake's large control range
Wilo-Sevio ELASTOX-S
---
Design
Aeration system consisting of strip diffuser and pipeline system to distribute compressed air. On-site downspout or air intake pipe can be connected directly to pipeline system.
Application
For fine bubble aeration of various fluids such as wastewater and sewage or sludge, for the purpose of supplying oxygen and mixing.
Equipment/function
Compressed air generators input air into the pipeline system via the air intake pipe. The pipeline system evenly distributes the supplied air to individual diffusers. Air is evenly input to the fluid free from coalescence via a sewage-resistant membrane.
Technical data
Nominal diameter 180 mm
Nominal length 1500/2000/2500/3000/3500 mm
Size 180/A, also 4000 mm
Perforation area 2400/3200/4000/4800/5600/6400 cm2
Max. weight 5.00/6.50/8.00/10.00/11.50/13.00 kg
Air load, min.up to 2.0 m length 2.0 Nm³/h from 2.5 m length upwards +1.0 Nm³/h*m
Air load, nominal 19 Nm³/h*m
Air load, max. 19 Nm³/h*m
Air load, max. (for short periods) 19 Nm³/h*m
Air intake min. temperature 5 °C
Air intake max. temperature 60 °C
Min. fluid temperature 5 °C
Max. fluid temperature 35 °C
Materials
Membrane
Membrane attachment
Support element
Pipe system
Square pipe: Stainless steel
Round pipe: Stainless steel or plastic
Fixation: Stainless steel and plastic
Gasket: Flat gasket made of NBR
Construction
The aeration system is composed of one or more aeration fields. An aeration field consists of several components.
The strip diffuser consists of a supporting strip with a strip membrane placed over it. The strip membrane is fastened to the supporting rail with two fixing caps.
An integrated non-return valve prevents fluid from entering the pipeline system when the membrane is relaxed. As a result of the membrane's excellent resilience, its perforation remains sealed when the membrane is not loaded.
It is fixed close to the basin floor via a fastening plate made of plastic.
The energy-efficient pipeline system guarantees ideal air distribution with low levels of pressure loss. It is detachable, height-adjustable and adapted to the characteristics of the basin and other plant technology.
Scope of delivery
Downspout connection
Main distribution line
Diffuser line
End distribution line
Drainage pipe connection
Membrane diffuser
Fastening for pipe system
Overview and layout