Wilo-Vardo WEEDLESS-F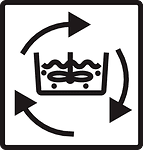 Wilo-Vardo WEEDLESS-F
Your advantages
Optimum agitation in basin with square or rectangular floor plan
Operational reliability owing to wear-resistant propeller
Easy installation for existing systems
Floating version for basins with alternating water levels
---
Design
Low-speed vertical mixer with gear motor
Application
The mixers are suitable for both intermittent and continuous duty in wastewater and sewage (with and without faeces) as well as in sludge:
For suspension of solid matter
For homogenisation
Equipment/function
Drive unit
Variable length of the mixer shaft
2-blade or 3-blade propeller
Technical data
Mixer
Max. circulation capacity: 7.5 m³/s
Propeller diameter: 2.50 m ... 1.50 m
Diameter of mixer shaft: 70 ... 114 mm
Shaft length: from 2 m
Fluid temperature: 3 ... 40 °C
Drive unit
Mains connection: 3~400 V, 50 Hz/3~460 V, 60 Hz
Drive power: 0.37 ... 7.50 kW
Operating mode: S1
Protection class: IP55, with protective fan cover
Insulation class: F (155 °C)
Ambient temperature: -20 ... +40 °C
Materials
Motor housing: EN-AC
Gear housing: EN-GJL-200
Output shaft: Steel (C 45)
Motor plate:

Steel, hot-galvanised
Stainless steel A2
Stainless steel A4

Mixer shaft:

Steel, coated
Stainless steel A2
Stainless steel A4

Rotary shaft seals: FKM
Hub: PUR/A4
Propeller blades: PUR
Construction
Vertical mixer for permanent installation in basins, on platforms or mounting brackets. Floating version for free placement in the basin.
Drive unit
Mixer-type gear motors with mixer lantern and additional bearing are used as the drive unit. Rated power of 0.37 kW to 7.5 kW in motor efficiency class IE3. High-efficiency IE4 versions are also available as an option. The motors are suitable for continuous duty. The drive unit can also be complemented with different options (e.g. suitability for explosive environments).
Motor plate
The motor plate connects the drive unit to the structure by suitable fixations. The motor plate can be modified to system-specific requirements to do this. A gas-tight version is also available. This version facilitates operation in potentially explosive atmospheres.
Mixer shaft
The mixer shaft made of thick-walled, hollow steel links the drive unit to the propeller unit. Shrink discs and tensioning kits connect the components to the drive and propeller unit.
Propeller
2-blade or 3-blade solid propeller with a nominal propeller diameter of 2500 mm to 1500 mm. The individual propeller blades are attached to a hub on the mixer shaft. Here, the propeller blade angle can be set to 30, 35, 40 or 45°. The flow direction can be configured towards the water surface or the ground of the basin depending on the design.
Scope of delivery
Vertical mixers with motor plate
Propeller blades packed individually, installation on-site
Operating and maintenance manual