Wilo-Yonos PICO
Description
A visible symbol of the new generation of high-efficiency pumps for heating and air-conditioning systems in residential dwellings is the green operating button, which, together with new functions, provides maximum convenience in commissioning and maintenance. Default settings for radiators or underfloor heating – symbolised by pictograms – save time during commissioning.
The energy efficiency was improved once more and the power consumption is thus even lower and is shown alternating with the flow. And thanks to the more compact construction, pump replacement is now even easier.
Your advantages
Maximum operating convenience owing to the Green Button Technology with new, intelligent settings, intuitive user interface and new functions
Optimised energy efficiency owing to EC motor technology, settings with an accuracy of 0.1 m and display of current power consumption and current flow
Quick and easy installation and smooth exchange owing to the new, optimised design
Easy maintenance and high degree of operational reliability due to automatically and manually triggered restart or pump venting function
Maximum operational reliability based on proven technology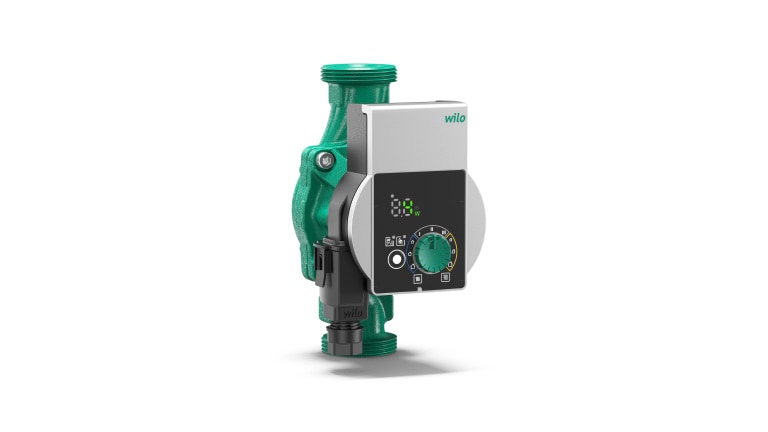 Less power consumption
With Wilo you will appeal to both your your customers`common sense and sense of responsibility. After all, with high-efficiency pumps homeowners can significantly reduce their houshold expenses. Switching over to these pums is a move that also pays off in terms of environment.
Quick installation, easy operation
The Wilo-Yonos PICO focuses on the main user steps, making it particulary easy to operate and install. Using the Wilo Connector the pump can be connected electrically in next to no time without the need for tools.
Three easy-to use operating modes: constant and variable differential pressure and constant speed.
Adjustment as precise as 0.1m or orientation values guide.
Compact, standardsing design, with direct access to motor bolts.
Wilo-Connector on side for easy access.
Intuitive user interfaces with well known icons for guided installation.
Individual saving calculation
The "Wilo Assistant", the efficient Wilo-App for smartphones, allows you to calculate your customers`energy and CO2 savings on an individual basis, in seconds flat.
The entire world of pumps in one app
The "Wilo Assistant" makes the entire world of high-efficiency pump technology available on smartphones and tablets for sanitation, heating and air-conditioning specialists and specialist consultants of technical building equipment.
The free "Wilo Assistant" app is an easy-to-use mobile application and offers support in designing, customer consultation and installation. It also delivers a wealth of strong sales arguments for energy-efficient, economical and environmentally friendly pump technology for heating, air conditioning and domestic hot-water circulation.
Download on the App Store (iOS)
Android App on Google play
more information about the Wilo Assistant app