Wilo is one of the world's leading premium suppliers of pumps and pump systems for building services, water management, and the industrial sector. We are increasingly developing from a component manufacturer to a system supplier and aim to set standards for high-tech in the pumping sector as an international innovation and technology leader. With smart solutions that will connect people, products and services, the Wilo Group is aiming to be the digital pioneer in the sector by 2020. The company owes its success to its workforce of over 7,700 employees in more than 60 subsidiaries around the world.
As a global player, Wilo is always striving to place the requirements of the customersat the heart of what it does and to find tailor-made solutions for our customers andpartner companies. Making. Life. Easy. We use this triumvirate as a basis fordeveloping products and solutions which make people's lives more comfortable inmany ways.
FROM LOCAL SPECIALIST TO GLOBAL PLAYER
Founded in 1872 as Kupfer- und Messingwarenfabrik in Dortmund, Wilo has evolved from being a local specialist to a global player. As the majority shareholder with a stake of approximately 90 percent, the Caspar Ludwig Opländer Foundation ensures the company's continuity and independence. An uncompromising customer-driven mindset, immediate market proximity and, in particular, our culture of innovation have made us who we are; one of the worldwide leading manufacturers of high-tech pumps and pump systems.
CUSTOMER REQUIREMENTS AS OUR AIM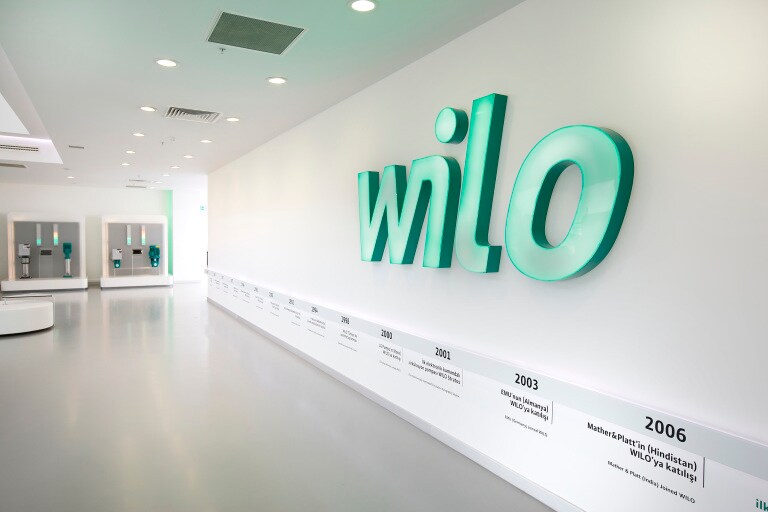 Wilo always strives to solve problems that have been identified and exceed the customers' requirements. A high standard, which provides a benchmark for us that we like to be measured by. We examine customer requirements early and from an all-round perspective.
Successful inventions are developed at Wilo using our sound knowledge and reliable sense for future technological and market requirements. When both converge, product benefits reach a new level of quality.
Intelligence. Inspiration. Innovation spirit. As a pioneer in the pump industry, we focus on anything that moves water. We have the most important prerequisites for continuously setting new standards with Wilo developments, products, systems and services: This includes our international team, comprising experienced and creative employees andcutting-edge technical facilities.
Wilo is a premium supplier for the building services, water management and industrial sectors. Our leading position drives us to maintain our superiority. We make complex technologies user-friendly, simple to operate, energy-efficient and powerful for our customers. In the end, the main focus of everything we do is people. We offer them outstanding products, system solutions and services. Our brand promise stands for this: Pioneering for You. For maximum quality of life.
We apply our values and drive to all of our segments. This means we can guarantee qualityand sustainability.
WILO BUILDING SERVICES
In building services we offer high-tech pumps and pump systems for both residential houses and commercial facilities. Multi-family houses are supplied reliably and environmentally-friendly by Wilo pumps.
WILO WATER MANAGEMENT
Water management in the areas of water supply as well as drainage and sewage is the segment in which we have a particularly extensive amount of know-how and many years of expertise. All Wilo pumps and systems in your segment are in a highly technological state and specialised, to fulfil specific requirements.
WILO INDUSTRY
The supply of industrial enterprises is a very extensive and economically complex segment with highly specialised pump systems. Wilo proved itself in this area decades ago and has remained true to its principles by constantly adhering to all of its high quality requirements.
WILO OEM
In the OEM segment, Wilo offers a high-efficiency and cost-conscious product portfolio in addition to tailored services. Here, products in the sectors of cooling, heating, solar thermal energy, geothermal energy and sanitation are being constantly adapted to customer wishes and requirements.
In all of the segments we are active in, new and powerful pump systems are constantly being further developed and optimised by Wilo engineers, in order to meet the permanently growing and more complex requirements.