Diaphragm valve DN 100, PN 16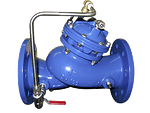 Similar to figure
Diaphragm valve DN 100, PN 16
For use as prefill valve for open tanks with up to 1500 l usable volume for replenishment.
Note
A pilot valve R ½" is required to trip the diaphragm valve.
Technical data
Connection input
Connection output
Min. inlet pressure
Max. inlet pressure
Min. fluid temperature
Max. fluid temperature
Diaphragm
Material, gasket
kv factor
Flow rate Q 1 bar
Flow rate Q 2 bar
Flow rate Q 3 bar
Flow rate Q 4 bar
Flow rate Q 5 bar
Net weight, approx.
Make
Item no.
Certificate REACH (Documents)