Wilo-RAIN3
Series description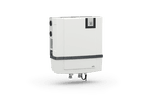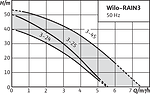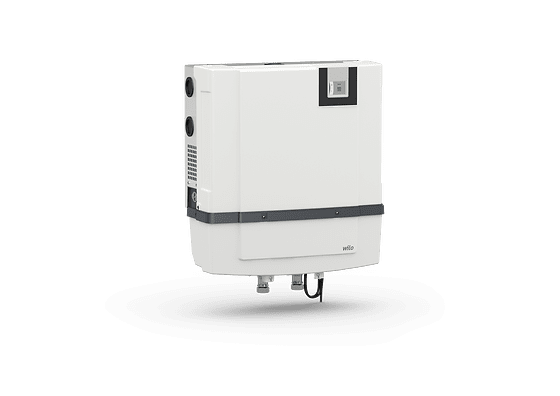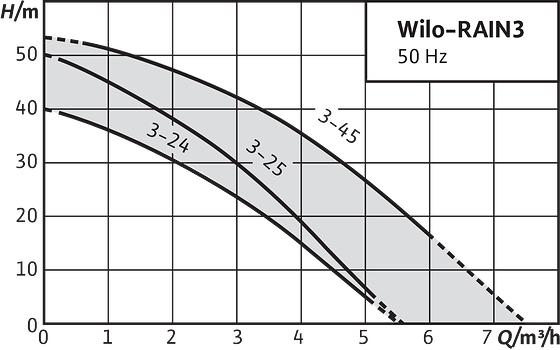 Your advantages
Easy installation thanks to ready-to-plug system and compact design with various hydraulic connection options
Convenient operation and easy setting options thanks to a unique combination of intuitive LCD touch screen operation and a wide range of functions
High level of reliability thanks to integrated self-protection routines
Hygiene safety thanks to non-return valve and a break tank in accordance with DIN 1989 and EN 1717
Easy maintenance with direct access to the system components
Quiet operation in residential spaces with smart home integration option
Rainwater utilisation via touchscreen.
The Wilo-RAIN3 is a rainwater utilisation system in accordance with EN 1717 and DIN 1989 standards. Its compactness and versatile hydraulic connection options mean that initial commissioning or replacement is quick and straightforward.
What's more, it is also extremely convenient and highly reliable thanks to the intuitive user interface of the touch LCD in connection with various intelligent functions such as the self-protection routine.
Construction
Ready-to-plug single pump rainwater utilisation system
Application
Rainwater utilisation system is designed for applications that do not require drinking water supply such as:
Toilets flushing tanks
Washing machines
Garden irrigation
(Please check that the application complies with local regulations)
Equipment/function
Ready-to-connect module with compact construction, comprising:
HiMulti 3 P self-priming centrifugal pump mounted on a base frame with vibration dampers
11 liters break tank for fresh water replenishment with float valve
Three-way valve
Front and back covers
Discharge connection hose Rp 1″
Suction connection hose Rp 1″
City main water connection R 3/4″
1.5 m power supply cable and plug
4..20mA level sensor with 20m cable for rainwater level monitoring in the storage tank
4..20mA pressure transmitter
Overflow sensor installed in the break tank
Acoustic alarm
Potential free contact available for optional external alarm or failure reporting
Relay for optional immersed pump
Electronic control switchgear
Color LCD touchscreen
Main functions:
Fully automatic rainwater utilisation
Operation and faults signals
Log 10 last failures
Pump dry running protection
Self priming assistance
Automatic break tank water renewal
Permanent display of rainwater storage tank level, system discharge pressure, operating status on the controller interface
Scope of delivery
Ready-to-connect rainwater utilisation system with fixation material
Installation and operating instructions
4..20mA level sensor
Sticker "Do not expose to frost"
Sticker "No drinking water"
Type key
| | |
| --- | --- |
| Example: | WILO-RAIN 3-25 EM |
| WILO | Brand name |
| RAIN | Rainwater utilisation system |
| 3 | Product level |
| 2 | Rated volume flow Q in m³/h |
| 5 | Number of impeller |
| EM | Single phase |
Technical data
Mains connection: 1~230 V, 50 Hz
Power supply cable: 1.5 m length
Protection class: IPX4
Motor with integrated thermal protection probe
Max. operating pressure: 8 bar
Triggering pressure: 1.5 bar
Negative suction head max.: 8 m
Fluid temperature max.: +5 °C to +30 °C
Ambient temperature: +5 °C up to +40 °C
Break-tank volume 11 liters
Nominal connections diameters:

Discharge connection Rp 1″ threaded swivel-nut
Suction connection Rp 1″ threaded swivel-nut
City main water connection on the float valve R 3/4″ (male)
Materials
HiMulti 3 P:
Pump housing in Technopolymer
Impellers and stage casing made of Noryl 30% GF
Pump cover and shaft made of stainless steel
Mechanical seal made of ceramic/carbon
Description/construction
Ready-to-plug single-pump rainwater-supply unit as compact module for residential and light commercial buildings.
The system fulfils the criteria outlined in DIN 1989 and EN 1717.
All parts that come into contact with the fluid are corrosion resistant.
Duty chart
Wilo-RAIN3