Wilo-Actun ZETOS
Description
The Wilo-Actun ZETOS is our versatile solution for efficient raw water intake, from municipal water supply to agriculture and mining. With a best-in-class pump efficiency of up to 85.5 %, the ZETOS is ideal for energy-efficient water supply in virtually all processes. The tough stainless steel investment casting and the robust design guarantee a long service life and a sustainable high efficiency, especially in difficult conditions, i.e. a high sand content of up to 150 g/m3.
Your advantages
Energy-efficient water supply, thanks to a pump efficiency of up to 85.5 %
Cost-efficient operation, thanks to the highest overall efficiency in this class with permanent magnet motor
High reliability thanks to particularly corrosion-resistant hydraulics made completely of 1.4408 grade stainless steel investment casting (AISI 316)
High wear resistance: max. sand content of 150 g/m³
ACS approval for use with drinking water
Straightforward maintenance, easy installation and dismantling
Varying operating conditions
Changing water requirements and a fluctuating ground water level pose a major challenge for submersible pumps that operate optimally only at one duty point. With the Wilo-EFC the speed of the Wilo-Actun ZETOS-K10 can be continuously controlled. This allows flexible adaptation to all duty points and thus offers a solution for maximum energy efficiency and huge cost savings.
Universal operating sites
The Wilo-Actun ZETOS-K8 is suitable for universal use – in the agricultural, municipal water supply and industrial sectors. In addition, it is also suitable for dry well installation. Thanks to hard-wearing finely cast stainless steel, the Wilo-Actun ZETOS-K8 is also suitable for demanding applications.
The maximum permissible sand content in the water is 150 g/m³.
Your universal water supply solutions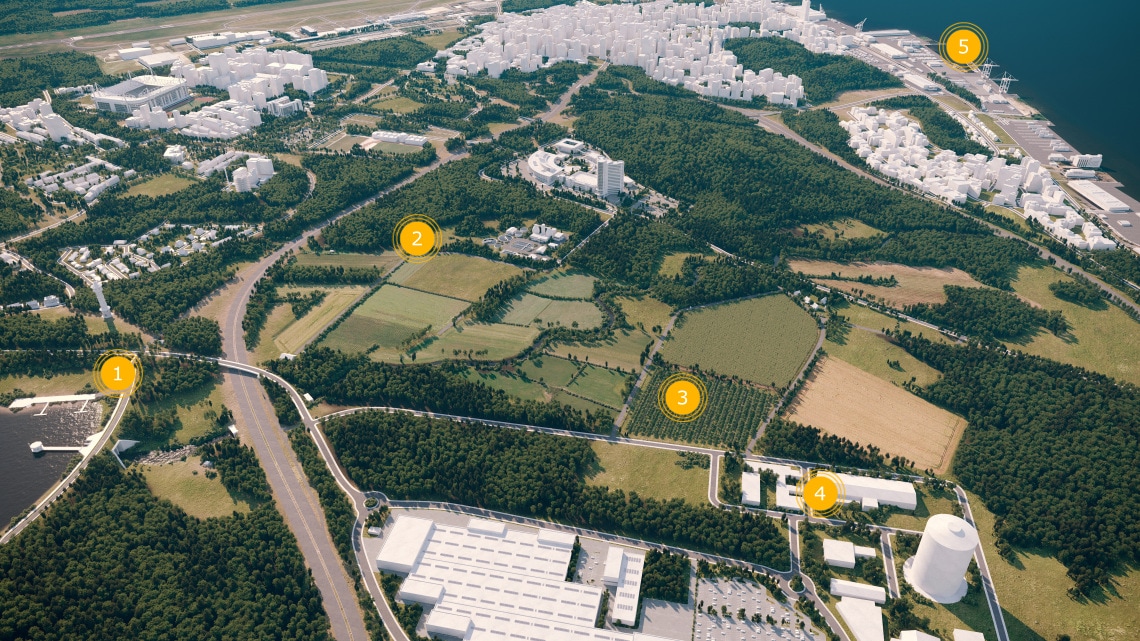 Which field of application is relevant to your needs?
Best in class. Robust. Universal.
1 - Field of application: Water supply and pressure boosting
Challenge: Flexible systems are needed to meet the fluctuating water consumption requirements of different types of buildings – such as schools, hospitals, stadiums and hotels.
Solution: The Wilo-Actun ZETOS ensures a reliable water supply – even for high volumes. Wilo offers flexible systems for every installation location. The product is built into a pressure shroud for pressure boosting applications. This makes it overflow-proof, space-saving and quiet, as well as providing a reliable and convenient water supply.
2 - Field of application: Raw water intake
Challenge: With ever-increasing energy costs and an urgent need to reduce CO2 emissions, the municipal water management sector faces the challenge of providing a more energy-efficient drinking water supply.
Solution: Using Wilo-Actun ZETOS high-efficiency pumps and motors unlocks significant financial and energy savings potential.
3 - Field of application: Clean water treatment
Challenge: Different water qualities need to be taken into account during the preparation of raw water. Some of these place high demands on the material characteristics of borehole pumps.
Solution: Thanks to the high quality of materials used in all components, the Wilo-Actun ZETOS is able to pump acidic and alkaline water or water with a high salt content. This again demonstrates the universal applicability of our borehole pump.
4 - Field of application: Professional irrigation/agriculture
Challenge: In many areas with a low groundwater level, water needs to be pumped from deep below ground to meet the requirements of professional agriculture.
Solution: Borehole pumps ensure that the required supply is met. The Wilo-Actun ZETOS is a robust pump with a long service life – even in locations with a high sand content. On top of that, it can overcome delivery heads of up to 640 metres.
5 - Field of application: Industry/offshore
Challenge: from lightly contaminated water to aggressive fluids: The demands on pumps in the industrial sector could hardly be more extreme. Drilling rigs need to pump corrosive salt water; the high sand content of water in the industrial dewatering of mines poses a significant challenge to pumps.
Solution: Made of 1.4408 corrosion-resistant stainless steel, the Wilo-Actun ZETOS is more than a match for the challenges of the offshore sector, such as those posed on a drilling rig. And thanks to its EPDM neck rings, it is also highly suitable for pumping water with a sand content of up to 150 g/m3 – as may be encountered in mine dewatering, for example.
Key Facts
Simply unique: Incredibly high pump efficiency of up to 85.5 percent.
High wear resistance: max. sand content of 150 g/m3.
The investment-cast 1.4408 AISI 316 stainless steel material makes the pump especially corrosion-resistant – allowing it to be used anywhere.
"Best in class"
New standards in submersible pumps.
Advantages of the hydraulics
The Wilo-Actun ZETOS stands out thanks to its multistage hydraulics with semi-axial impellers. The housing parts and impellers are made of investment-cast stainless steel. An optimised impeller design with a cast balancing weight ensures smooth operation. The pressure connection can optionally be equipped with an integrated non-return valve.
Technical data for the hydraulics
Max. volume flow: 385 m3/h
Max. delivery head: 640 m
Max. fluid temperature: 70 °C
Max. sand content: 150 g/m3
K8 pressure connection: G 5, K10: G 6, DN 150 (PN 10/16), DN 150 (PN 40)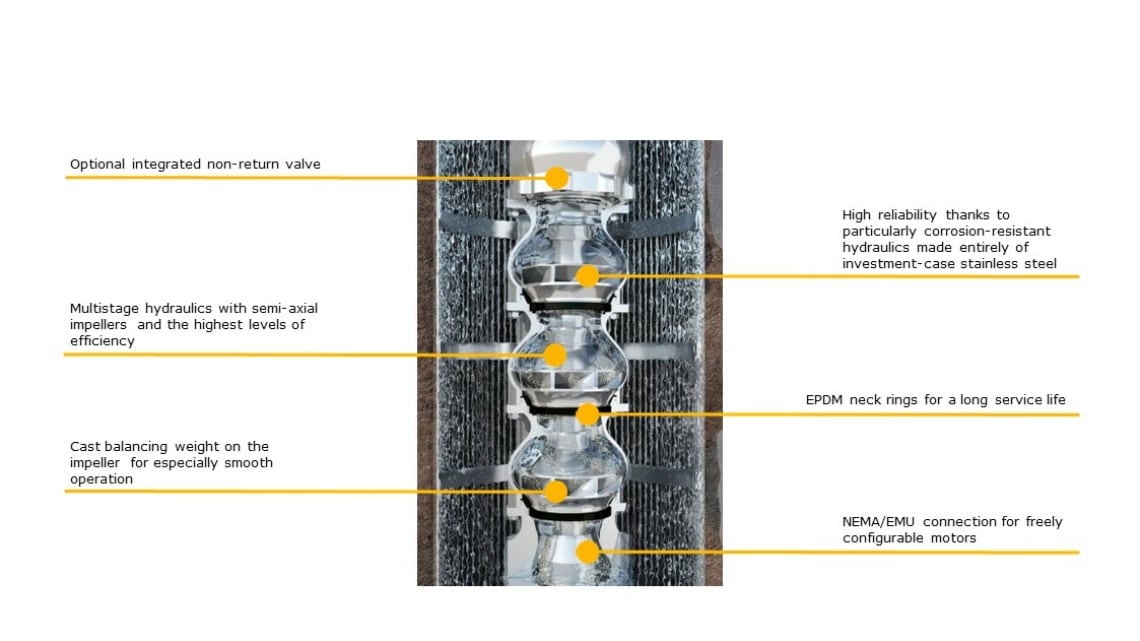 Project
Since 1990, the Bad Überkingen waterworks has supplied around 825 households, numerous agricultural businesses and a golf course with around 268,000 cubic metres of water annually.
Challenge
The elevated tanks are located on the plateau of the Swabian Mountains, meaning that sufficient pressure is required to pump water to a height of 335 metres. And on top of that, it has to be energy-efficient.
Background
After 30 years in operation, the efficiency of the high-pressure multistage centrifugal pump in sectional construction originally installed in the waterworks was steadily decreasing. The old machinery was replaced with two Wilo-Actun ZETOS-K8.50-15 and two Wilo-Sub TWI 6.30 pumps. The pressure shroud pumps now ensure the safe and efficient transport of potable water to the elevated tanks – with a delivery head of up to 335 metres.
Implementation
The compact design of the pump enables a highly space-saving, simple, and therefore cost-effective installation. The submersible pumps are encased in a pressure shroud, allowing the units to be integrated into the existing system using a horizontal dry well installation. Additionally, the Wilo pressure shroud pumps are also overflow-proof.
Result
With an overall efficiency of up to 76 percent, the good hydraulics and built-in permanent magnet motors with speed regulation and control system make energy savings of up to 100,000 kilowatt hours per year possible. The low-maintenance operation also leads to additional cost savings for the operator.
Built-in products
2x Wilo-Actun ZETOS-K8.50-15 + motor NU 711/-4/100
Volume flow Q = 15.3 l/s
Delivery head H = 333.9 mWG
2x Wilo-Sub TWI 6.30-35 + motor NU 611T-2/30
Volume flow Q = 5 l/s
Delivery head H = 329.3 mWG
Life cycle cost calculation:
Highly effective. Highly economical.
Choose the Wilo-Actun ZETOS for a variable system solution that sets energy efficiency standards for submersible pumps. That means benefiting from impressively low energy costs alongside an effective water supply with a consistently optimised duty point configuration. The calculation of costs over the pump's life cycle demonstrates its impressive economy.
Pump
Wilo-EMU NK 86-4
NU 611-2/34
Wilo-Actun ZETOS-K 8.70-4
NU611-2/26
Wilo-Actun ZETOS-K 8.70-4
NU511-4/30
Motor
Asynchronous
Asynchronous
Permanent magnet motor
Running time h per day/year
24/10
24/10
24/10
Calculation of energy cost savings
Motor efficiency %
81.5
81.3
92.5
Pump efficiency %
71.5
83.8
83.8
Total efficiency %
58.3
68.1
75.6
Annual energy costs in €
37,118
31,876
28,762
Annual energy savings in €
5242
8357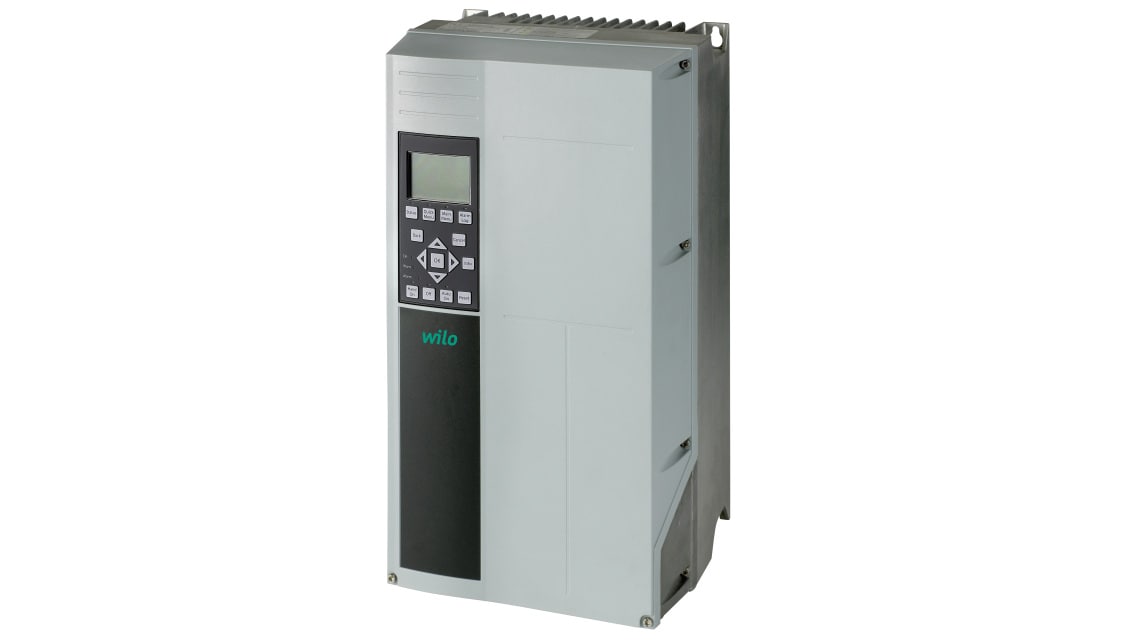 Wilo-EFC
Quick and efficient commissioning thanks to the user-friendly operation assistant.
High energy efficiency and compact design as a result of up to 98 percent efficiency.
An economical solution thanks to minimal cooling requirements.
Comprehensive coverage of pump applications provided by adjustable control modes.
Flexible connectivity provided by optional connections to various bus systems.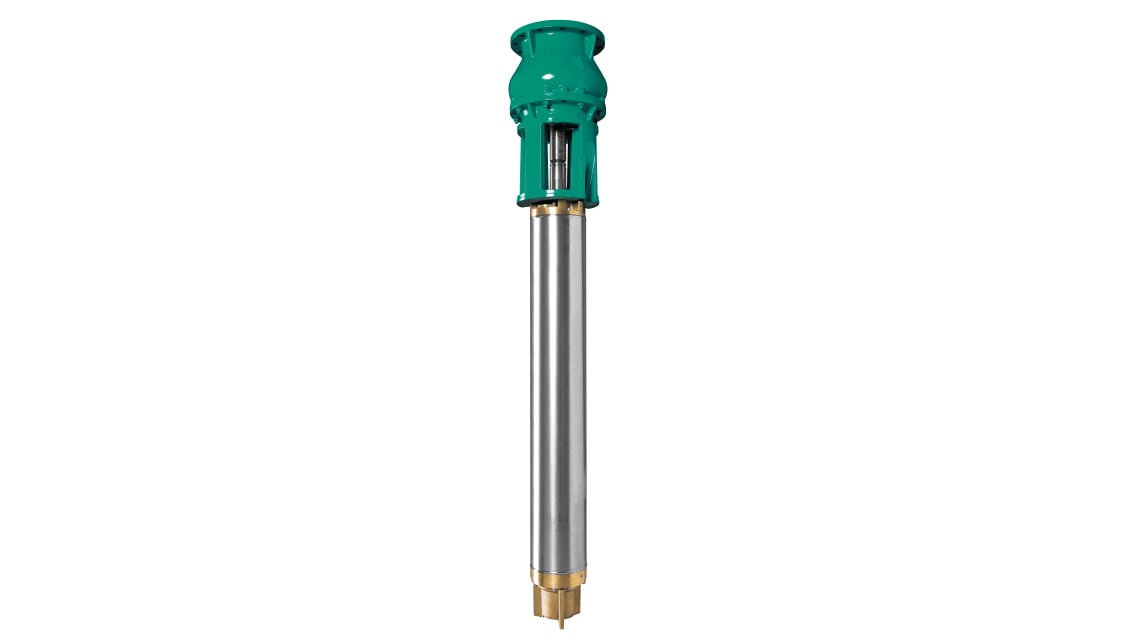 Wilo-EMU 12…24"
Hydraulics adapted to the duty point enable energy-efficient operation.
Individually configurable motors and materials for reliable operation in all types of application.
Drinking water versions with ACS approval.
Motors with sheath flow cooling (CoolAct technology) for greater power density.
Rewindable motors with easy maintenance.
Pressure shroud for application as a pressure-boosting system.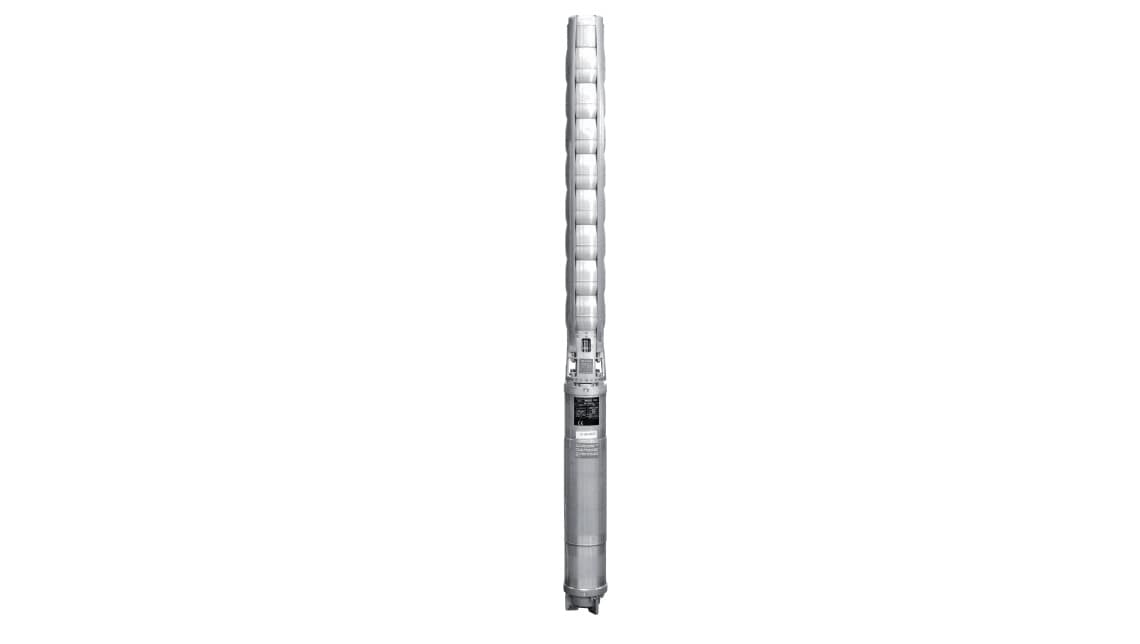 Wilo-Sub TWI
Long service life thanks to corrosion-resistant stainless steel, optionally in V4A quality.
Individually configurable motors and materials for reliable operation in all types of application.
Drinking water versions with ACS approval.
A high degree of flexibility thanks to 4, 6, 8 and 10-inch versions.
Volume flow performance from 1 to 250 m3/h.


FAQ
Are the pumps produced entirely by Wilo?
Yes, the pumps are produced at our site in Hof, Germany, and are 100 % tested.
Is the 1.4408 stainless steel version suitable for sea water?
Wilo has decades of experience in the offshore sector. Our experiences using the pump in sea water have been positive. A version made of 1.4517 (duplex stainless steel) is also available.
Is the Ceram coating approved for drinking water?
The Ceram CT coating conforms to German Federal Environment Agency (UBA) standards and is approved by the French water regulations advisory scheme (ACS).
What frequency converter is required to drive the permanent magnet motors?
The Wilo-EFC offers numerous options and we recommend it for use in all applications. However, any frequency converter may be used.
Does the power dissipation of the frequency converter cancel out the efficiency benefits of the permanent magnet motor?
The Wilo-EFC's power dissipation is about two percent. In addition to that, there may be losses caused by the output filter. However, these losses do not come close to neutralising the efficiency benefits of the permanent magnet motor – which are up to 13 percent. That's on top of excellent performance in the partial load range.