Smart Connect

From building automation integration to app control, Wilo enables comprehensive communications capability through smart and intelligent technologies. We provide you with smart connections to your pumps and pump systems and give you an overview of installation sites and operating conditions while you are on the go.
Challenges in commercially used buildings without building management systems or without networked pump systems
Heating, air conditioning and water supply networks must function 24/7 without interruption
In buildings without a building management system, pumps must be inspected and adjustments made on-site in the technical room which results in high operating costs
If a fault has occurred in the heating, air conditioning or water supply, finding the cause of the error can be time-consuming and labour-intensive and, without networking, only possible on-site at the installation point
There is a lack of transparency regarding the status of individual pumps/pumps in operation over an extended period of time, so analysing them for optimisation and troubleshooting is time-consuming
No monitoring of previously (calculated/) planned energy savings is possible
Only laborious data documentation by hand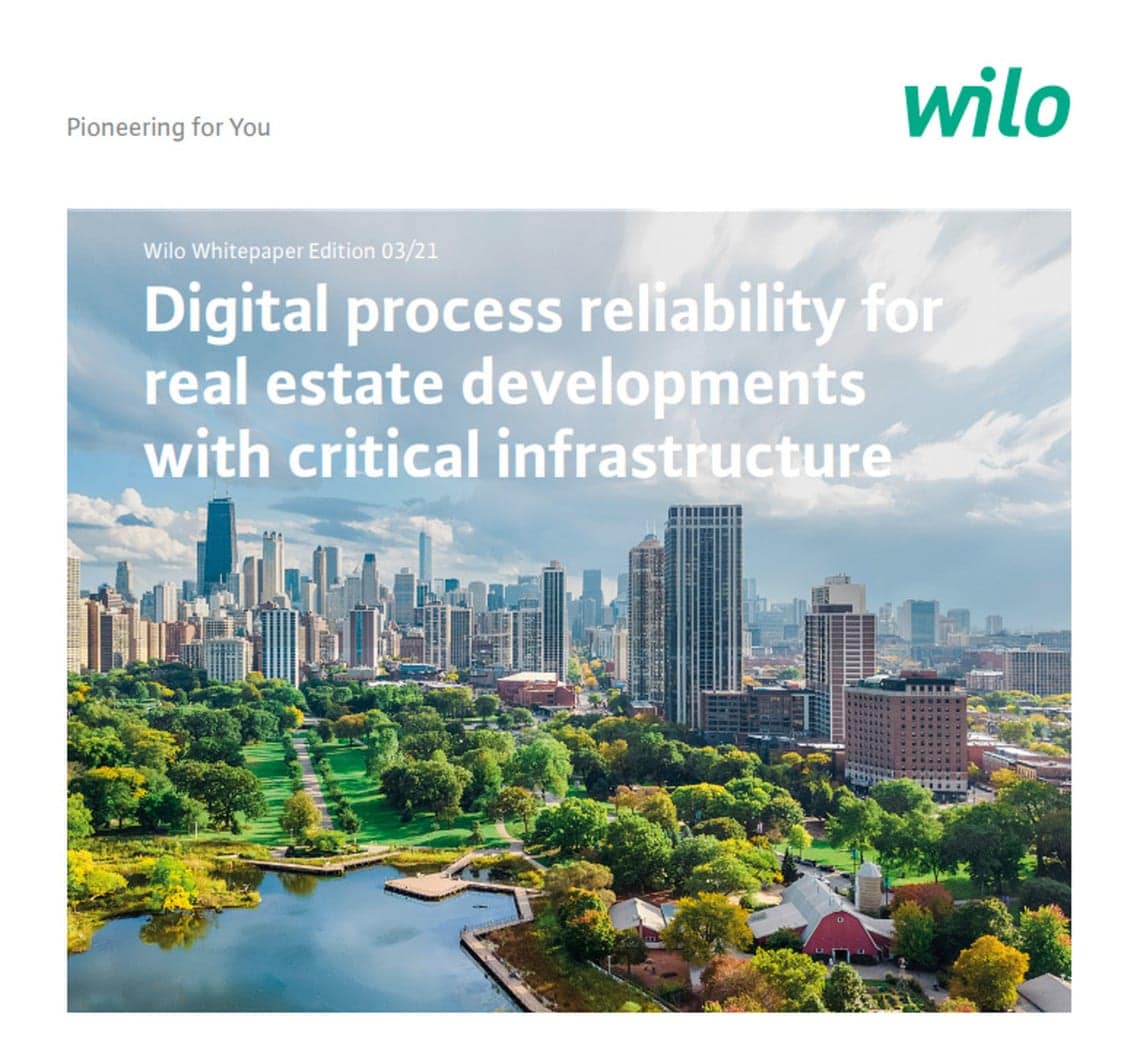 White paper – process reliability for real estate developments with critical infrastructure
The future of building is clearly defined as "digital". The goal behind it: operationally safe (functional) buildings without system-critical failures with high, resource-saving efficiency. The prerequisite for this: the networking of all functional processes and seamless monitoring. The new Wilo white paper gives a comprehensive insight into the necessary framework conditions. In addition, practical solutions are described that can already be economically implemented today by networking the world of pumps in such objects.
Request our whitepaper!

Convenient connectivity and control of the pump systems for maximum operational reliability.
Wilo-Smart Connect is a system that enables smart Wilo products to be monitored and operated near and far using a modern app. With Wilo-Smart Connect, you have access to the operating data of your pump in real time and this can be read, monitored and even controlled.
Our solution for networking pump systems in commercial buildings:
Networked pump systems
With Wilo-Smart Connect, we network pump systems for heating, air conditioning and water supply in a commercially used building.
Transparent observation
Thanks to networking and monitoring, transparent observation of the pump operation is possible at any time, even without time-consuming on-site inspections.
Fewer on-site visits
Cloud-based remote access prevents unnecessary on-site visits to installations and accelerates any clarification or optimisation.
Convenient remote control
Remote control using the Wilo-Smart Connect function in the Wilo-Assistant app enables a transparent overview and prompt responses to maintenance.
Convenient commissioning
Operation of the products via the Smart Connect function in the Wilo-Assistant app facilitates commissioning, especially with pumps that are difficult to access.
Efficient maintenance
Wilo-Smart Connect provides comprehensive information on pump operation and, if applicable, on extraordinary loads to which a pump is exposed. Maintenance can be carried out in a targeted and efficient manner.
You only need 5 components for Wilo-Smart Connect:
A smart Wilo pump, an Internet connection, a smartphone or tablet, the Wilo-Assistant app with the Smart Connect function and the Wilo-Smart Gateway. This is the connection between the protected Wilo-Smart Cloud, your Wilo pump and your mobile device.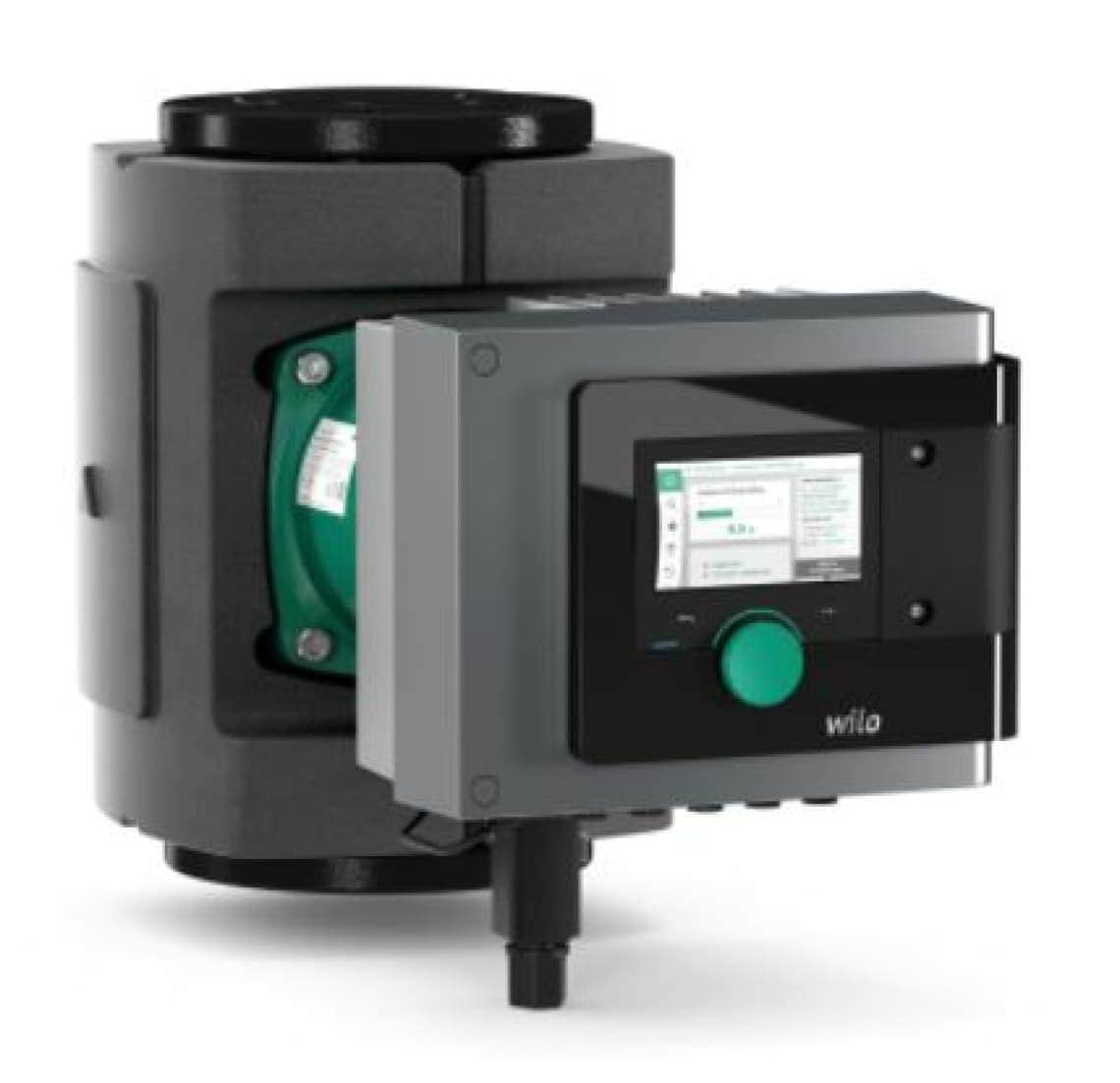 Wilo-Stratos MAXO
The smart-pump for commercial properties with building management systems and our first smart-pump* with integrated Wilo-Smart Connect interfaces
State-of-the-art communication interfaces (e.g. Bluetooth) for connection to mobile devices, including direct pump networking for multi-pump control, for example, via the Wilo Net.
* We understand a smart-pump as a new category of pumps, which goes far beyond our high-efficiency pumps or pumps with pump intelligence. Only the combination of the latest sensor technology and innovative control functions (e.g. Dynamic Adapt plus and Multi-Flow Adaptation), bidirectional connectivity (e.g. Bluetooth, integrated analogue inputs, binary inputs and outputs, Wilo Net interface), software updates and excellent usability (e.g. thanks to the setting assistant, the preview principle for predictive navigation and the tried and tested Green Button Technology) make this pump a smart-pump.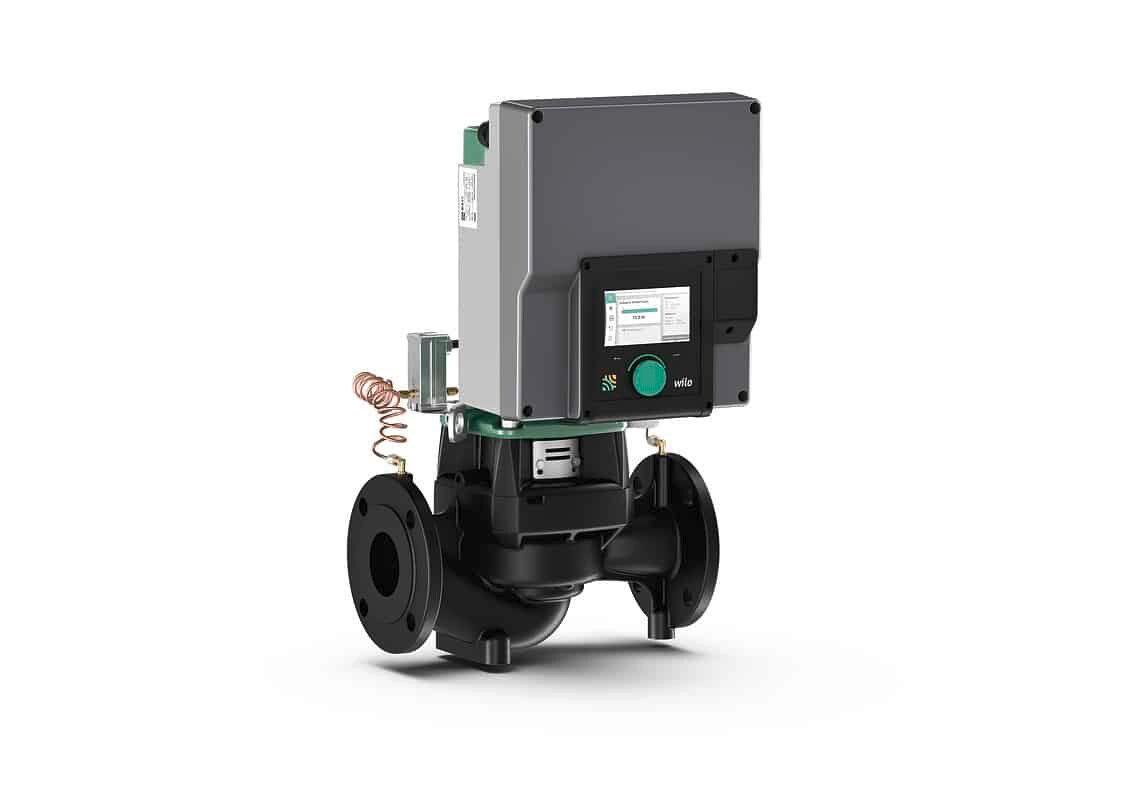 Wilo-Stratos GIGA2.0
The smart glanded pump for heating, air conditioning and cooling applications in large buildings with integrated Wilo-Smart Connect interfaces
State-of-the-art communication interfaces (e.g. Bluetooth) for connection to mobile devices, including direct pump networking for multi-pump control, for example, via the Wilo Net.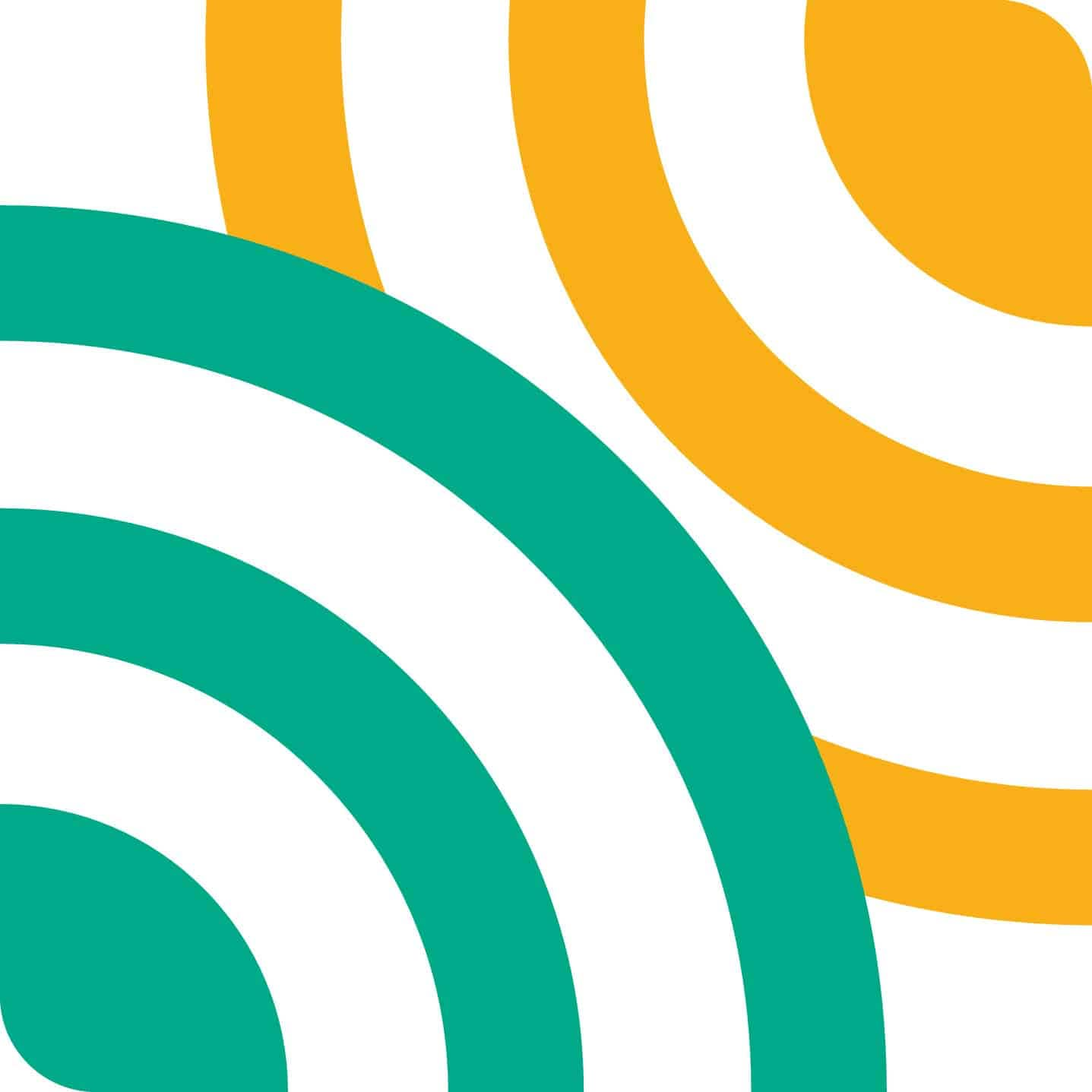 Smartphone and internet connection
With Wilo-Smart Connect, you have access to the operating data of your pump in real time and this can be read, monitored and even controlled!
You simply need a standard smartphone and Internet connection, among other things.
Smart Connect function
Convenient pump management with the Wilo-Assistant app – on-site or remotely
Our app for the remote control of Wilo-Smart products:
Connect the pump to a smartphone or tablet via the Bluetooth interface
No dongle required
Configuration, control and fine-tuning
Capture operating information for storage or transfer purposes, or to create documentation
Software updates for the Wilo-Stratos MAXO
Particularly convenient for pumps that are difficult to access
The app can be downloaded from the Apple App Store or Google Play free of charge.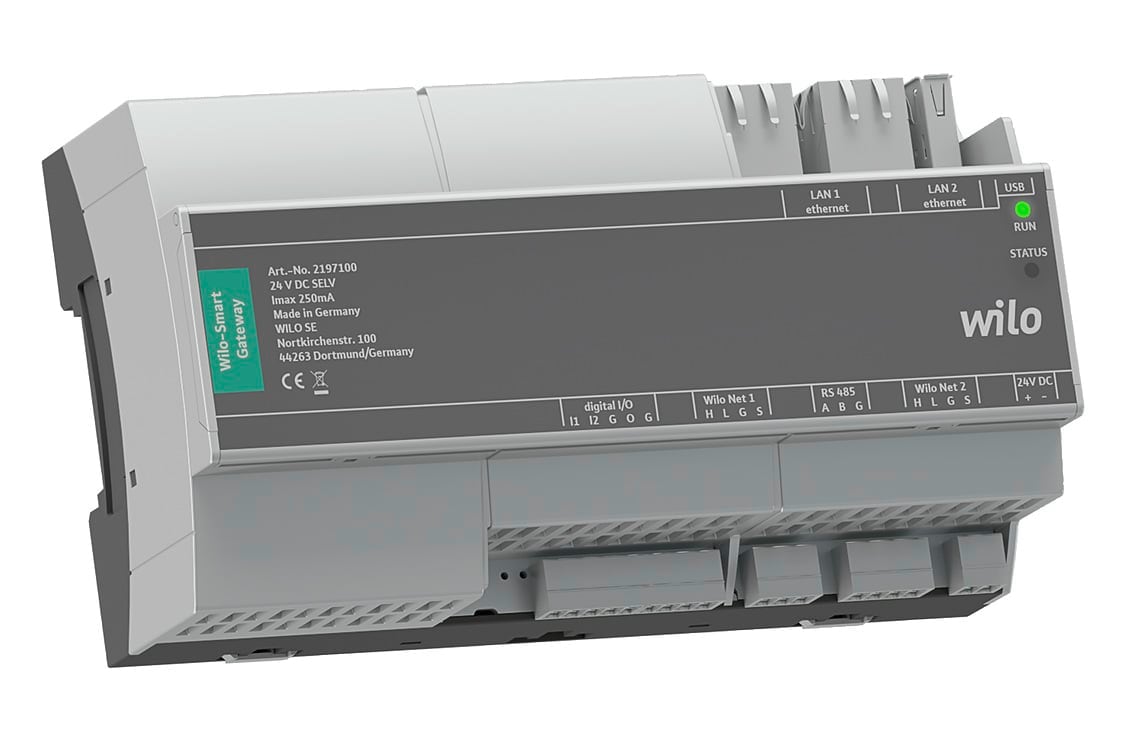 Wilo-Smart Gateway
The module for connectivity with our Wilo-Smart Cloud remote access infrastructure:
Connection via Wilo Net to the Wilo-Smart Cloud – the new Wilo online platform
Simple and safe data transfer from the Wilo pump
Facilitates the remote monitoring and control of the pump via smartphone or tablet
Find out more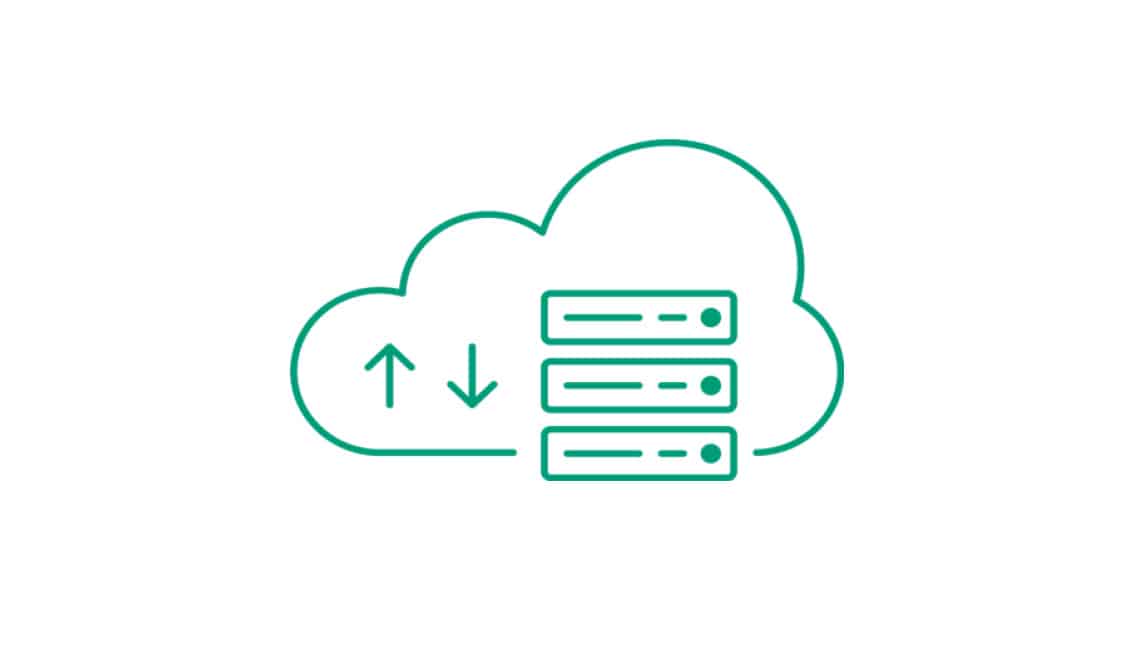 Wilo-Smart Cloud
Our cloud service for remote control over long distances:
Access via the Internet
Ability to monitor and control pumps worldwide
Collecting and forwarding pump data
Sends information, fault messages and warnings
Visualisation and storage of the data via Wilo-Smart Connect app
More operational reliability even with existing systems, even in buildings without building management systems.
The following series can easily be retrofitted with the Wilo-Smart IF module or Wilo-Smart IF module Stratos for the Wilo-Smart Connect connection:
Wilo-Stratos/-D/-Z
Wilo-Stratos GIGA and Wilo-Stratos GIGA B
Wilo-CronoBloc-BL-E
Wilo-VeroLine-IP-E/VeroTwin-DP-E
Wilo-CronoLine-IL-E/CronoTwin-DL-E
Wilo-Helix EXCEL
Wilo-MVIE/MVISE/MHIE/HELIX VE (0.55 ... 22 kW)
---
Wilo-Assistant – Hepsi için tek bir uygulama.
Yeni tasarlanan Wilo-Assistant uygulaması, yüksek verimli pompa teknolojisinin kapsamlı dünyasını sıhhi tesisat, ısıtma ve soğutma uzmanları, teknik inşaat ekipmanı planlayıcıları ve işleticilerin akıllı telefonlarına ve tablet PC'lerine getiriyor.
Yeni tasarım ve sezgisel kullanıcı yönlendirmesi günlük işlerde daha da iyi destek sağlar. Yeni işlevler ve bağlantı çözümleri önceki Wilo-Assistant'ın çok yönlülüğünü tamamlar.
Bu sayede kullanıcılar hedeflerine daha da hızlı ulaşır ve müşteri desteği alır
Planlama ve seçim
Müşteri hizmetleri
Montaj ve devreye alma
Uzaktan kumanda ve bakım
App Store'da bulunur (iOS)
Google Play'de Android uygulaması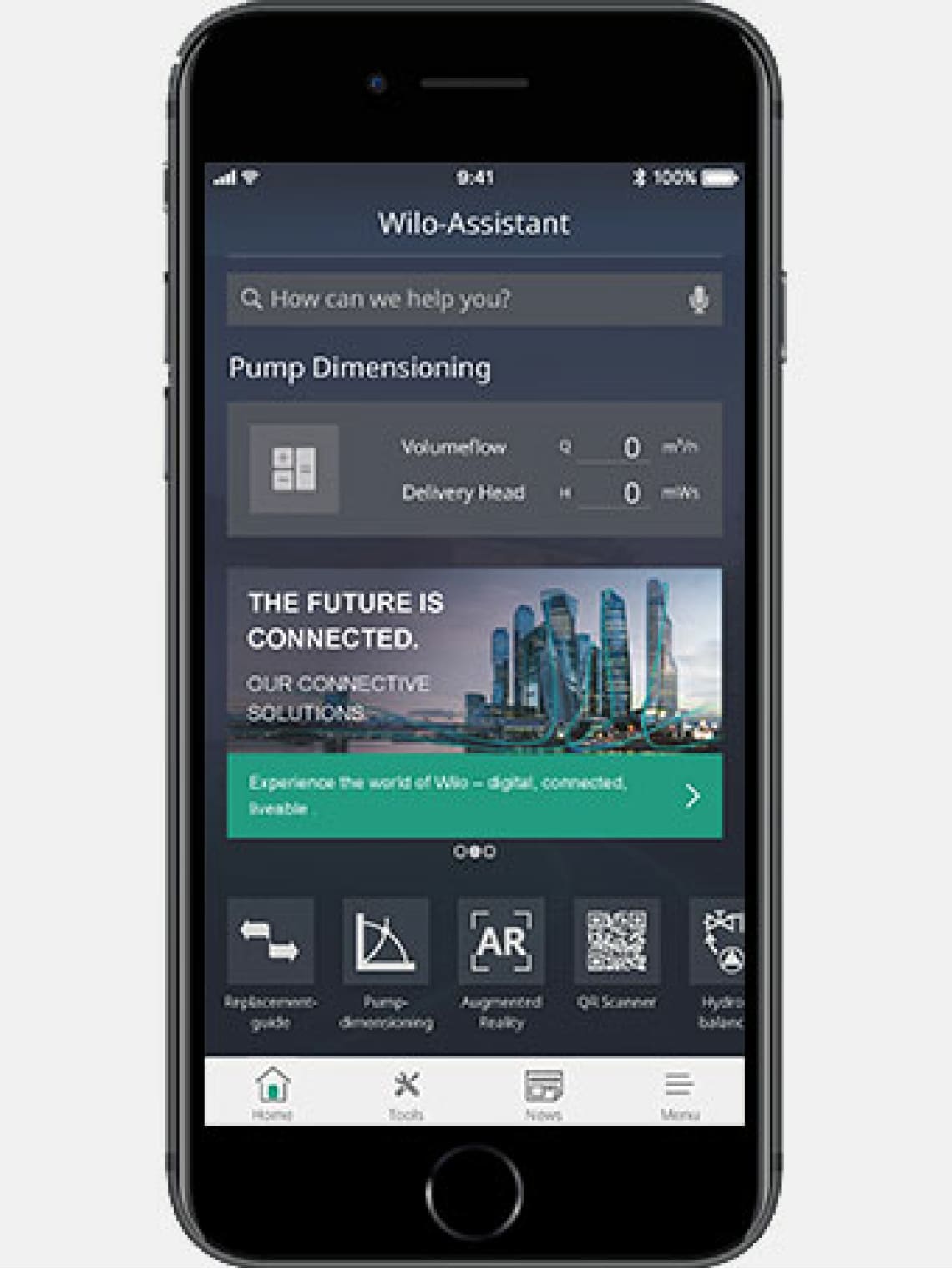 ---
Geleceğe doğru yola çıkın. Wilo-Stratos MAXO ailesi.
Dünyanın* ilk akıllı pompası olan bu ürün, sahip olduğu yenilikçi özellikler sayesinde daha şimdiden hayatınızı kolaylaştırmaya başlayacak. Wilo-Stratos MAXO, size her zamankinden daha fazla verimlilik, bağlanabilirlik ve konfor sunar. Kolayca anlaşılan bir kullanıcı arayüzüne sahip ve çeşitli uygulamalar için uygun ayar olanakları sunan ilk pompadır. Montajı ve kumandası benzersiz derecede kolaydır. Sistem verimliliği de Wilo-Stratos MAXO'yu yeniden tanımlar: Yenilikçi enerji tasarrufu fonksiyonları ve yeni regülasyon türleri sayesinde, sisteminizden maksimum verimi almanıza olanak sağlar.

---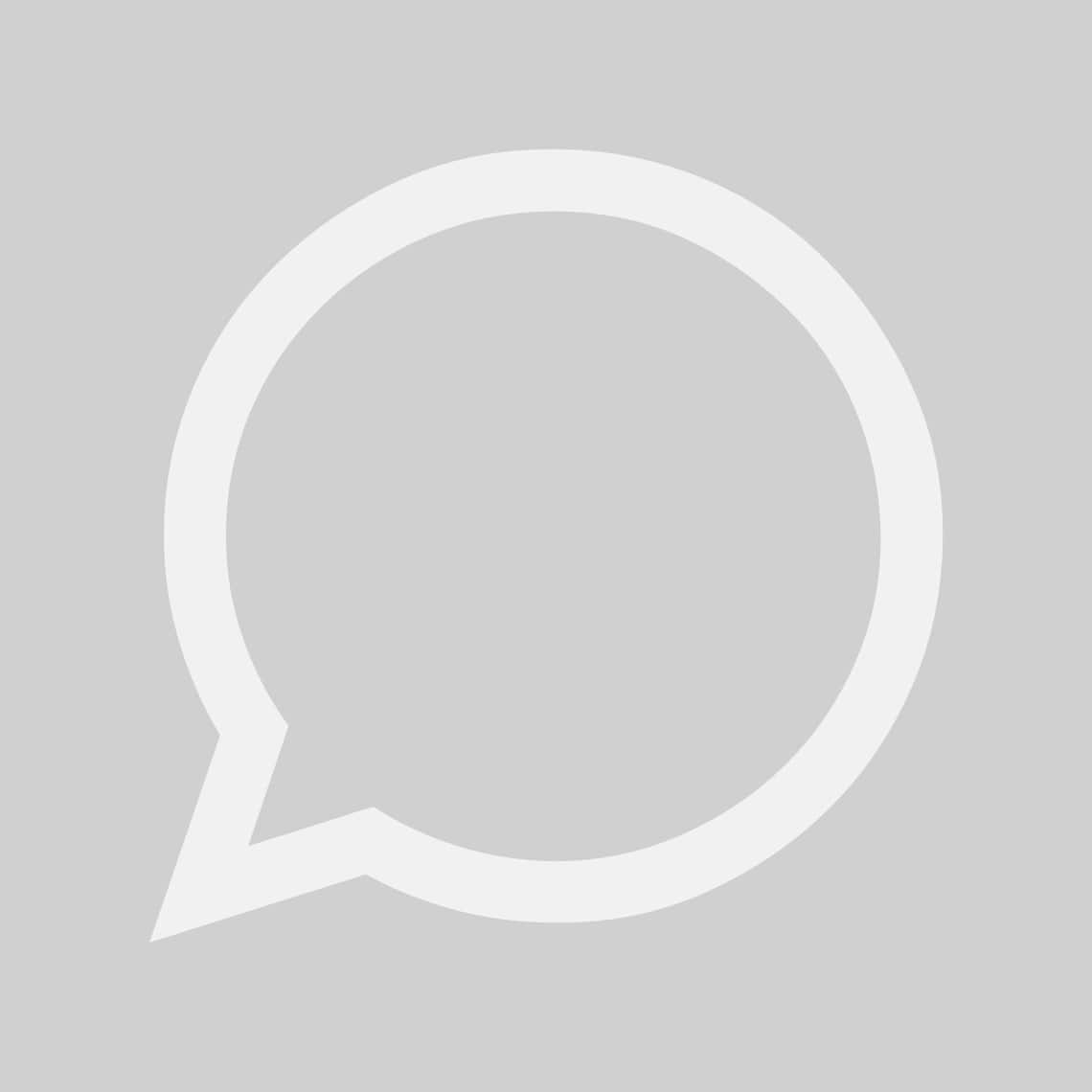 Sorularınızın cevabı bizde
Ürünlerimiz ve hizmetlerimiz ilginizi mi çekti? Wilo uzmanları size yardımcı olacaktır!
İster bir teklifin talep edilmesi, isterse de hizmet listesinde düzenleme yapılması, farklı sistem tiplerinin tasarlanması, pompaların ve kumanda cihazlarının seçilmesinde danışmanlık sağlanması veya sadece hidrolik ve kumanda işlemleri ile ilgili sorulara destek verilmesi ile ilgili olsun.
En yakın satış ofisimiz ile iletişime geçin ve hemen bir randevu alın. Sizi merakla bekliyoruz!
Doğru iletişim bilgilerini bulun