Wilo-Yonos GIGA-N
Series description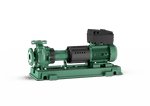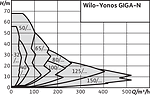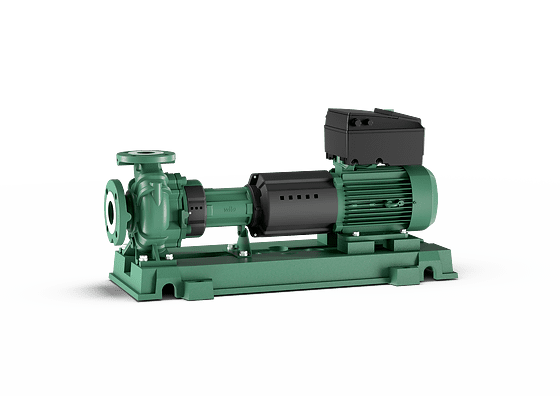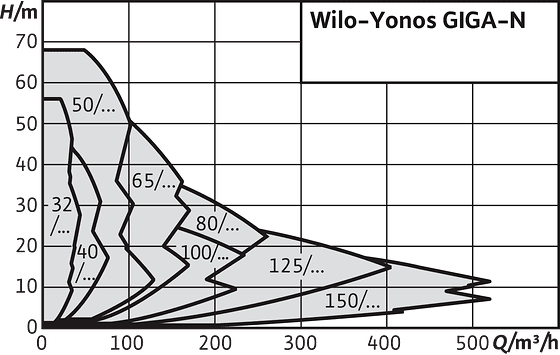 Your advantages
Efficient pump thanks to the use of IE4 motors
Cataphoretic coating of all cast components for high resistance to corrosion and long service life
Standard dimensions in accordance with EN 733 make the pump universally deployable
Easy adjustment and operation with Green Button Technology
Easy maintenance thanks to user-friendly spacer coupling in back pull-out design
Optional interfaces for connection to building automation using insertable IF modules
The standard pump for universal applications and high energy efficiency.
The Wilo-Yonos GIGA-N is a pump with high energy efficiency for use in heating, air conditioning and cooling applications in buildings with high delivery heads that require the movement of large volumes of water.
Construction
Electronically controlled, single-stage low-pressure centrifugal pump with axial suction. Mounted on a baseplate with flange connection and automatic power adjustment.
Application
The pumping of heating water (in accordance with VDI 2035), cold water and water-glycol mixtures without abrasive substances in heating, cold water and cooling systems.
Applications for irrigation, building services, general industry, power stations, etc.
Equipment/function
Single-stage low-pressure centrifugal pump in monobloc design with coupling, coupling guard, motor and baseplate
Drive with integrated electronic speed control
Mechanical seal
Operating modes
Δp-c for constant differential pressure
PID-Control
Constant speed (n=constant)
Manual operation level
Manual functions
Differential pressure setpoint setting
Setting the speed (manual control mode)
Setting the operating mode
Setting the pump ON/OFF
Configuration of all operating parameters
Fault acknowledgement
External control functions
"Overriding Off" control input
Analogue input 0 – 10 V, 0 – 20 mA for constant speed (DDC) and remote setpoint adjustment
Analogue input 2 – 10 V, 4 – 20 mA for constant speed (DDC) and remote setpoint adjustment
Analogue input 0 – 10 V for actual value signal from pressure sensor
Analogue input 2 – 10 V, 0 – 20 mA, 4 – 20 mA for actual value signal from pressure sensor
Signal and display functions
Collective fault signal SSM
Collective run signal SBM
Data exchange
Infrared interface for wireless data exchange with IR-Monitor/IR-Stick
Plug-in position for Wilo IF-Modules (Modbus, BACnet, CAN, PLR, LON) for connection to building automation
Safety functions
Full motor protection with integrated trip electronics
Access disable
Dual pump management (2 x single pump; Y-piece application only)
Main/standby operation (automatic fault-actuated switchover)
Pump cycling main/standby operation after 24 hours
Parallel operation
Scope of delivery
Pump
Installation and operating instructions
Completely mounted pump on baseplate with coupling, coupling guard and electric motor
Type key
Example

Yonos GIGA-N 40/200-15/2 -R1-P5

Yonos

Product family

GIGA

Series designation

N

Standard pump with axial suction

40

DN for the pressure flange

200

Impeller nominal diameter [mm]

15

Rated power P2 [kW]

2

Number of poles

R1

Version without differential pressure measurement

P5

Optional:

empty = with spacer coupling

P5 = without spacer coupling (with standard coupling)
Technical data
Fluid temperature -20 °C to +140 °C
Mains connection

3~440 V -5/±10 %, 50/60 Hz
3~400 V ±10 %, 50/60 Hz
3~380 V -5/±10 %, 50/60 Hz

Protection class IP55
Nominal diameter DN 32 to DN 150
Max. operating pressure 16 bar
Materials
Pump housing and lantern. Standard: EN-GJL-250
Impeller: Standard: EN-GJL-200; others on request
Shaft: 1.4021
Mechanical seal: AQEGG; other mechanical seals on request
Description/construction
Single-stage low-pressure centrifugal pump as baseplate pump with axial suction ports with flanged bearing brackets and axle fastening for flexibly coupled drives
Drive with integrated electronic speed control
Spacer coupling (sleeve coupling) is standard; this provides the option of leaving the motor in position when dismantling the rotor unit
Variant ...-P5 without spacer coupling (at reduced price, see price list)
Duty chart
Wilo-Yonos GIGA-N