Back to overview
14.05.2021
Profitable growth in Latin America and strong start into first quarter of 2021
Latin America. The Wilo Group's profitable growth path in 2020 was also maintained in the Latin American region. For more than 20 years, the Wilo Group has been active and strongly positioned in industries that are trendsetting in Latin America and has continuously expanded its presence throughout the years. As of January 01, 2020, the region was officially established as an own sales region to take account of both the above-average economic growth in the medium term and the size and importance of the Latin American market.
Overall, the region was hit hart by the pandemic. The economic output decreased by around 6.9 percent, and in some countries such as Argentina, Peru and Mexico, the setbacks in the economy were particularly severe. "Despite the current challenging macroeconomic and political environment, we have succeeded in continuing the Wilo Group's profitable growth course in Latin America and achieved to position the Wilo brand stronger and more visible in the market," explains Svenja Ahlburg, Group Director of the Latin American region. In local currency, the Wilo Group recorded significant sales growth of more than 30 percent for Latin America. As an example, the Industry market segment developed extremely positively in Chile and Brazil.
Expansion of business activities in South America
More than 20 years ago, the Wilo Group realized its market entry in Latin America with the establishment of its subsidiary in Argentina. Under the leadership of Gustavo Morvillo, Argentina has also served as a platform for South America since 2019, which includes the countries of Bolivia, Ecuador, Paraguay, Uruguay, Colombia and Peru. Especially in Colombia and Peru, the Wilo Group has been able to greatly expand its position as a premium manufacturer of highly efficient solutions for water supply and wastewater treatment. "In cooperation with our local partners, we were able to win strategically important projects in all countries and further strengthen our competitive position. In line with Wilo's corporate strategy, we have also selectively increased our local added value in Argentina, where, for example, we have seen above-average sales growth in agricultural irrigation in particular as a result of the localization of borehole pumps," explains Morvillo.
On the road to success in Brazil
Since the establishment of the subsidiary in Brazil in 2011, the year 2020 goes down as the Wilo Group's most successful year in the company's still young history. "We have fundamentally changed our strategic approach and greatly expanded our presence in all market segments. In addition, we have laid the foundation for expanding our local added value and establishing our existing set up as an export center for neighboring countries in order to serve our customers' needs faster and more individually," says Jesper Buchreitz, who took over the management of Wilo Brazil's sales activities in March 2019 and thus contributed significantly to the positive development. Buchreitz was appointed as Managing Director of Wilo Brazil on April 01, 2021.
A successful first year in Chile
With the official opening of the subsidiary in March 2020, Wilo has laid the foundation for long-term success in Chile. In its first year, sales revenue already showed double-digit growth compared to the previous year. "We are proud to have gotten such a strong start despite the current challenging economic-political environment," explains Gustavo Ramos, Managing Director of Wilo Chile SpA. When it comes to energy efficiency, Chile plays a pioneering role in South America. "Due to the increasingly water- and energy-intensive processes in agriculture, aquaculture and mining, as well as in the construction business, resource-saving products are becoming more and more important. "Our goal is to contribute to a more sustainable and energy-efficient water supply with our highly efficient pumps and pump systems," explains Ramos.
Regional diversification in Central America
Mexico, Central America and the Caribbean have been severely affected by the pandemic and natural disasters in 2020. "Despite these unfavourable circumstances, we have been able to continue our positive business development in Mexico and the region. Thanks to our efficient structure, we were able to react with flexibility to the changing market conditions and compensate fluctuations in sales accordingly," emphasizes Marco Sosa, head of Wilo Mexico. "I would particularly like to highlight the strong business development in Nicaragua, thanks to the successful and trustful cooperation with our local partners", adds Sosa.
The Wilo Group also strongly expanded its activities in other Central American countries. "A positive impulse was given in particular by the acquisition of the American pump manufacturer American Marsh Pumps at the end of 2019," states Carlos Toribio, Commercial Manager of Central America and the Caribbean. "As a result, we were able to gain important market shares in Jamaica, Panama and the Dominican Republic, among other countries, in the first year after the acquisition," describes Toribio.
The positive trend also continued in Cuba. "To be successful in Cuba, you need a lot of patience," jokes Raul Rodriguez, head of Wilo Cuba. "We stood by our customers and partners during difficult economic years and did not step back from the Cuban market because we trusted in the potential of our country. That's how we managed to recover from the difficult years and to achieve strong sales growth in 2020."
Increasing visibility
In recent years, the Wilo Group has increased its focus on the Latin American region. "This step was of enormous importance for the positive business development and has significantly strengthened the employees' confidence in the region, in Wilo and ultimately in themselves," highlights Svenja Ahlburg. "We used this moment to develop important strategic projects together with our local colleagues, to intensify the exchange within the region and to strengthen Wilo's visibility in Latin America," Ahlburg continues.
Contributing to the increase in visibility was not only the gain in market share, but also the establishment of a marketing strategy aligned to local market and customer needs, as well as intensified networking with politics, associations, NGOs, and private companies. A significant event was the launch of the WiloLATAM eAcademy. The eAcademy is an internal digital platform where Wilo employees provide training on products, systems, and solutions as well as application know-how. Since the launch of the eAcademy, more than 150 customers and partners from 11 countries have been trained. More information about the eAcademy trainings and Wilo's activities in Latin America are available on the website and social media channels in Spanish, Portuguese, and English.
Outlook 2021: The economic outlook is improving in Latin America.
The region offers significant growth opportunities for the Wilo Group. "In the future, we do not only want to further expand our local presence, but also make greater use of synergies on the American continent. The cooperation with our colleagues in the United States plays a central role in achieving this," explains Svenja Ahlburg. The product portfolio in the USA has grown strongly as a result of the past acquisitions of Weil, Scot and American Marsh Pumps. These products will now also be increasingly implemented in Latin America and the Caribbean. Additionally, with countries such as Chile, Argentina and Brazil, South America offers significant growth potential in industries with a promising future for Wilo, such as the hydrogen sector.
"After a successful start to 2021 and a strong first quarter, we want to take this positive economic upswing with us into the coming months and continue on our profitable growth path. The groundwork for this has been laid," concludes Ahlburg.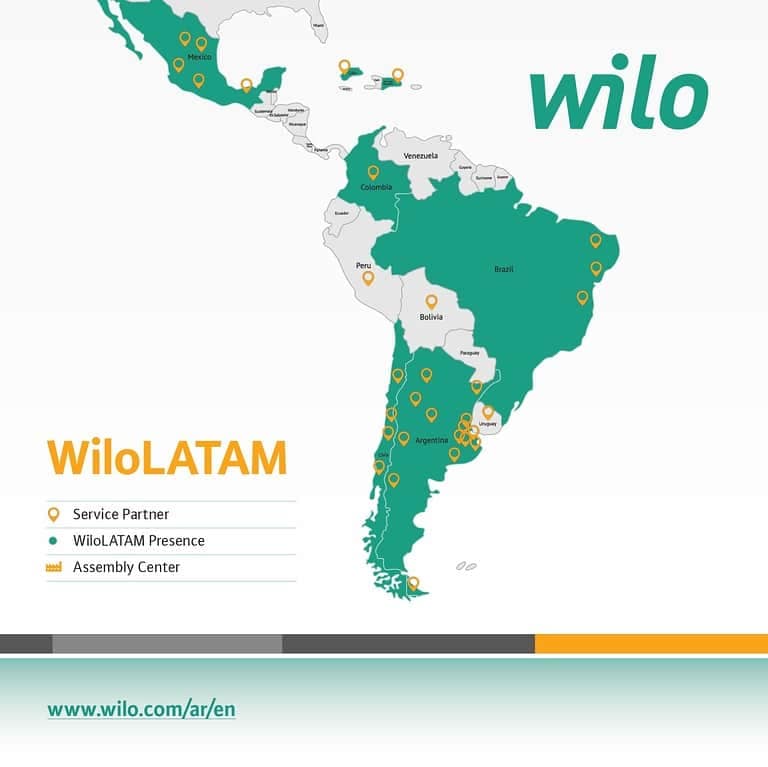 Our coverage in Latin America