BIM & CAD catalogue

As a leading provider of building services and water management solutions, we offer modern BIM models to help you with your project design – in addition to our extensive range of products and services.
Including the project proposal and final design, the tendering process, construction consultation and monitoring, and the ongoing maintenance of the building.
As always, you can rely on our Wilo solutions: let our BIM models support you at every phase of your project.
Wilo provides ETIM-classified BIM models via Cadenas
Wilo has offered a new portal for BIM data since mid-2020. We have chosen CADENAS Konstruktions-, Softwareentwicklungs- und Vertriebs GmbH, who are among other things a leading software producer for electronic CAD product catalogues (eCATALOGsolutions), to be our strategic partner.
Wilo now offers consultants the very best support and BIM models for sewage, clean water, standard and axially split case pumps on this platform. Models for mixers are also available. The BIM models contain the metadata for the respective ETIM class (EC) in the national language of all ETIM member states, and are geometrically standardised if there is an existing ETIM Modelling Class (MC).
The desired pump can therefore be chosen directly by its (ETIM) characteristics, and downloaded in, for example, a Revit, STEP or DWG format and integrated into the BIM building model. Using a plugin provided by CADENAS makes it possible – and therefore much easier and more efficient – to select the most suitable solution directly in the familiar CAD environment. The ETIM classification also helps to avoid technical misinterpretations and linguistic misunderstandings, enabling the consultant to make neutral comparisons between competing products.
Wilo offers the pump models in the resolutions LOD 200 (Bounding Box), LOD 300 (Precise Geometry) and LOD 350 with additional attachment points.
The BIM portal will be further expanded in the coming months and additional product ranges from commercial building services will be added. For now, we are offering the solution for these products via our Wilo Revit plugin.
You can find the BIMcatalogs.net plugin here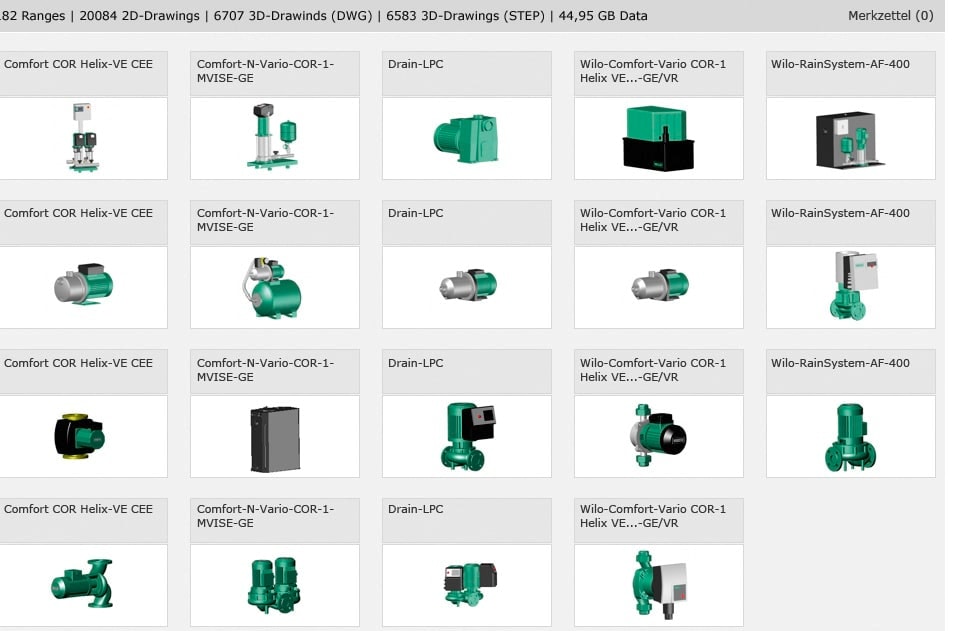 CAD catalogue
Complete professional CAD designs more quickly: The practical Wilo CAD catalogue gives consultants and system technicians quick access to 2D and 3D CAD data for Wilo pumps and pump systems.
A few clicks are all that is needed to select the desired drawing with the required format (DWG 2D or 3D and STEP) and start the download.
Wilo's CAD catalogue delivers you true-to-scale drawings around the clock with no need for lengthy research.
CAD catalogue
The Wilo Revit plugin
As a specialist consultant with an Autodesk Revit licence, you will have access to a well-maintained, up-to-date Wilo database. With Wilo Revit plugin, you can use our intelligent Revit families with ETIM product information in your BIM projects directly. The "Wilo Button" is installed directly in Revit.
The Wilo Revit plugin for BIM is part of a comprehensive service that supports installers, consultants, wholesalers, maintenance services and OEM partners.
Minimum requirements for the Wilo Revit plugin:
Autodesk Revit 2013 or later
Not compatible with Autodesk Revit LT (Revit plugin cannot be used in Revit LT)
Internet access
If Autodesk Revit is installed in a Citrix environment, contact your system administrator to install Revit plugins.
You can find the Wilo Revit plugin here
Installation instructions (PDF)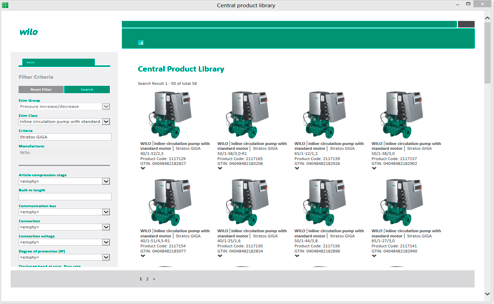 ---
What is Building Information Modelling (BIM)?
Building Information Modelling (BIM) is a construction design method that illustrates the technical and functional characteristics of a structure using a virtual 3D model. Before building work begins, all relevant data is combined in order to create what is known as a "digital twin" of the construction. All stakeholders then have access to the twin – and, therefore, to the current construction status and plan – during the construction phase.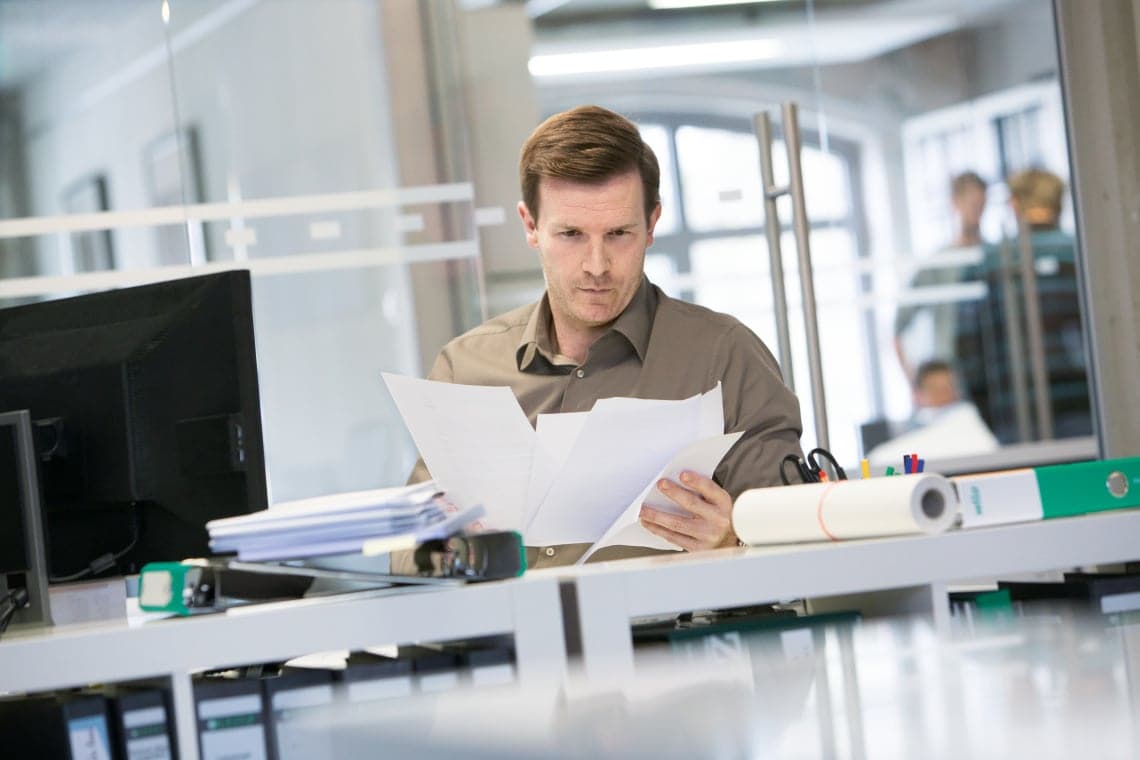 BIM is an optimisation process that aims to make project management quicker and more cost-effective. It is suitable for projects of all sizes, and many countries already require architects and consultants to work with BIM when tendering for public contracts.
The following advantages enable developers to achieve reduced construction times and costs compared to traditional construction methods:
Mistakes can be identified and avoided during the concept phase – for example, pipe collisions can be easily spotted and corrected in the digital twin
Productivity is increased as a result of all stakeholders being able to access constantly up-to-date data and plans
The CAD geometries are supplemented with technical information
---
BIM provides support throughout the entire life cycle of a building
After the construction phase, the digital twin becomes the property of the developer, who can use the information to operate the facility management cost-effectively. Even in the case of a building being demolished, the information provided by the digital twin can be of use in the disposal and recycling of raw materials. For this reason, BIM ultimately benefits all stakeholders.
BIM standardisation gaining ground
The testimonies of those who have used BIM for their projects show that there are no downsides to this method. At an international level, many countries have already recognised this, with BIM becoming a well-established method in the relevant sectors. In some cases, its use is even compulsory for publicly funded construction projects.
Germany, too, is actively promoting the method. At the end of 2015, the Federal Ministry of Transport and Digital Infrastructure set up the "Construction of large-scale projects" reform commission and initiated pilot projects. On top of that, an increasing number of transport infrastructure projects have been undertaken with BIM support since the middle of 2017. The aim is to use BIM for federal transport infrastructure projects as a matter of course from 2020 onwards.
---
FAQs about BIM
What makes BIM different from traditional CAD models?
In addition to a 3D CAD model, BIM contains other metadata – such as article numbers, article descriptions, connection dimensions for the flanges / threaded pipe unions, connection information for electrical connections and all relevant installation dimensions. In the future, BIM models will be able to contain other pump data, such as hydraulic output, efficiency values, control modes (dp-v, dp-c, and speed-dependent control). The standardisation of the models has not yet been completed, but other data – such as insertion spaces, recycling information and software algorithms – are expected to be added in the coming months and years.
People often talk about 4D or even 7D BIM models. What do 4D and 7D stand for?
4D and 7D refer to the number of information layers that these BIM models contain. The starting point are 3D models that make it mathematically possible to show the spatial relationship and overlapping of different objects. The fourth dimension (4D) adds a time component (information related to timing and dates) to the spatial dimension, and the fifth dimension (5D) comprises cost-related information. In a 7D model, information regarding sustainability and efficiency (6D) and information on facility management (7D) is also added.
Do I have to work with the BIM methodology for my project??
BIM is now widely used or even compulsory for publicly advertised projects in a large number of countries. This is because of the overwhelming advantages for the entire course of the project. Although BIM is not required for privately funded construction projects, it is increasingly being used in this context – which is actually where the methodology originated. The only area in which BIM is not likely to be used in the near future is the configuration of detached and semi-detached houses; this is due to the low proportion of technical building equipment and lack of a facility management aspect in these projects.
What does ETIM standardisation mean?
ETIM is an initiative to standardise the electronic exchange of product data in the field of electrical technology (electrical installation products, household appliances and consumer electronics) and related industries (currently including, among others, HVAC / sanitary engineering) in order to enable these products to be traded electronically. The standard is specifically geared to meeting the requirements of these selected industries and enables the uniform, technical description of goods, as well as their classification in a product class. Products are assigned to non-hierarchical item classes. Similar products are then classified together within the item class. The name of the item class can also be found through assigned synonyms that redirect to the correct class. Technical features describing the product are assigned to each class by product experts. This results in the creation of an ETIM classification.
The standardisation makes it possible to find technical products by their class or technical features, irrespective of the supplier. ETIM is used when transferring technical product data – for example, in online catalogues. ETIM is a fundamentally free standard, meaning that the data model can be used by anyone without paying a licence fee. The HVAC industry (comprising sanitary, heating, ventilation and air conditioning applications) was integrated in the ETIM version 7.0 (2017).
Closed BIM describes the software-dependent data exchange of digital building models by means of closed, proprietary file formats such as Revit, Allplan, Archicad, and so on.
By contrast, open BIM means that the data exchange of building models is possible regardless of the software. In this case, an open, non-native file format such as IFC (Industry Foundation Classes) is used. Geometric models can be exchanged without restriction, whereas the exchange of data models is limited.
Level of Development (LoD)
In the BIM methodology, the terms Level of Information (LoI), Level of Geometry (LoG) and Level of Coordination (LoC) are used in five stages from 100 to 500: 100 = conceptual; 200 = approx. geometry; 300 = precise geometry; 400 = fabrication; 500 = as-built. The term Level of Development (LoD) is composed of the partial indicators LoI, LoC and LoG and defines the overall development status of a virtual component.