EMUport CORE 20.2-31A
EMUport CORE 20.2-31A
Data sheet
Hydraulic data
Maximum operating pressure PN

6 bar

Min. fluid temperature Tmin

3 °C

Max. fluid temperature Tmax

40 °C

Min. ambient temperature Tmin

3 °C

Max. ambient temperature Tmax

40 °C
Motor data
Mains connection

3~400 V, 50 Hz

Rated current IN

7.30 A

Rated speed

3

Rated speed n

2868 rpm

Number of poles

2

Activation type

Direct online (DOL)

Max. switching frequency t

30 1/h

Insulation class

H

Protection class

IP68
Materials
Pump housing

EN-GJL-250

Impeller

EN-GJL-250

Motor housing

EN-GJL-250
Installation dimensions
Operating mode (non-immersed)

S3-50%

Pipe connection on the suction side DNs

-

Pipe connection on the pressure side DNd

DN 80
Information for order placements
Brand

Wilo

Product description

EMUport CORE 20.2-31A

EAN number

4048482624006

Article number

6078612

Net weight, approx. m

450 kg

Gross weight, approx. m

450.0 kg

Length with packaging

1500 mm

Height with packaging

1550 mm

Width with packaging

1500 mm

Packaging property

Outer packaging

Packaging type

Europallet

Minimum order quantity

1
Tender text
Fully submersible sewage lifting unit ready for connection with solids separation system in accordance with DIN EN 12050-1. With the solids separation system version, coarse solids are separated before the pumps and do not come into contact with them, thereby maximizing operational reliability. All-in-one gas-tight and watertight collection reservoir without constructive welded joints, as well as two separately-lockable and externally maintainable solids separation reservoirs. Individual shut-off makes it possible to carry out maintenance work during operation. Pumping is performed by two high-performance submersible sewage pumps in dry well installation that run in alternating operation. The dry well installation of the pumps and their configuration as a redundant double-pump system ensures maximum hygiene, ease of maintenance, and operational reliability. The collection reservoir has rounded edges, the tank bottom is bevelled, the deepest point is located directly below the pump. This prevents deposits and the drying of solids at critical points. Quick connector to the pumps and the inspection opening facilitate maintenance work. Separate blocking of the solids separation reservoir facilitate maintenance while the unit is in operation. The level is recorded by a level probe.
Scope of delivery
Submersible pump solids separation system with two dry well installation submersible pumps
2x gate valve for solids separation reservoir
2x non-return valve on the pressure side in rectangular design
2x gate valve on the pressure side
Consolidation of the pressure outlet line
1x level probe
1x floor fixation as cross beam
2.5 m aeration and venting hose
1x maintenance set with blind flange
Recommended accessories
Wilo-Control SC-L-…-FTS switchgear
Inlet slide valve
Operating data
Approved field of application
Maximum operating pressure PN

6 bar
Product data
Gross volume of the tank V

440.0 l

Switching volume V

295.0 l

Operating mode (non-immersed)

S3-50%

Height H

1400 mm

Length L

1390 mm

Width W

1410 mm
Motor data
Mains connection

3~400 V, 50 Hz

Voltage tolerance

±10 %

Rated power P2

3.65 kW

Rated speed n

2868 rpm

Rated current IN

7.30 A

Insulation class

H

Protection class motor

IP68

Activation type

Direct online (DOL)

Max. switching frequency t

30 1/h

Motor protection

WSK
Cable
Materials
Tank material

PE

Pump housing

EN-GJL-250

Impeller

EN-GJL-250

Motor housing

EN-GJL-250
Installation dimensions
Pipe connection on the suction side

DN 200

Pipe connection on the pressure side

Ø 90

Connection venting

Ø 75
Information for order placements
Brand

Wilo

Product description

EMUport CORE 20.2-31A

Net weight, approx. m

450 kg

Article number

6078612
Dimensions and dimensions drawings
Wilo-EMUport CORE 20.2/...A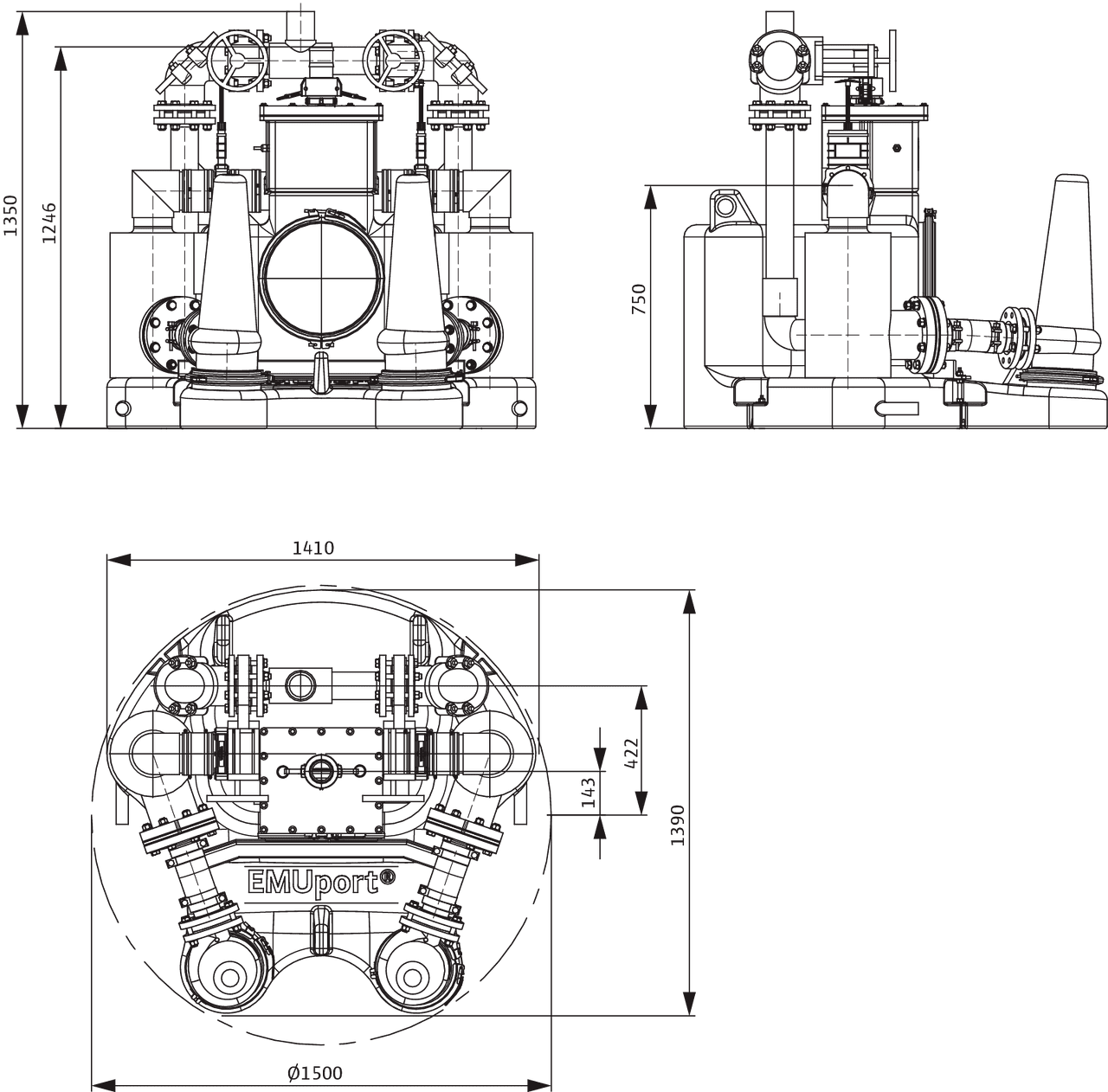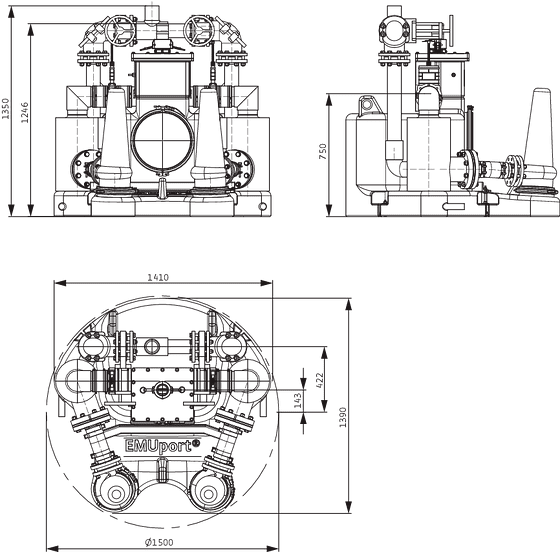 Pump curves
Wilo-EMUport CORE 20.2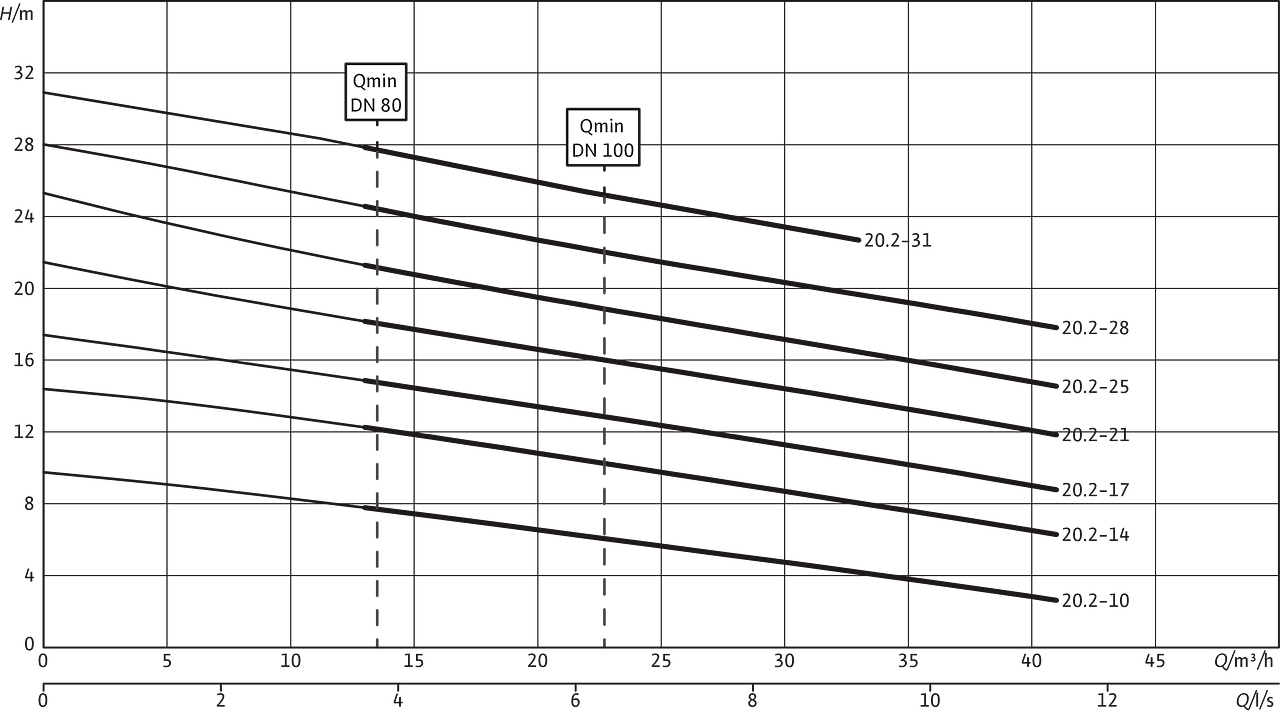 According to EN 12056-4, 6.1, flow rate (in the pressure pipe) must be kept between 0.7 and 2.3 m/s. The stated Qmin values apply to the inner diameter of a standard walled steel pipe.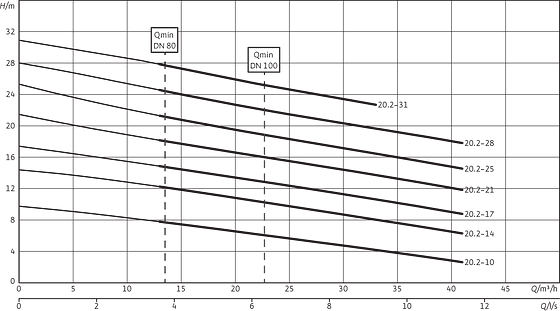 Ordering information
Information for order placements
Brand

Wilo

Product description

EMUport CORE 20.2-31A

EAN number

4048482624006

Article number

6078612

Gross weight, approx. m

450.0 kg

Net weight, approx. m

450 kg

Overall length L

1390.0 mm

Height without packaging H

1400 mm

Colour

green/black

Packaging property

Outer packaging

Packaging type

Europallet

Width without packaging B

1410.0 mm

Minimum order quantity

1