Wilo-SiFire FIRST
Series description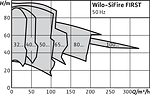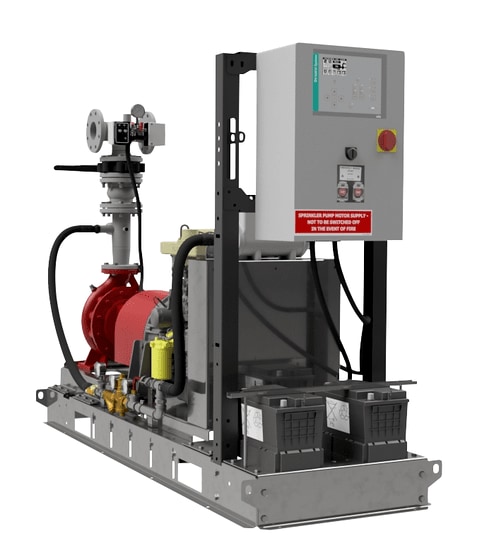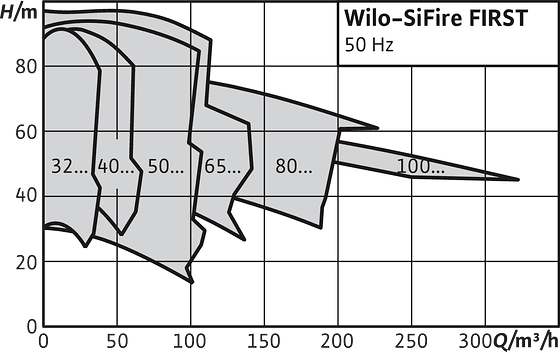 Your advantages
Modular norm pump system with electric or diesel motor for a wide field of applications and high flexibility in designing
Long lifetime thanks to robust design
Easy transport, installation and maintenance thanks to an universal baseplate
Intuitive handling on specific firefighting controller
Equipment and pipes calibrated in accordance with EN 12845 standard
Quick installation thanks to preinstalled hydraulic and electric components on the discharge side
A modular design for a wide field of applications.
The Wilo-SiFire FIRST is a flexible modular norm pump system in accordance with EN 12845. It could be equipped with electric or diesel motor and jockey pump for a wide field of applications. The compact system is fixed on an universal baseplate which makes the transport, installation and maintenance very easy. The robust design enables a long lifetime.
Construction
Pressure boosting systems for firefighting in accordance with EN 12845.
Depending on the model, composed of 1 horizontal base plate pump – EN 733 – with spacer coupling or cardanic joint,electrical or diesel motor and electrical multistage vertical jockey pump.
Application
Fully automatic water supply for fire extinguishing systems with sprinklers in residential, commercial and public buildings, hotels, hospitals, department stores, and for office or industrial buildings.
Equipment/function
1 horizontal base plate pump per system from 32-200 to 100-200 series, with IE3 equivalent standard motor or diesel engine.
Diaphragm, to avoid over heating at zero flow, directly installed on the main pump housing.
Jockey pump from MVIL-1 series
One controller fixed on robust supports. Model E for electric motor and D for diesel engine, both equipped with a firefighing dedicated controller, plus additional control J for jockey pump, if present.
Electro galvanised steel base frame.
Pipe work made of steel and epoxy painted. Manifold with flanges.
Shut-off butterfly valve with security lock on discharge side of each pump.
Non-return valve, on discharge side of each pump.
One circuit with double pressure switch, manometer, non return valve, valve, for main pump for automatic start.
Concentric cone on discharge side on main pump, for speed limitation according to prameters requested in EN 12845 standard.
Connection DN 2" for the priming tank per pump.
Pressure gauge on discharge side.
Only for diesel engine model:

2 batteries on the base plate and battery chargers in the control box.
Separated fuel tank with level sensor and adequate volume to allow 6 hours operating autonomy.

Accessories on request:

Horizontal priming tank 500 L, with floating valve and pressure switch for low level alarm.
Flow meter
Kit eccentric cone on suction side complete of butterfly valve with hand lever or hand wheel.
Vacuum gauge with valve
Valves with electrical contact
Antivibration sleeve for manifold
Remote panel to transfer alarms level A+B
Densimeter for battery
Spare part kit for diesel engine
Silencer (30 dBA) for diesel engine
Hydraulic heat exchanger for diesel engine
Scope of delivery
Factory-mounted, ready-for-installation pressure boosting system, which has been checked for functionality and impermeability
Packaging
Installation and operating instructions
Required accessories on request
Type key
| | |
| --- | --- |
| Example: | Wilo-SiFire FIRST 40/200-180-7.5 EJ |
| SiFire | Compact pressure boosting system for fire extinguishing application in accordance with EN 12845 standard |
| FIRST | Optimized functionnalities |
| 40/200 | Type of the main pump |
| 180 | DN nominal impeller diameter of the main pump |
| 7.5 | Power of the electric motor [kW] |
| EJ | Configuration |
| E | 1 electrical pump |
| D | 1 diesel pump |
| J | 1 jockey pump |
Technical data
Allowed fluid:
Non-aggressive clean water, free of abrasive or long fiber substances
Application field:
Power supply 3~400 V, 50 Hz (1~230 V, 50 Hz for Jockey pump and Diesel pump control panel)
Fluid temperature max. +25 °C
Ambiant temperature min/max. +4 to +40 °C (+10 to +40 °C if diesel pump is installed)
Maximum operating pressure 16 bar (12 bar with Jockey pump)
Maximum inlet pressure 6 bar
Flow from 10 to 320 m³/h
Maximum head 95 m
Pump impellers:
Bronze for main horizontal base plate pump
Stainless steel for vertical multistage jockey pump
Electrical Motor:
IE3 standard motors
Maximum power 55 kW
Nominal speed 2900 rpm
Protection class IP55
Diesel engine:
Direct injection or supercharged diesel motor with air or water cooling.
Maximum power 66 kW
Forced lubrification with gear pump and oil filter
Cooling depending on the power: Up to 17,7 kW with air flow, direct or with water in closed circuit with radiator. From 26,5 kW with heat exchanger water/water.
Other:
Epoxy painted pipes and hydraulic connections
Discharge nominal connection diameters DN 50 until DN 150 - EN 1092, PN 16
Suction nominal connection diameters DN 50 until DN 125 - EN 1092, PN 16
Protection class for Control box: IP54
Materials
For horizontal base plate pump
Impellers made of Bronze CuSn10 or CuAl10Fe5Ni5
Wear rings made of AISI316L/1.4409 stainless steel
Pump housing made of cast iron EN-GJL-250
Shaft made of AISI420/1.4021 stainless steel
For Jockey pump
Impellers made of AISI304/1.4301 stainless steel
Pump housing made of cast iron EN-GJL-250
Shaft made of AISI304/1.4301 stainless steel
O-ring-seals made of EPDM
Description/construction
Base frame: Made of electro galvanised steel profiles, provided with brakets for control boxes. On the bottom part, special rectangular holes for forklift and integrated hooks for lifting straps.
Pipe work: Complete pipe work with flanges made of epoxy painted steel, suitable for connection of all commonly used piping materials; the pipe work is sized corresponding to the overall hydraulic performance of the pressure boosting system
Pumps: 1 horizontal base plate pump – EN 733 – with spacer coupling, electrical or diesel motor. Back pull out model for easy access to pump internal components without moving motor or pipes.
Fittings: For main pump, each pump is fitted on discharge side with a butterfly valve and non return valve, both with epoxy painted and adapted for flanged connection.
Tank: Separated fuel tank made of epoxy painted steel with leackage bacin.
Sensors and display: 2 Pressure switch 2/16 bar per pump located on the discharge side for activating the pump start through the control box controller. Discharge-side pressure gauge (ø 63 mm) located close to the pressure switches.
Control device/controller: The system is standard-equipped with control box for electric or diesel motor and a jockey pump controller, if present.
Duty chart
Wilo-SiFire FIRST