Temperature module for systems with 1-3 pumps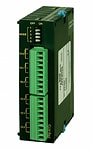 Temperature module for systems with 1-3 pumps
Additional module for equipping the Wilo-CC/CCe-HVAC system switchgear series when using the temperature-dependent control modes. An address modules is also supplied for complying with hardware-side addressing.
Version: Module to be arranged on a 35 mm DIN rail with four channels in order to detect temperature sensors which have to be provided by the customer (PT100/PT1000) in 2 or 3-wire technology.
Feed temperature (TV)
Return temperature (TR)
Process temperature (TP)
Outside temperature (TA)
Technical data
Resolution
Max. number of controllable pumps
Min. measurement range
Max. measurement range
Min. ambient temperature
Max. ambient temperature
Terminal cross-section
Length L
Width W
Height H
Net weight, approx.
Make
Item no.
Certificate REACH (Documents)