Using solar power to provide running water

In some parts of the world, being able to take running water from the tap is not a given by any means. Water resources are becoming increasingly scarce, water quality continues to fall. With its solar-powered Wilo-Actun OPTI borehole pump, the Dortmund-based technology company Wilo has created a stand-alone solution to tackle this challenge.
For over 18 years, the BAOBAB CHILDREN FOUNDATION in Kissi, Ghana, has been caring for children and young people who often have little chance of receiving a proper education in the surrounding rural area. As well as basic English, reading and arithmetic skills, the Foundation teaches the children in its care traditional handicrafts, farming techniques and how to take responsibility for themselves. The village is spread across some five hectares, providing accommodation for more than 100 girls and boys. "We shouldn't take running water from the tap as a universal matter of course around the world. Until now, our village's water supply was based on a fuel pump," said Edith de Vos, Managing Director of the BAOBAB Foundation. "In remote areas, however, securing a fuel supply is either wholly inefficient or altogether impossible. The solar-powered pump has opened up entirely new possibilities for us." Wilo and the Foundation were put in touch by ENTERIA. The Wuppertal-based company makes a point of providing individual, sustainable technologies. In addition to its German branch, ENTERIA also has locations in two other countries: Ghana and Mozambique. "The decision to use Wilo products was primarily due to the partnership-based approach and dedication of our contacts at the company," said Marc-Oliver Bruckhaus, founder and Managing Director of ENTERIA. "What's more, their devices are far easier and more convenient to use than other comparable products – which means that technicians on the ground were able to install the products and perform maintenance without any trouble after I left. And, of course, we were impressed by the Wilo solar pumps' high technical efficiency compared to their competitors."
In Kissi, the new Wilo-Actun OPTI pump will be used to supply running water for the vegetable garden, among other things. "As we experience strong sunlight for up to 90 % of the year, a solution based on a solar-powered pump is perfectly suited to us. Of course, the output can vary, such as during the Harmattan season when the weather is rather misty and cloudy. Nevertheless, we benefit greatly from our independent supply of running water," said de Vos.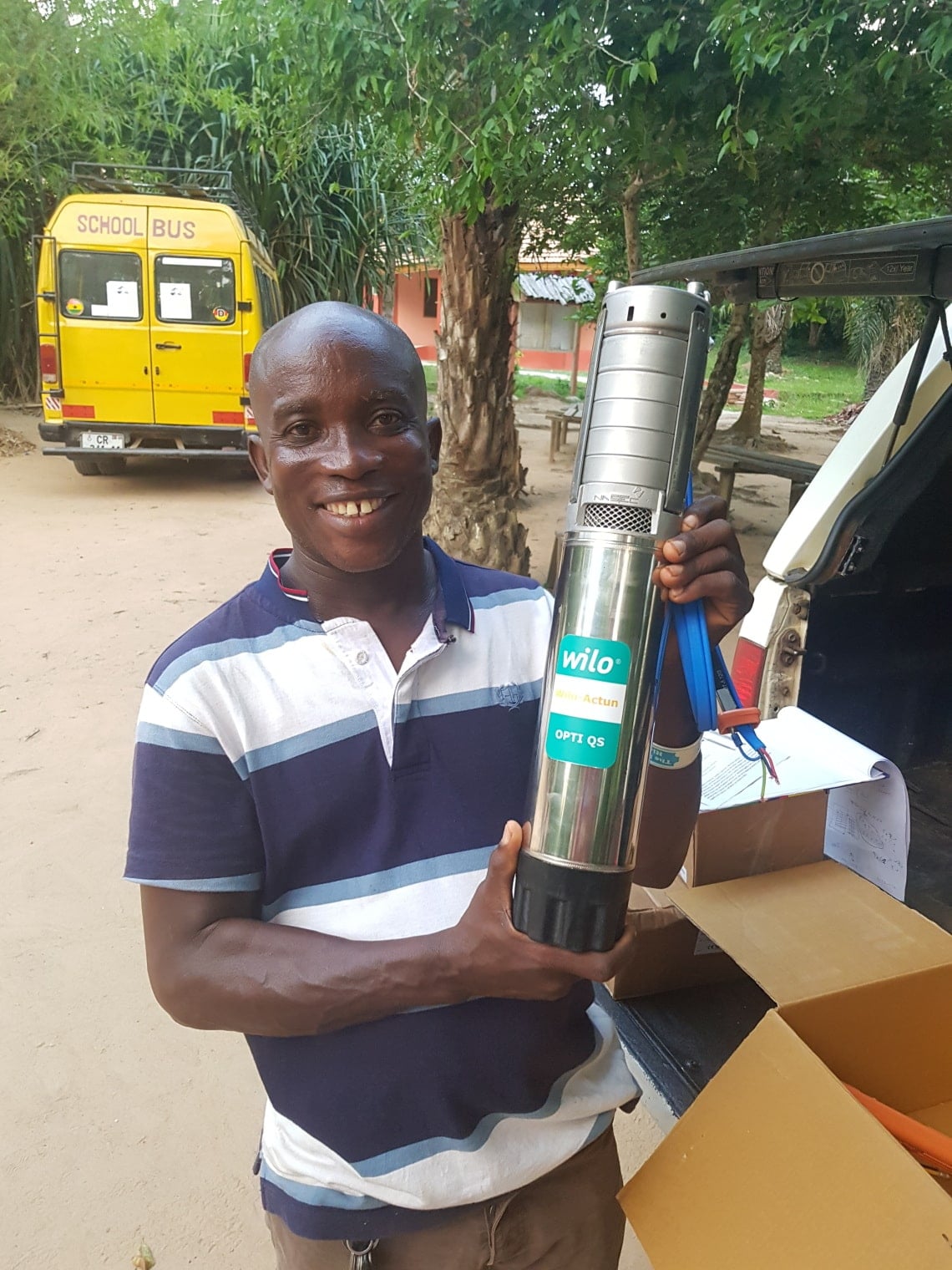 Water shortages: a daily challenge
According to a report by the United Nations, two-thirds of the world's population live in regions affected by water shortages at least once per month. Around 500 million people live in areas where water consumption far exceeds the available local resources. Water quality also impacts the availability of the resource in equal measure. UNICEF statistics show that more than three million people in Ghana live without access to clean drinking water. "Ground water is an important source for water supplies. This water can be extracted from wells and shafts using submersible pumps," said Roman Zielinski, Product Manager at Wilo. "In remote areas, however, securing a stable supply of energy can often be problematic, as the power grid is usually unstable – if it exists at all. We've adapted an alternative method which can be used at precisely these locations to obtain energy and provide a water supply." The solution is a pump supplied with electricity generated from solar power. Solar power is a free resource that does not need extensive infrastructure – such as power lines, or the roads required to transport fuel.
Autonomous thanks to solar power
The Wilo-Actun OPTI is specifically designed to be combined with photovoltaic systems, thereby forming a stand-alone water supply system. The borehole pump guarantees optimised output thanks to its high degree of motor and hydraulic efficiency as well as its dynamic Maximum Power Point Tracking (MPPT) algorithm. "The power that solar panels can provide depends on the sunlight – the potential output in each case is determined by the location, time of day and weather conditions," explained Zielinski. "The integrated microprocessor uses an MPPT algorithm to calculate the ratio between the voltage and electric current intensity in order to determine the maximum possible output. These parameters are then translated to higher pump speeds and therefore an increased supply of water." The Wilo-Actun OPTI-MS pump can also be monitored remotely via an app. This means that pump operations can be controlled using a smartphone, even at great distances. The high-quality materials used in the submersible pump's construction also ensure a long service life. All relevant components – such as the pumps' motor shrouds, impellers and guide vanes – are made entirely from stainless steel.