Wilo-DrainLift SANI-M
The large single pump lifting unit for single and two-family homes.
Wilo-DrainLift SANI-M
The large single pump lifting unit for single and two-family homes.
With its particularly large pump volume and the selectable continuous duty and intermittent periodic duty motor operating modes, the Wilo-DrainLift SANI-M single faeces lifting unit is the ideal solution for quiet operation in detached and semi-detached homes with uncontrolled sewage intake. With a free ball passage of 44 mm or 65 mm, freely selectable inlets and the optional version for particularly aggressive fluids, it can be used flexibly and is easy to install. The spring-loaded non-return valve minimises the noise level at the end of each pumping cycle. Maintenance is made particularly easy by the user-friendly construction.
---
Your advantages
Compact design and low weight make installation and transport easy
Large switching volume, thermal motor protection and a mains-independent alarm ensure operational stability
Corrosion-free design with engineering plastics and stainless steel guarantees high reliability
Freely selectable connections for maximum installation flexibility
Universal use thanks to several variants with two free ball passage sizes (44/65 mm), operating mode for continuous operation or intermittent periodic duty and the version for aggressive fluids
A transparent tank cover and a cleaning opening in the non-return valve enable easy maintenance and cleaning
Spring-loaded non-return valve with a low noise level at the end of a pumping cycle for quiet operation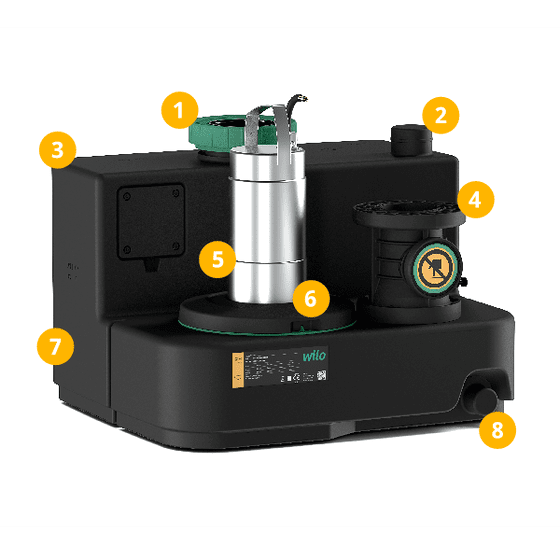 Product features
Tank cover with viewing panel for easy visual inspection
Tank venting DN 50
Freely selectable inlet surfaces DN 100 – DN 150
Spring-loaded non-return valve in DN 80 with cleaning opening
Reliable stainless steel motor for S1/S3 operation
Reliable vortex hydraulics
Compact tank with large switching volume
Connection for manual drain 50 mm
Wilo-DrainLift SANI-M
---
Design
Ready for connection and fully submersible single pump lifting unit for pumping sewage containing faeces.
Application
Pumping of sewage containing faeces:
In cases where sewage cannot be discharged directly into the sewer system via a natural downward slope
For backflow resistant drainage in cases where the discharge point is below the backflow level
Equipment/function
Switchgear with mains-independent alarm and collective fault signal
Ready-to-plug
Tank with inspection opening and transparent cover
Analogue level measurement (4 … 20 mA)
Non-return valve with inspection opening
Thermal motor monitoring with bimetallic sensor
Typekey
Example:

DrainLift SANI-M.13M/4C

DrainLift

Product family

SANI

Sewage lifting unit

M

Size

13

Max. delivery head

M

Mains connection:

4

Motor and switchgear version:

1 = operating mode: S3, switchgear: Control MS-L
4 = operating mode: S1, switchgear: Control EC-L

C

Version for aggressive fluids
Technical data
Mains connection: 1~230 V, 50 Hz or 3~400 V, 50 Hz
Operating mode: S3 10% or S1
Fluid temperature: 3 ... 40 °C (37 ... 104 °F), max. 65 °C (149 °F) for 5 min
Max. ambient temperature: 3 ... 40 °C (37 ... 104 °F)
Tank volume: 99 l (26 US.liq.gal.)
Max. usable volume in the tank according to the inlet height*: 50 l/13 US.liq.gal. (180 mm*)/63 l/16.5 US.liq.gal. (250 mm*)/74 l/19.5 US.liq.gal. (315 mm*)
Discharge port: DN 80, PN 10
Inlet connection: DN 100/150 (110/160 mm)
Ventilation connection: DN 65 (75 mm)
Protection class of switchgear: IP54
Protection class of lifting unit: IP68 (2 mWG/7 d)
Noise level: 70 dB(A)
Materials
Motor housing: 1.4404 (AISI 316L)
Hydraulics: PP-GF30
Impeller: PP-GF30 or 1.4408 (AISI 316)
Tank: PE
Non-return valve: PPS
Construction
Gas- and watertight collection tank with sloped floor at an angle and an inspection opening with transparent cover.Freely selectable inlets within the marked areas.Level measurement performed with an analogue output signal 4 ... 20 mA.Discharge port attached with a non-return valve including an inspection opening.
Surface-cooled (air) or self-cooling (sheath flow cooling) motor with thermal motor monitoring.
Pre-installed switchgears for automatic operation:
Wilo-Control MS-L
Collective fault signal with potential-free contact
Integrated and mains-independent alarm
Adjustable follow-up time
1.5 m connection cable with attached plug
Wilo-Control EC-L
Operation via display and icon-based, alphanumeric menu
Collective fault signal with potential-free contact
Individual fault signal with potential-free contact
ModBus interface
Integrated and mains-independent alarm
Adjustable follow-up time
1.5 m connection cable with attached plug
Scope of delivery
Lifting unit with switchgear and connection cable with plug
Flange connector DN 80 (90 mm)/DN 100 (110 mm)
Collar DN 100 (110 mm) for discharge connection
HT double socket DN 65 (75 mm) for ventilation connection
HT double socket DN 40 (50 mm) for drain connection
Inlet set with hole saw 124 mm (5 in) and seal DN 100 (110 mm)
Floor fixation set
Noise insulation mat
9 V rechargeable battery
Installation and operating instructions
Options
Version for aggressive fluids with ModBus connection
Version for S1 operation (continuous duty) and with ModBus connection