Comfort CO-5 MVI 7002/2/CC
Comfort CO-5 MVI 7002/2/CC
Data sheet
Approved field of application
Max. fluid temperature T

50 °C

Max. ambient temperature T

40 °C

Max. operating pressure p

16 bar

Pipe connection on the pressure side DNd

DN 250

Pipe connection on the suction side DNs

DN 250

Number of stages

2

Number of standby pumps

1

Number of operating pumps

4

System output without standby pump Q

400.0 m³/h
Motor data
Mains connection

3~400 V, 50 Hz

Voltage tolerance

±10 % %

Insulation class

F

Protection class

IP55

Rated power P2

7.50 kW

Rated current IN

13.70 A

Motor efficiency ηM 50%

89.8

Motor efficiency ηM 75%

90.5

Motor efficiency ηM 100%

90.1
Materials
Pump housing

5.1301, EN-GJL-250

Shaft

1.4057, X20CrNi17-2

Impeller

1.4301, X5CrNi18-10

Gasket material

EPDM

Mechanical seal

U3BE3GG
Information for order placements
Net weight, approx. m

1446 kg

Article number

2523223

Brand

Wilo
Pump curves
Comfort CO(R)-5 MVI 7001-7006/CC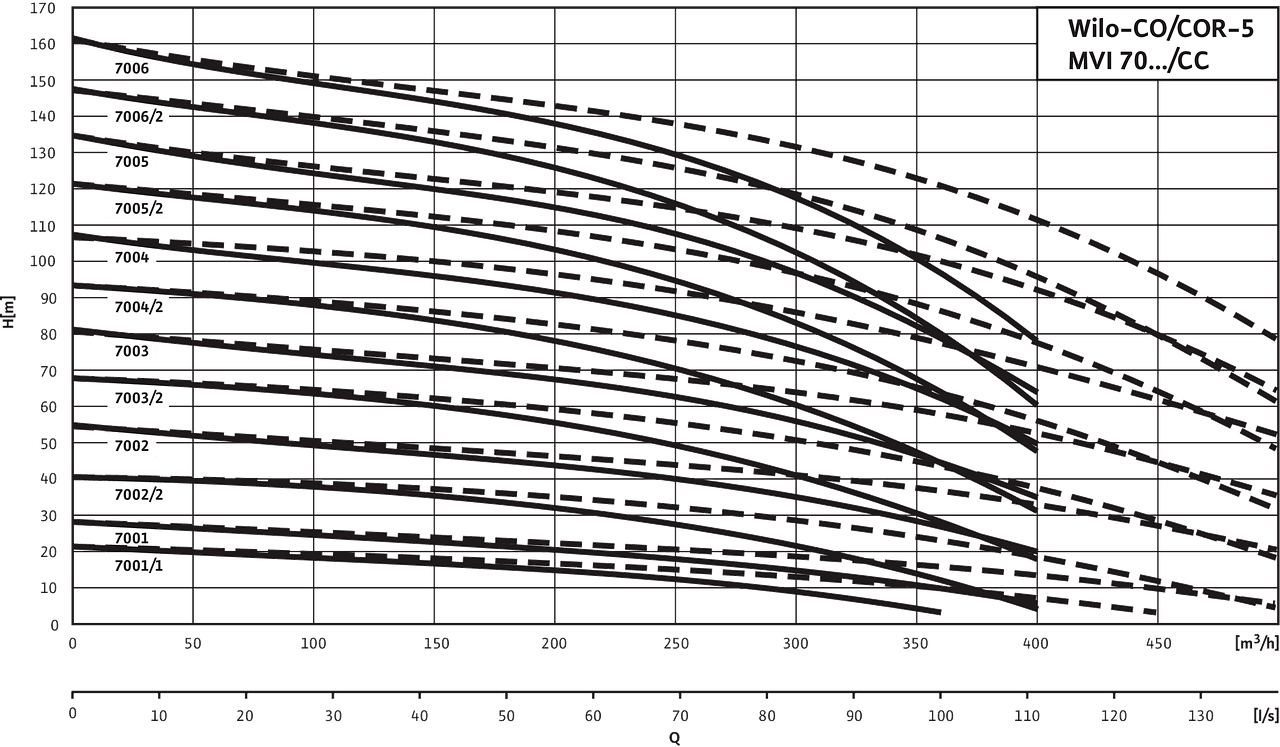 ---- including standby pump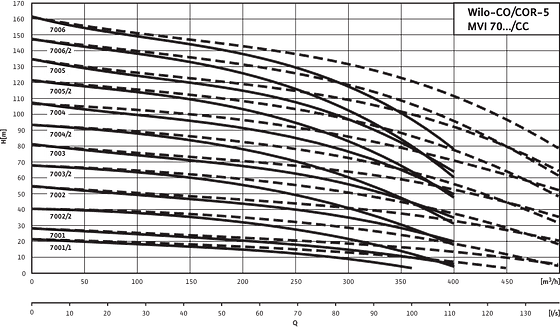 Wiring diagram
3~400 V ≥ 5.5 - 22 kW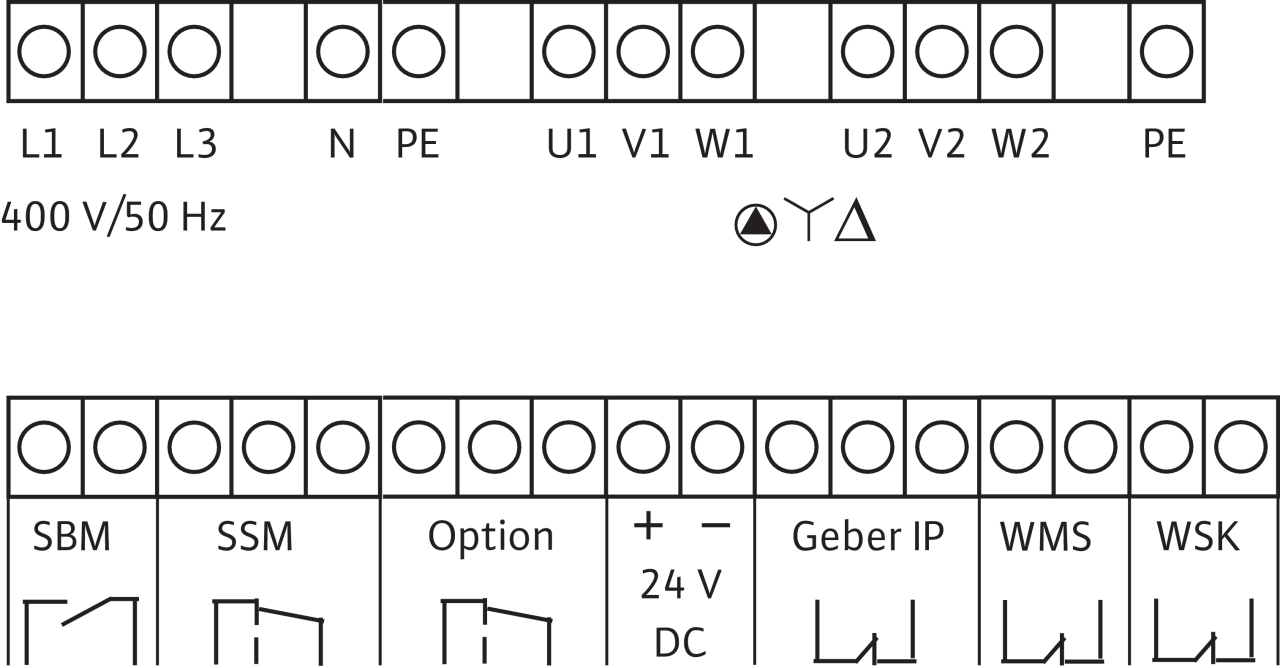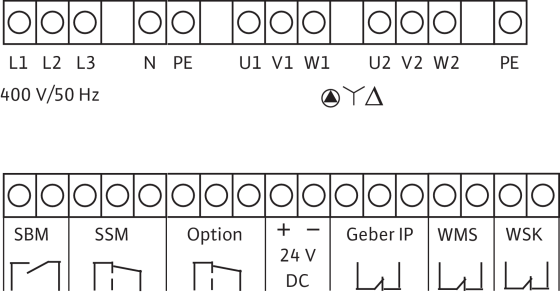 Ordering information
Information for order placements
Brand

Wilo

Product description

Comfort CO-5 MVI 7002/2/CC

EAN number

4016322804574

Article number

2523223

Gross weight, approx. m

1512.0 kg

Net weight, approx. m

1446 kg

Overall length L

3300.0 mm

Height without packaging H

1900 mm

Colour

Green/black/silver

Packaging property

Transport packaging

Packaging type

Transport skids

Number per layer

1

Width without packaging L

1695.0 mm

Minimum order quantity

1

Pieces per pallet

1
Tender text
Compact pressure boosting system according to DIN 1988 and DIN EN 806, for direct or indirect connection. Consisting of non self-priming, switched in parallel, vertically-mounted stainless steel high-pressure centrifugal pumps in glanded versions. Ready for connection with stainless steel pipework, mounted on a base frame, including control device with all necessary measurement and adjustment equipment.
For fully automatic water supply and pressure boosting in residential, commercial and public buildings, hotels, hospitals, department stores and for industrial systems.
For pumping drinking water, process water, cooling water, fire water (apart from fire-extinguishing systems in accordance with DIN 14462 and with the approval of the local fire safety authorities) or other types of industrial water that do not attack the materials either chemically or mechanically and do not contain abrasive or long-fibre constituents.
Special features/product benefits
Easy-to-operate system which satisfies all the requirements of DIN 1988 (EN 806)
WRAS/ KTW approval of the pumps for all parts that come in contact with the fluid (EPDM version)
Pumps in the Multivert MVI series in conjunction with IE2 IEC standard motors (from 0.75kW)
Bidirectional mechanical seals for pumps
Parts that come in contact with the fluid are corrosion-resistant
Comfort control device CC, with extended functions, PLC microcomputer and graphics-capable touchscreen
Factory inspection and default setting at optimum operating range (incl. acceptance test certificate based on EN10204 - 3.1)
Equipment/function
Stainless steel high-pressure centrifugal pumps the Multivert MVI series
Base frame made of electrolytically galvanised steel, with height-adjustable vibration absorbers for insulation against structure-borne noise
Shut-off valve on the suction and pressure sides of each pump
Non-return valve on the pressure side of each pump
8 litre diaphragm pressure vessel, PN16 including throughflow fitting to DIN 4807, pressure side
Pressure sensor (4-20 mA), pressure side
Pressure gauge, pressure side
Automatic pump control by means of a fully electronic
Comfort Controller (CC) in a sheet metal enclosure painted RAL 7035, protection class IP 54 consisting of an internal power supply unit, CPU, analogue and digital input and output modules.
Operation/ display
Fully graphics-capable touch screen with 3-colour backlight for indicating the operating status operation/ fault/ acknowledged fault, and supporting symbols and plain text for menu navigation in six languages (out of up to 27 languages, with European and Asiatic characters selectable)
Menu navigation with plain text and symbol representation
3 user levels, display and selection of menu language, passwords, operating parameters, control parameters
Factory-preset parameters for easy commissioning/start-up
Three setpoints can be set as standard, setpoints 2 and 3 can be activated by contact or time, external setpoint specification by 0/4-20mA signal
Display of pump status and actual pressure value
Lockable main switch
Operation selectable with / without standby pump
Elapsed time indicator for each pump
Elapsed time indicator for entire system
Switching cycle counter for each pump
Switching cycle counter for entire system
Fault log for the last 35 faults with timestamp using a real-time clock
Control
Fully automatic control for 1 to 6 uncontrolled pumps by means of setpoint/actual value comparison
Day timer, e.g. for 2nd and 3rd setpoint
Automatic, load-sensitive cut-in of 1 to n peak-load pump(s) depending on the pressure - constant, p-c control variable
Operating mode of the pumps freely selectable (manual, off, automatic)
Manual-0-Automatic switch Preselection of the operating mode of each pump and manual operation in the event of a controller fault "Manual" (emergency/test mode available at mains power, motor protection available), "O" (pump switched off – cannot be switched on using the controller) and "Auto" (pump enabled for automatic mode via the controller)
Automatic, configurable pump cycling
Pump cycling by means of service life optimisation over operating hours.

Alternative: Pump cycling after a set time period, regardless of the operating hours
Alternatively by impulse: The base-load pump is cycled at each new demand, regardless of operating hours
Alternatively with pump preselection: one pump can be permanently defined as the base-load pump. All peak-load pumps are changed on a running time optimisation basis.

Automatic, configurable pump test run (pump kick)

Can be activated/deactivated
Time between two test runs is freely programmable

Disabling times can be programmed as desired
Monitoring
Actual value of the system is output via a 0-10 Volt analogue signal for external measurement / display applications, 10 Volt depending on the sensor range value
Conductivity test of the sensor cable
Motor protection switch / contactor combination (from 5.5 kW thermal overload relay)
Automatic changeover to the standby pump in the event of a operating pump fault
Monitoring of maximum and minimum system values with adjustable time delays and limits
Monitoring of maximum and minimum system values with adjustable prominent time display
Zero-flow test for switching off the system when no water is being drawn off (adjustable parameters)
Pipe filling function for filling empty pipes (initial filling of the consumer network)
Protection against low water level via contact e.g. for float switch or pressure switch
Interfaces
Potential-free contacts for SBM/SSM collective operation and collective fault signals
Logical reversal can be applied to SBM and SSM
Contacts for switching external systems ON /OFF and protection against low water level
External on/off via contact for deactivation of the system's automatic mode
Inputs for thermal winding contact (WSK) connection
Optional accessories (factory installation or retrofitting after technical checks)
Signal converter for 0/ 2-10V to 0/ 4-20mA
Evaluation relay for PTC motor protection
Individual run/fault signal
DDC control module (external pump cycling, external pump test run, external acknowledgement, external switching the peak-load pump on / off)
Battery-backed power supply unit
Redundant sensor
Connection to BMS systems in accordance with VDI 3814
Recommended accessories (to be ordered separately)
Optional WMS low-water cut-out switchgear kit;
Flexible connection lines or expansion joints
Break tank for system separation
Diaphragm pressure vessel
Threaded caps for systems with threaded joint tubing
Bus systems (optional)
BACnet, Profibus, LON bus, CAN bus, Modbus RTU, Web server (Ethernet), GSM modem
Remote data transmission possible via GPRS modem
Further details on request
Standards followed
Specifications for drinking water installations (TRWI) DIN 1988 (EN806)
Diaphragm pressure vessel/ diaphragm expansion tank DIN 4807
Electronic Equipment for Use in Power Installations (EN 50178)
Electrical Equipment of Machines (EN 60204-1)
Household and Similar Electrical Appliances - Safety (EN 60335-1)
Low-voltage switchgear combinations EN 60439-1/ 61439-1
EMC - Immunity for Industrial Environments (EN 61000-6-2)
EMC - Emission Standard for Residential, Commercial and Light-Industrial Environments (EN 61000-6-3)
Materials
Pump housing

5.1301, EN-GJL-250

Impeller

1.4301, X5CrNi18-10

Shaft

1.4057, X20CrNi17-2

Gasket material

EPDM

Pipework material

1.4571, X6CrNiMoTi17-12-2
Operating data
Fluid media

Water

Maximum operating pressure p

16 bar

Pressure port

DN 100

Max. fluid temperature T

50 °C

Min. fluid temperature T

3 °C

Max. ambient temperature T

40 °C
Motor data
Mains connection

3~400 V, 50 Hz

Shaft power P2(Q=max.) of selected impeller * number of pumps

7500 W

Rated current IN

13.70 A

Protection class motor

IP55
Installation dimensions
Pipe connection on the pressure side DNd

DN 250

Pipe connection on the suction side DNs

DN 250
Information for order placements
Net weight, approx. m

1446 kg

Brand

Wilo

Product description

Comfort CO-5 MVI 7002/2/CC

Article number

2523223