Drain MTC 32F39.16/30 (3~400 V)
Drain MTC 32F39.16/30 (3~400 V)
Data sheet
Operating data
Max. delivery head H

39.00 m

Max. volume flow Q

16 m³/h

Optimal volume flow Qopt

16 m³/h

Optimal delivery head Hopt

39 m

Pressure port

DN 32

Nominal flange diameter

DN 32

Output connection standard

EN 1092-2

Maximum operating pressure p

6 bar

Operating mode (immersed)

S1

Operating mode (non-immersed)

S3-30%

Max. immersion depth

10.00 m

Max. fluid temperature T

40 °C

Min. fluid temperature T

3 °C

Gross weight, approx. m

45.0 kg
Unit
Maximum operating pressure p

6 bar

Max. immersion depth

10.00 m

Min. fluid temperature T

3 °C

Max. fluid temperature T

40 °C
Motor data
Mains connection

3~400 V, 50 Hz

Voltage tolerance

±10 % %

Rated current IN

7.30 A

Starting current I

43 A

Power factor cos φ

0.84

Activation type

Direct online (DOL)

Max. switching frequency t

50 1/h

Operating mode (immersed)

S1

Operating mode (non-immersed)

S3-30%

Protection class motor

IP68

Power consumption P1 max

4200 W

Rated power P2

3.40 kW
Equipment/function
Explosion protection type

no

Motor protection

Bimetallic

Macerator

yes

Motor, leakage detection

no

Sealing chamber, leakage detection

no

Leakage chamber, leakage detection

no
Cable
Connection cable length

10.0 m

Cable type

H07RN-F

Cable cross-section

6G1 mm²
Materials
Pump housing

5.1301, EN-GJL-250

Impeller

5.1201, EN-GJL-HB175

Shaft

1.0503, C45

Gasket material

NBR

Motor housing

5.1301, EN-GJL-250
Installation dimensions
Pipe connection on the suction side

-

Pipe connection on the pressure side

DN 32
Information for order placements
Brand

Wilo

Product description

Drain MTC 32F39.16/30 (3~400 V)

Net weight, approx. m

43 kg

Article number

2081263
Product data
Maximum operating pressure PN

4 bar

Max. fluid temperature T

40 °C

Min. fluid temperature T

3 °C

Max. ambient temperature T

40 °C
Dimensions and dimensions drawings
Wilo-Drain MTC 32F39... - Portable wet well installation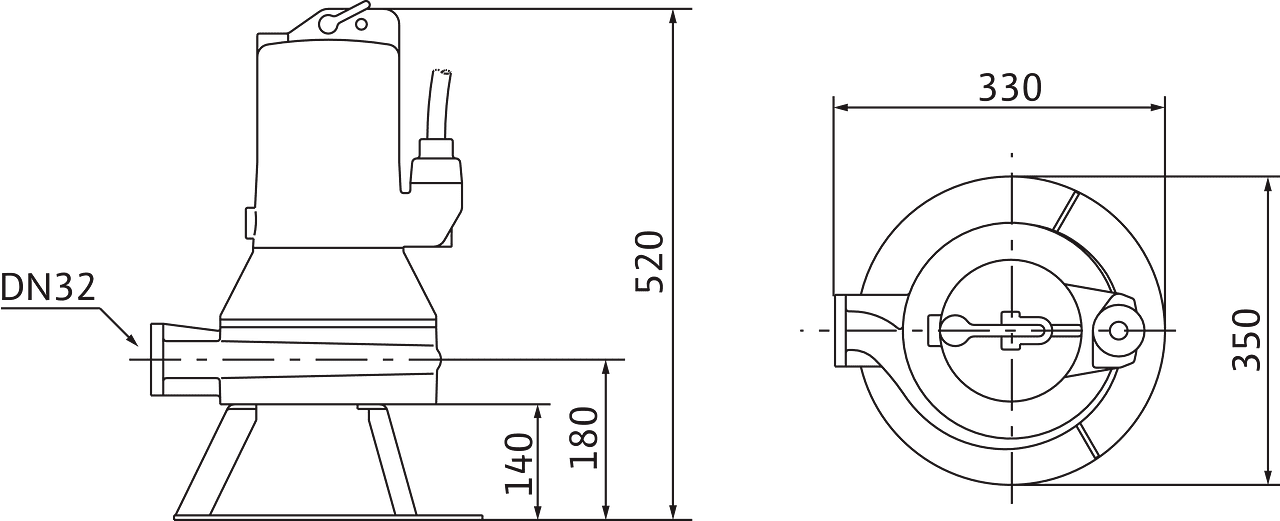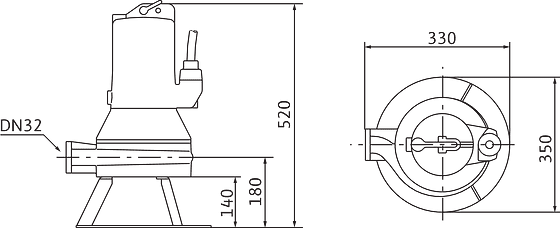 Pump curves
Wilo-Drain MTC — 50 Hz — No. of poles: 2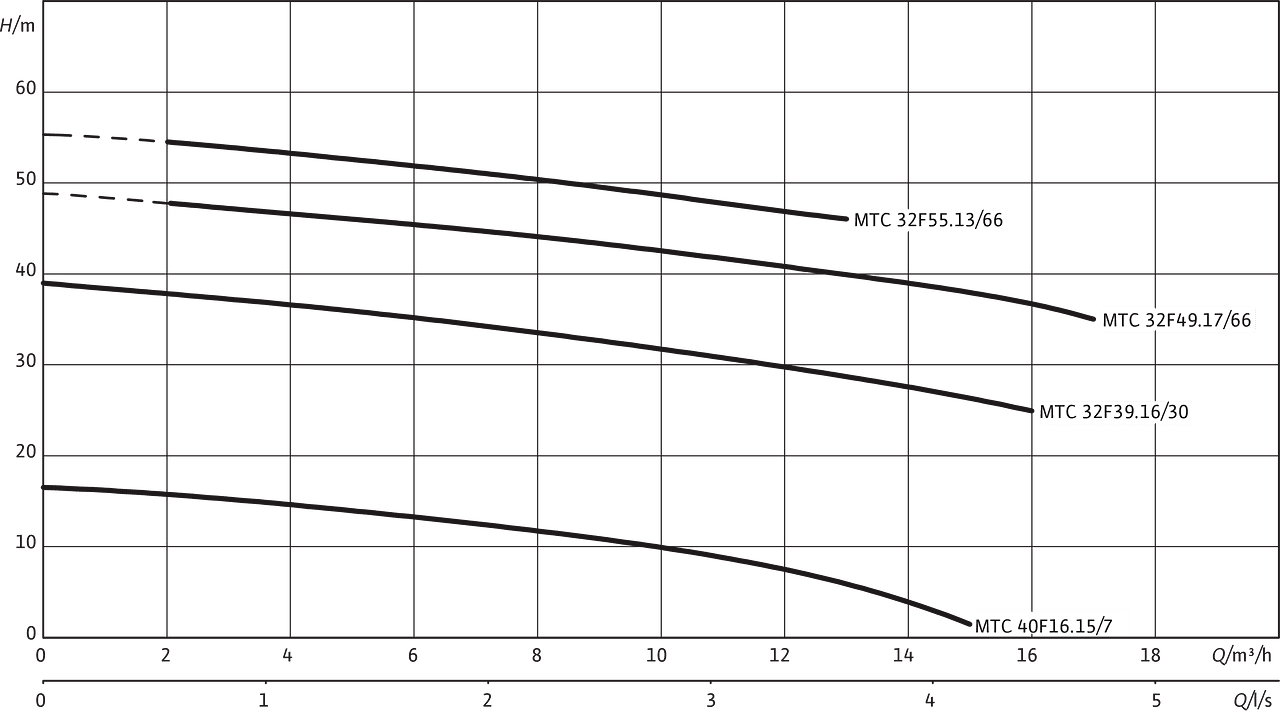 Pump curves in accordance with ISO 9906, class 3B, paragraph 4.2.2.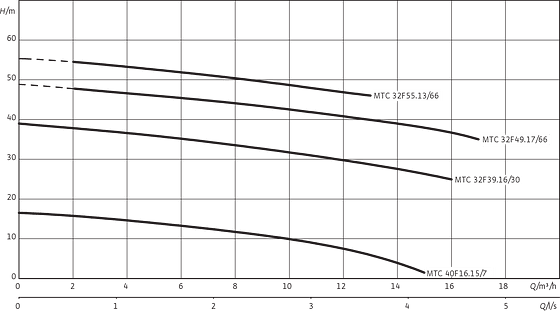 Ordering information
Information for order placements
Brand

Wilo

Product description

Drain MTC 32F39.16/30 (3~400 V)

EAN number

4016322894988

Article number

2081263

Gross weight, approx. m

45.0 kg

Net weight, approx. m

43 kg

Overall length L

330.0 mm

Height without packaging H

380 mm

Colour

Green

Packaging property

Transport packaging

Packaging type

Cardboard box

Number per layer

1

Width without packaging L

350.0 mm

Minimum order quantity

1

Pieces per pallet

1
Tender text
Fully submersible sewage pump with external macerator for vertical wet well installation. Pumping of sewage containing faeces as well as municipal and industrial sewage, including long-fibre constituents. Unit made entirely of cast iron; on pump-side seal made of SiC/SiC. Pressure connection with horizontal pressure outlet with flange connection. Surface-cooled motor in three-phase current version with thermal motor monitoring and sealing chamber. Longitudinally watertight connection cable with bare cable end. All units non-Ex-rated.
Operating data
Fluid media

Water

Max. delivery head H

39.00 m
Product data
Max. immersion depth

10.00 m

Min. fluid temperature T

3 °C

Max. fluid temperature T

40 °C
Motor data
Mains connection

3~400 V, 50 Hz

Voltage tolerance

±10 % %

Power factor cos φ

0.84

Rated power P2

3.40 kW

Power consumption P1 max

4200 W

Rated current IN

7.30 A

Starting current I

43 A

Activation type

Direct online (DOL)

Max. switching frequency t

50 1/h

Insulation class

F

Protection class

IP68

Operating mode (immersed)

S1

Operating mode (non-immersed)

S3-30%
Cable
Connection cable length

10.0 m

Cable type

H07RN-F

Cable cross-section

6G1 mm²
Equipment/function
Macerator

yes

Motor, leakage detection

no

Sealing chamber, leakage detection

no

Leakage chamber, leakage detection

no
Materials
Pump housing

5.1301, EN-GJL-250

Impeller

5.1201, EN-GJL-HB175

Shaft

1.0503, C45

Gasket material

NBR

Motor housing

5.1301, EN-GJL-250
Installation dimensions
Pipe connection on the suction side

-

Pipe connection on the pressure side

DN 32
Information for order placements
Brand

Wilo

Product description

Drain MTC 32F39.16/30 (3~400 V)

Net weight, approx. m

43 kg

Article number

2081263
Downloads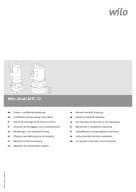 Wilo-Drain MTC 32
| | |
| --- | --- |
| Article Number | 2090114 |
| Edition | 2016-07 |
| Version number | 04 |
| Page format | 209.9 x 297.0 mm |
| Number of pages | 348 |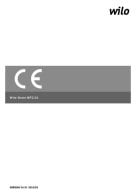 Wilo-Drain MTC 32
| | |
| --- | --- |
| Article Number | 6080666 |
| Edition | 1605 |
| Version number | 01 |
| Page format | A4 |
| Number of pages | 11 |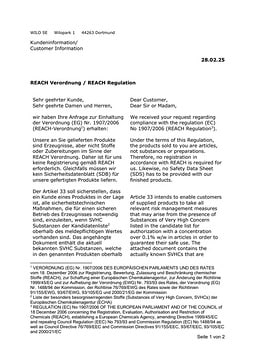 REACH Regulation
| | |
| --- | --- |
| Edition | 2018-10 |
| Page format | 209.9 x 296.7 mm |
| Number of pages | 4 |